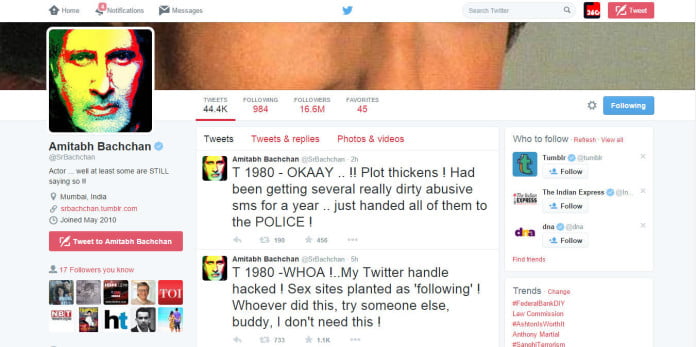 Bollywood superstar Amitabh Bachchan became one of the recent victim of twitter hack.Big B logged in today,and found himself following 'sex sites' and deduced that his account had been hacked.
The 72-year-old actor is India's most followed celebrity on social media with a Twitter community that's over 16.5 million strong. He's also one Bollywood's most active users of Twitter and Facebook and also runs his own blog. Big B has been on Twitter since May 2010.
However the hack doesn't impact on anything on the actor's timeline and attention was only drawn to the incident by Mr Bachchan himself.After followers found that he was following "sex sites",the actor's timeline was immediately filled with comments from concerned fans, including people who offered to track down the Internet Protocol (IP) addresses of the hackers.The offending porn sites have since been removed from the list of accounts he is following.Funny part was how Amitabh Bachchan respond to this incident with his tweet:
T 1980 -WHOA !..My Twitter handle hacked ! Sex sites planted as 'following' ! Whoever did this, try someone else, buddy, I don't need this !

— Amitabh Bachchan (@SrBachchan) August 31, 2015
In 2012, popular Indian director Karan Johar claimed that his account had been hacked by people who were sending direct messages to random people.Kamaal R Khan, another actor and director also said that a stream of abusive messages on his timeline had been put there by "hackers".
Twitter India declined to make a statement on Bachchan's tweet, saying that they did not comment on individual accounts.However, it isn't necessary for an account to be hacked into for it to follow random accounts. Sometimes this happens because of certain apps that are allowed access by users to their Twitter accounts.It is still not very clear what exactly led to this specific incident or if Bachchan's account was actually hacked into or not.