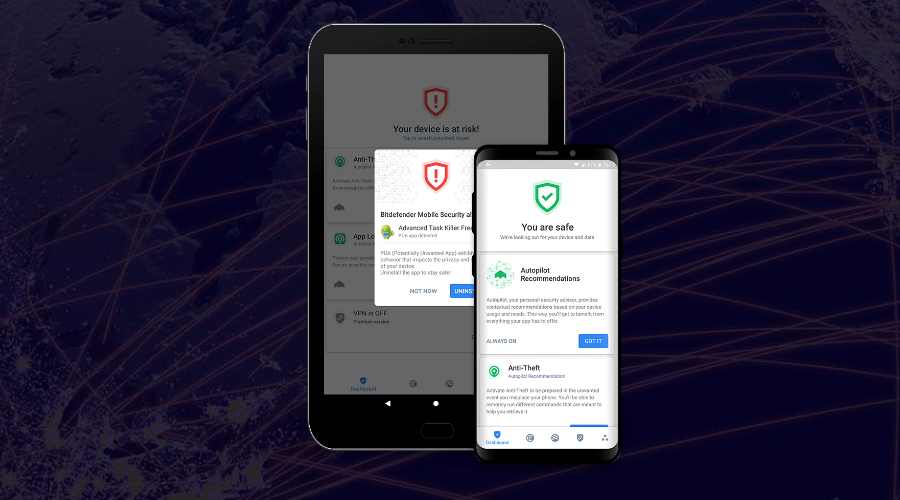 The Bitdefender Mobile Security for Android provides users with a plethora of effective services, which create a comfortable atmosphere for users to use the internet freely without any reason to worry. Its in-the-cloud scanning abilities as well as high detection engines it possesses and utilizes help keep Android devices safe from external attacks by viruses, malware and spyware accordingly. Its low battery impact is also a very good feature of Bitdefender Mobile Security that makes it very suitable for installation on Android devices. This software has effective virus detection, which functions without interfering with the use of the device.
Bitdefender has been developing various antivirus programs for years and the company can, with all confidence, boast having an installation base of over 500 million devices worldwide. Its browser support has been broadly expanded to various other internet connection providers such as Chrome, Firefox, Opera Mini, Dolphin, Samsung standard browser, as well as the browser in both the Facebook Messenger app and the Facebook app itself. It is characterized by interesting tools such as account privacy and anti-theft, reports, wear-on, system impact, set-up and support, interface, and so on.
The flagship application, which has been certified independently, possesses the ability to detect over 99 percent of viruses that are targeted towards attacking Android devices. It works on full speed and consumes the smallest amount of battery power. Unlike other antivirus software that downloads and stores virus signatures directly to the device, Bitdefender uses its in-the-cloud services to check the internet for the latest protections against outbreaks. It also prevents the installation of malicious applications. It offers optimized speed and is the best at the cross-platform performance.
Bitdefender provides on-install scanning, which ensures the Android devices stay safe. This is ensured as the software automatically scans any application that is newly installed. This feature helps users to stay informed and alert whenever a new application is installed. It also guarantees the legitimacy and safety of applications. There are no annoying and time-consuming application scans, advertisements, and there isn't any sudden lag that interrupts your mobile activities. It has been given credit for its effectiveness in resource-intensive applications, gaming, video editing, and image processing as well.
This mobile software has been credited for its vast array of functions, which it provides to Android phones. It has also been picked as one of the best anti-malware programs for Android devices, based on its user-friendly characteristics and accuracy in detecting any threats to the device on which it operates. In addition, its minimalistic approach makes it very easy to use, whether or not you are a techie or a rookie. Most of all, it serves as an effective guardian against mobile malware.