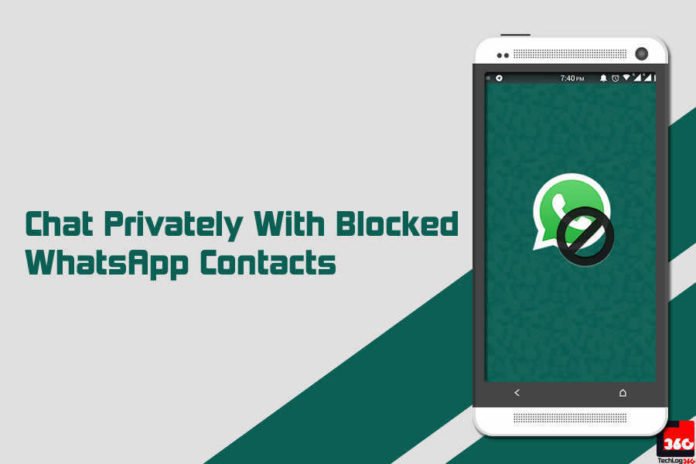 Facebook owned messaging service WhatsApp is always conscious about users privacy. Recently they introduced end-to-end encryption to ensure that user's messages, videos, photos sent over WhatsApp can't be read by anyone else — not WhatsApp, not cyber-criminals, not law-enforcement agencies.
Also See : Learn how to encrypt Android or iOS devices and stay protected
Also when it comes to privacy WhatsApp also feature some other options like hiding your profile picture, last seen stamp and status message. And we can't bypass above mentioned privacy features of WhatsApp. But there is one privacy feature in WhatsApp that we can override and that one is reinstating private chat with blocked WhatsApp contacts.
Yes most of us use block WhatsApp contact feature to get rid off of some unwanted people. Usually if a person get blocked in WhatsApp, he/she can't communicate or even see profile picture/last seen status of blocked account. But their is a simple trick that can help those who like to chat with blocked person privately and patch up things with him/her.
Chat Privately With Blocked WhatsApp Contacts
---
So lets explain this tutorial with a simple example. Assume that you and your girl friend had a little fight and eventually she blocked you in her WhatsApp account. So now you like to chat again and patch up things with her. Here you can use this trick to regain private chat with her in WhatsApp.
Also See : How to Run Multiple WhatsApp Accounts in Android Without Rooting
To work this trick, you need one of your friends help or if you have a secondary WhatsApp account go with that. Here we are seeking friend's help.
So first give your girl friend's contact number to your "trusted" friend.
Ask him to "Create a new group" in WhatsApp with you and your gf are its members.
As your friend is created the group, he must be the admin. So tell him to make you the admin of the group.
Now you can either kick your friend out of the group or ask him to leave so you and your gf can chat privately. I hope you like this simple and easy WhatsApp hack to chat with blocked WhatsApp numbers.
Watch the video demonstration of regain access to private chat with blocked WhatsApp contact :
Also See : How to Hide Drives or Partitions in Windows 7/8/10