Depending on how vast and intricate the dynamics of your IT environment is, managing your IT infrastructure can be a total nightmare.
After all, if you want to optimize how your IT management runs, there are a couple of things you'd need to stay on top of.
Things like:
Onboarding new applications and programs
Software access and security
Software distribution
Patch management
Costs
And installing updates (among other things)
With all of these in your plate, one of the worst mistakes you can make is to do your tasks manually — as in, one by one.
Not only will doing so increase your chances of making catastrophic IT mistakes — costly ones, at that — but you'll also hurt your productivity.
That's why you need a reliable IT management solutions like Cloud Management Suite (CMS) in your arsenal.
What is CMS, Anyway?
From a 30,000 ft perspective, CMS is a cloud-based platform that you can use to manage your internal and external devices.
Some of CMS' top features are software distribution, user-friendly reports, real-time security, remote control, patch management, and so much more.
With CMS, you can manage your IT environment from a single platform — through the cloud by using a web browser, at that.
IT Inventory and Discovery
CMS' inventory and discovery features allow users to view in realtime the devices connected to their network, the health of these devices, and other pertinent details about them. (e.g., Do they have vulnerabilities, their IP addresses, the device model and ID, etc.)
The platform can also generate an interactive report showing the hardware and software connected to the network, giving IT managers a clearer view of the IT landscape they're managing.
The users can also create tasks from within the platform so the IT managers won't have to go through other devices or programs to patch scan, patch deploy, distribute software, etc.



Real-time Security
IT management goes far beyond software updates and device maintenance, securing the network is a crucial component of the role, as well.
According to Cybersecurity Ventures, the global ransomware damage cost is estimated to hit $11.5 bn this year, and $20 bn in 2021.
The figures are a telltale sign of how serious cyber threats have become.
Because CMS gives security managers 100% visibility of their IT environment in realtime, they can respond to security breaches and events immediately.
Not only can they detect running programs, but they can also kill malicious processes in an instant.
With CMS' real-time security features, protecting a business' IT infrastructure against ransomware or most forms of cyber attacks has never been more convenient.
To help its users familiarize with their Cloud Management Suite Real-time Security, CMS put together 10 hours worth of live, in-depth onboarding and training.
Should the users need any help, CMS also offers priority phone support to their Realtime Security clients. It pays to know that CMS has a team of professionals ready to help and answer your questions, especially if you see suspicious activities in your network.
(The platform also offers chat and email support.)
Patch Management: Updates and Scans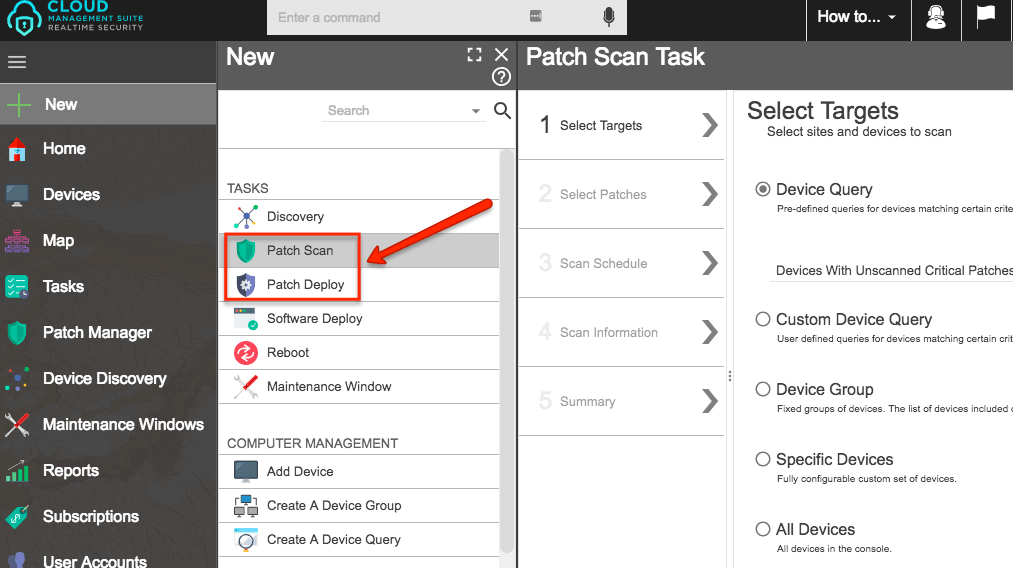 When companies fail to update their software, they open their network to cybersecurity vulnerabilities. Some of these might be minor, while there are those that can shut down entire company networks.
The Equifax data breach that happened last year — which compromised the personal data of millions of people — is a classic example of how things can escalate for the worse when companies fail to run their updates.
A fix to the security vulnerability was already available months before the breach, however, since the company failed to update their software, their network fell prey to the attackers.
CMS makes it easy for companies to stay on top of their patch management. It ensures that the company laptops, desktops, and offsite users are up-to-date with the latest security patches and software updates.
The platform also shows you the Device Health, revealing which devices are highly likely to be compromised, and those with zero vulnerabilities.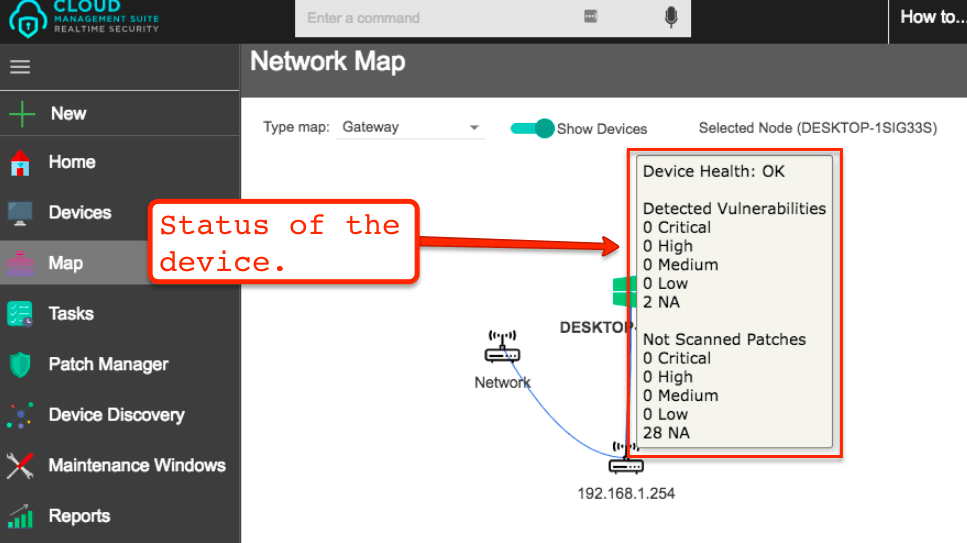 This gives security managers the information they need to prevent security events and breaches from happening.
Because unpatched programs can cause performance issues and data loss — on top of putting the company network at risk of getting breached by cybercriminals — companies should never slack off when it comes to updating their applications and systems.
Software Distribution
Through CMS, IT and security managers can now expedite the process of distributing software across their networks' devices — from antiviruses, password managers, VPNs, etc.
Because CMS is a cloud-based platform, you can have an IT professional deploy software from the cloud.
This centralizes your software distribution process without you having to spend hundreds of thousands of dollars worth of IT infrastructure.
What's more, the interactive wizard simplifies the process of software distribution.
The users have only to follow the instructions/steps listed, and they'd be able to run the distribution process without a hitch.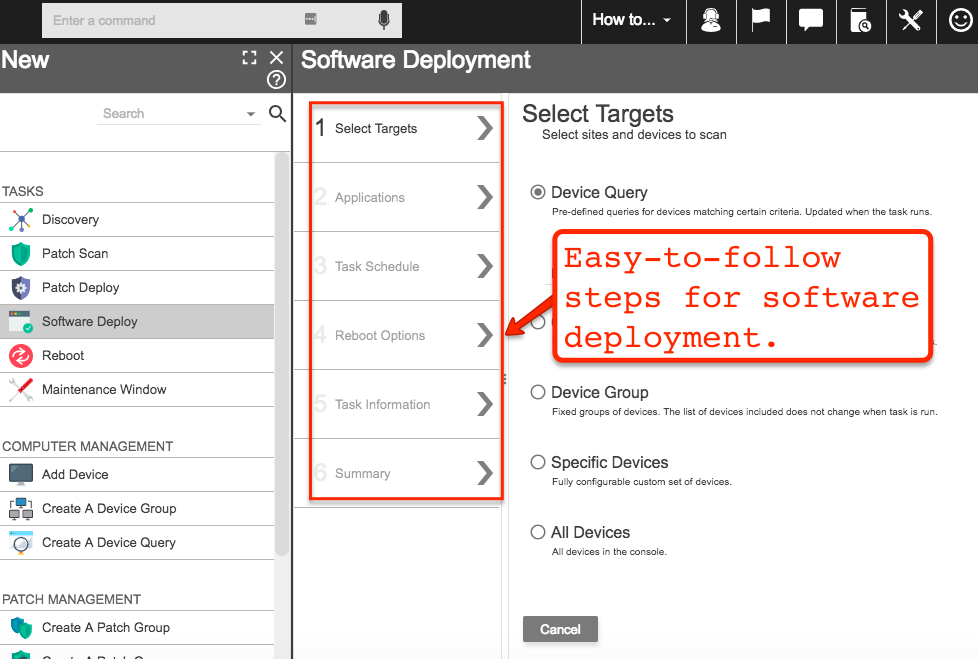 CMS' software distribution feature also helps companies by preventing their software deployment from limiting their company's bandwidth. (Software distribution often eats up a lot of bandwidth.)
Through CMS, a software package is only downloaded once per network.
The big software package is then "sliced" into smaller pieces as it is distributed, which is then reassembled on each device. As a result, the bandwidth consumption of the whole process is reduced drastically, all while the software packages are still installed seamlessly.
Conclusion
The myriad of features that CMS has under its toolkit can simplify the IT management workflow of companies.
Considering the complexities and importance of managing a company's IT environment efficiently, IT managers need to employ the help of reliable IT management platforms like Cloud Management Suite.
Not only does the platform simplify and streamline the entire process of managing an entire network of tools and devices, but the airtight cybersecurity features that CMS brings is also a must-have for companies.