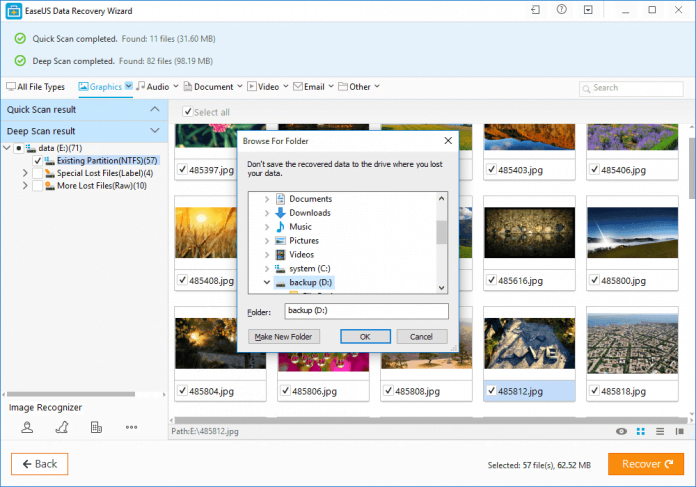 How safe is your data on your PC or laptop or any removable devices? Are you sure it's well protected from accidental deletion or hard disk failure or a virus attack — yes I know, no one can predict those and which results in the permanent loss of our data, our personal files or some important documents.
But what if we have a solid data recovery software by our side to get back our precious lost data. EaseUS Data Recovery Wizard Free Edition is such a powerful tool to recover data from your hard drive, USB drives, memory cards, and other storage devices. It can easily recover lost files, pictures, documents, videos and more from deleting, formatting, partition loss, OS crash, virus attack and other data loss cases. EaseUS Data Recovery Wizard Free Edition is capable of recovering more than 1000 types of file types.
Features of EaseUS Data Recovery Wizard Free 12.0:
Fast and Simple — No prior recovery experience is required. Anyone with basic computer knowledge can use this tool with ease and complete whole recovery process in simple 3 clicks. Fast yet efficient isn't it?
Flexible Scanning Modes are Available — Comes with two scanning modes. One "Quick Scan", it will search deleted files and folders using the basic algorithm. And the other one is, "Deep Scan" for scanning sector by sector to ensure better recovery results.
Preview Before Final Recovery — Preview of files available before making the final recovery attempt, so that you could choose only files you needed to be recovered.
Also with free sd card recovery software, you can recover deleted files from memory SD cards of most brands including SanDisk, Samsung, Kingston, Sony, Transcend, etc. So with the capability to recover data from all types of storage devices, this is your best bet. You can try the services using the free wizard to ascertain that they meet your expectations.
There are many data recovery software in the market today with endless promises about the quality of services offered. There is a reason top corporations and firms dealing with sensitive data choose EaseUS Data Recovery Wizard Free for all their recovery needs. One of the reasons is that it works on all devices including PCs, laptops, mobile gadgets and removable, among other storage locations.