Parenting comes with many challenges along with responsibilities, the most important one such challenge is ensuring your child's safety even when they're out of sight — especially during the younger ages.
Studies found that the percentage of kids gone missing is considerably more than being kidnapped. There are lots of reasons why a child may go missing — they may have run away, or get lost or failed to come home on time.
The problem is parents don't know where they go and what they do once they left home. Of course, we parent may feel helpless and blame themselves if ever something like this happened to their child. But what they forget is that now we are living in a world with many technical advancements and in this modern era, keeping an eye on your kid even when your miles away is a quite easy task.
With modern technology, a parent can easily track their children — you can know where they are going like the third eye of yours is always open to looking over the child when they left home. Although to enable this tracking system, first you have to invest in some nifty child tracking gadgets and applications. These gadgets will act as a GPS beacon and come in many forms like a watch or locket or bracelet or as a simple app.
In this article, we are going to discuss such 3 effective ways to keep track of your children with modern trackers. With these services check the location of your kids at any time and anywhere.
1. Find My Friends for iOS:
If your kids have iPhone, with Find My Friends app you can easily track their location. Find My Friends app is automatically installed on iOS devices or you can get it from AppStore. Just Go to "Find My Friends > Add". Choose your kids' Apple IDs or enter their email addresses to send requests. Go to their iPhone, and agree to your request, you'll be able to see their locations on the map in the Find My Friends app.
Features of Find My Friends:
Location-based notifications.
Simple privacy controls.
Parental restrictions.
Share location temporarily or permanently.
2. Find My Kids ~ Footprints
It is another iOS app to track your kids and share locations. Footprints tracks and shares locations automatically – in real time, all the time. And it does it privately. With Footprints, you can set up Geofences, like your kids school, and be notified when these fences are crossed. You can even activate movement sensors that will notify you each time your loved ones are on the move. Initial free subscription period makes it easy to get started.
Features of Footprints:
Clear and simple interface.
Tracks movement throughout the day and logs waypoints without user intervention.
Parental control feature allows for sharing locations at all times, without a disabling option.
Runs in the background – without draining your battery.
Designed to sync seamlessly between your iPhone and iPad.
Above mentioned two methods need a smartphone for tracking. Although giving smartphone access to your kids may do harm more than good. Because kids addicted to the smartphone and the cyber world easily, and the iPhone is too expensive. It's wasteful to buy your kids iPhone just to track them. So the best alternative is the next method.
3. GoFindMe GPS Tracker with Geofence:
GoFindMe is a real-time GPS tracker works without cell service or Wi-Fi network. GoFindMe is the perfect GPS Tracker for kids where you can easily track them instantly by real-time location, distance, and direction. It has built-in GPS and other powerful modules, which has the ability to transmit GPS coordinates. GoFindMe GPS tracker comes with small size, so simply attach it on your kids' schoolbag, backpack or put into the pocket to start the tracking process.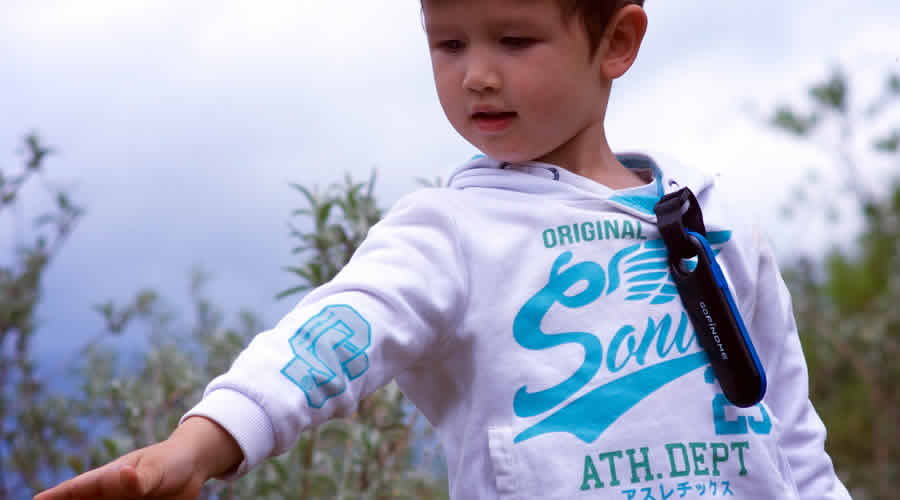 Also, GoFindMe is integrated with Geofence, where you can set a virtual perimeter for a geographic area in the real world — like with geofence you can set a safe zone for kids using GoFindMe GPS tracker. So that you receive alerts when kids move outside the safe zone.
Features of GoFindMe:
Cost effective.
GoFindMe GPS Tracker can track children in real time with setting up a Geofence.
No cell networks or Wi-Fi required.
No subscription and no monthly fees.
One Button SOS.
Off-grid messaging.
The device is waterproof, shockproof and dustproof.
Get battery backup for up to 72 hours.
So it is the time to invest in the best service to track the location of your kids. These services will act as a friendly ghost over a small child's shoulder, alerting their parents to when they've gone missing.