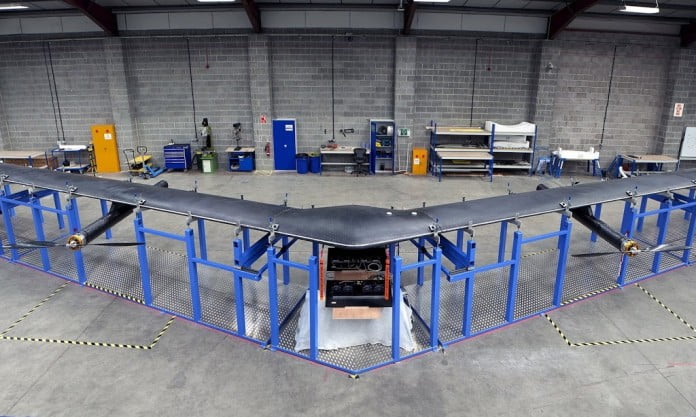 F
acebook is working hard to provide internet connectivity to remote areas.Last time they launched
Internet.org
service,which helped to provide internet connectivity to billions of people around the globe.With the the mission of providing internet connectivity for all,facebook created a separate team called Connectivity Lab.In Connectivity Lab they are testing and developing new ways to connect world together.
Now the good news is,Facebook's Connectivity Lab recently announced that they successfully developed a solar powered drone called "Aquila",which  plans to use to provide internet access in remote parts of the world.
Aircraft "Aquila" has the wingspan of a Boeing 737 but weighs hundreds of times less, thanks to its unique design and carbon-fiber frame.When deployed, it will be able to circle a remote region for up to 90 days.The aircraft will operate etween 60,000ft (18km) and 90,000ft (27km) – above the altitude of commercial airplanes – so it would not be affected by weather.It will climb to its maximum height during the day, before gliding slowly down to its lowest ebb at night, to conserve power when its solar panels are not receiving charge.
And they also developed a laser communications system, that can  transmit data at 10 gigabits per second and  it can accurately connect with a point the size of a dime from more than 10 miles away.They are planning to use this laser communications system to connect aircraft with each other and with the ground, making it possible to create a stratospheric network that can extend to even the remotest regions of the world.
Jay Parikh, Facebook's vice-president of engineering, said:
Our mission is to connect everybody in the world. This is going to be a great opportunity for us to motivate the industry to move faster on this technology.
Yael Maguire, the company's engineering director of connectivity,said that the drone was built in 14 months, was able to fly in the air for 90 days at a time,Since it have no wheels,drone will lifted in the air with the help of helium balloons.The balloons will be easily capable of lifting the drone: even when fully laden with communications gear, it will weigh just 880lbs (400kg).The drones are anticipated to offer Internet access to areas with a radius of 50 kilometers (31 miles). The Aquila program, which was first tested in Britain in March this year, is geared towards bringing internet access to the 10% of the population who do not have it.
Watch the video below to know more about Aircraft Aquila:
Take a look inside Facebook's Connectivity Lab – an important part of our effort to bring connectivity to the billions of people who are unconnected today.

Posted by Facebook Engineering on Thursday, July 30, 2015