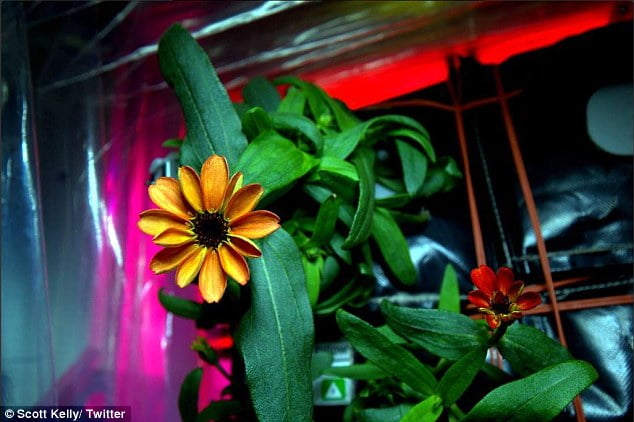 The first flower to bloomed in the zero gravity of space was photographed on the International Space Station (ISS). American astronaut Scott Kelly, who is spending a year in space starting March last year, recently tweeted a picture of a beautiful orange zinnia grown in orbit.
On Saturday, he tweeted, "Yes, there are other life forms in space !"
Also Read : Apply Online Now to Become an Astronaut and Go to Mars
First ever flower grown in space makes its debut! #SpaceFlower #zinnia #YearInSpace pic.twitter.com/2uGYvwtLKr

— Scott Kelly (@StationCDRKelly) January 16, 2016
Yes, there are other life forms in space! #SpaceFlower #YearInSpace pic.twitter.com/BJFWvQXmBB

— Scott Kelly (@StationCDRKelly) January 16, 2016
Captain Kelly also shared a blog by NASA that explains the process of growing the plants in space to "better understand how plants grow in microgravity."
Also Read : SpaceX Successfuly Launched Satellite but Fails to Re-Land Falcon 9 Rocket
Zinnia was not easy to grow. For instance, it took a relatively longer time to mature (60 days), and lighting had to be meticulously regulated by the scientists. The system used to bloom first flower of a plant grown outside Earth's atmosphere is the use of red, blue, and green LED lights to simulate sunlight.   These very characteristics, however, are thought to allow scientists to gain a better understanding of the growth and flowering of plants in microgravity. 
Following the success of the zinnia flowers, another crop of romaine lettuce will be grown alongside Chinese cabbage, followed by dwarf tomatoes in 2018.
Plants are likely to become more important in missions to be planned in the future since the crew is expected to have a more limited interaction with the Earth by then, says Alexandra Whitmire from the NASA Human Research Programme.
Also Read : Astronomers Find New Way to Measure Gravity to Spot Alien Life