Can't access PC which is locked out and forgot that password? Are you wondering how to unlock a locked PC without password? You are at the right place. We will share with you three methods to regain access to a locked PC without even knowing the password.
Honestly speaking, you won't be able to access any files or data on your computer if you can't remember the password which automatically indicates that the information contained inside your computer is totally lost. However, in this tutorial, we will show you how to retrieve the computer password and at the same time keep all the files on your PC.
Method#1 – With Ophcrack
Ophcrack is a free program to recover password. It is rather old and outdated, but it still works with Windows 7 and older versions.
First of all, visit Ophcrack's website and download Ophcrack LiveCD.
Choose the version of Windows.
Download the Ophcrack LiveCD ISO file. You may save it to disk or download file. Save it to your desktop or any other location. The size of the program is quite large, i.e. 649MB for Windows 8/7 and 425MB for Windows XP.
Burn the Ophcrack LiveCD ISO file to any Flash drive or CD. Make sure the flash drive has at least 1GB of empty space.
Restart your PC with Ophcrack LiveCD Flash Drive or CD/DVD which is bootable. It can run independently of your OS on hard drive. After restarting, the initial screen will help you start the next process.
Wait for the LiveCD menu to appear. After initial startup, it will display the Ophcrack LiveCD menu. It will boot automatically.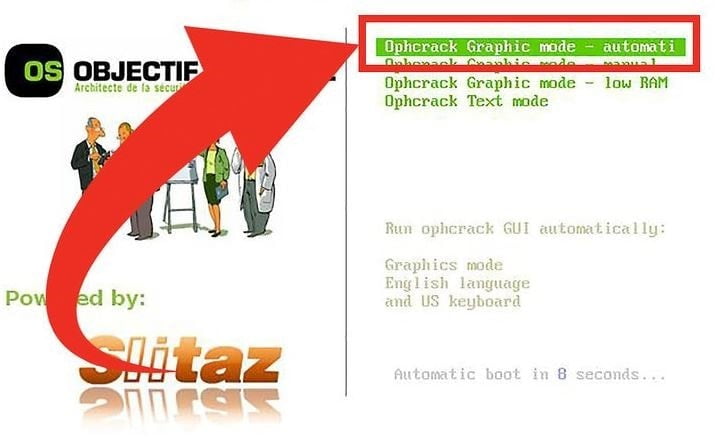 Wait for LiveCD to load automatically. You may see various lines of text running down quickly. Don't do anything here. It is the recover process of passwords on your hard drive.
In the next step, it will open a little window which appears and disappears too often. It confirms that partition with password details has been found on hard drive.
In the next process, it will try to recover the passwords for all user accounts in your PC. It is totally automated. The passwords are listed in NT Pwd column and accounts in User column. If NT Pwd field is blank, it means password has yet to be recovered and if user account is not listed, it is yet to be found. If the passwords for Guest and Administrator accounts listed as empty, you can now log on to the account without password.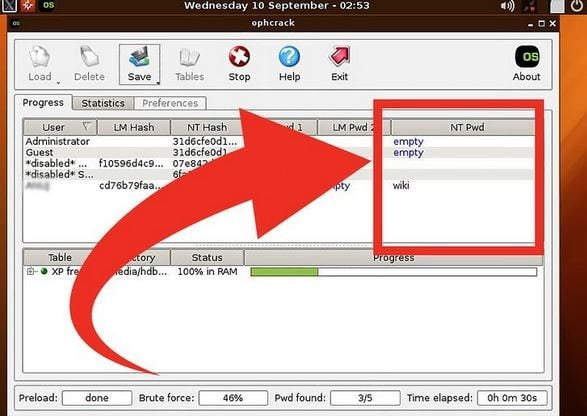 Cons –
Doesn't work with Windows 8 or Windows.
Incompatible with 64 bit Windows versions.
Method#2 – Using John The Ripper
John the Ripper is the quick and robust password cracker, designed basically to crack Unix passwords. Along with Unix encrypted passwords, it further supports hashes on Windows LM with its open-source contributed patches. Windows user passwords are usually stored in SAM registry. The password is encrypted with NTLM hash in the SAM file. Then, SAM file is encrypted through SysKey. When Windows boots, the SAM file hashes are decrypted with SysKey and hashes can be loaded to the registry and used for the purpose of authentication. Both SAM and system files are not available to standard regedit programs when Windows run.
For encrypting passwords, NTLM has is too week. Here is the NTLM encryption algorithm and how it works –
Converts ASCII password to uppercaseNull padding is done until 14bytes
Then, it is split into two arrays of 7bytes
Making 64 bits (8-byte) by padding both to create DES key
The string "[email protected]#$%" is DES-encrypted with array for each 7 bytes and results in 8-byte stream
NTLM hash (16-byte) is formed with two cipertexts
As you see, the hashes are still not readable. So, it's time to crack them with the help of John the Ripper software. It is one of the most widely used tools for Windows password cracking as well as for Mac OS X and Linux. All you need to download John the Ripper for Windows and extract it.
Go to Command Prompt and go to John the Ripper's directory and type the following command –
john --format=LM d:\hash.txt
It will crack your Windows Password within few seconds.
Cons –
Complicated tool.
No support available if required.
Method #3 – Using TunesBro WinGeeker Ultimate Program
So you forgot your password and don't have password reset disk or built-in admin disabled, it's time to download a program that is specialized to unlock your PS. TunesBro WinGeeker Ultimate is here to rescue your system.
This program supports Windows 10, 8, 7, XP, Vista and Windows Server versions. You have to make a bootable CD/DVD or USB drive using this tool. Boot your system with the disk and find the account to remove password and click the reset button to unlock password. It also supports various laptop and desktop brands like HP, Dell, Toshiba, Sony, Lenovo, Samsung, Acer, etc. Additionally, you can make your own password reset disk using a USB drive or CD/DVD.
Firstly, you will need to install the program on a working computer and make a bootable password reset disk using a USB drive or CD/DVD. Next, insert the bootable drive on your locked computer and move on to the next step.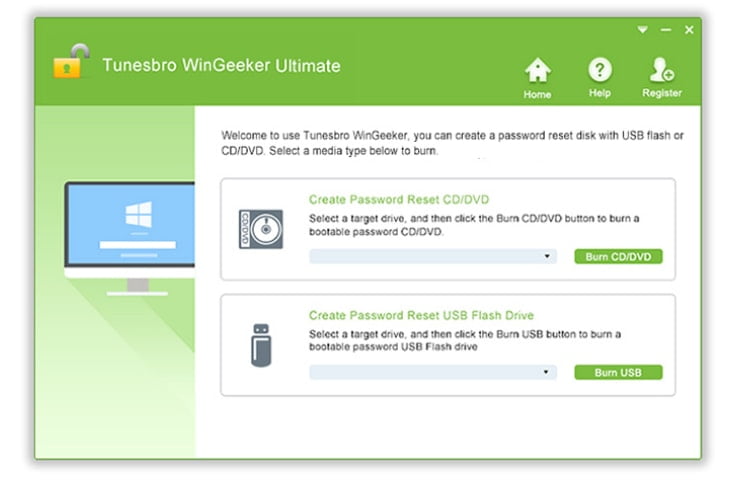 When you start to boot with the USB or DVD drive, make sure to change the boot order in BIOS. It will start recovery during boot process. Choose the target user that you want to reset. Click "Reset Password" and confirm by clicking "Yes" button. Once you reset the password, it will leave the password of target user blank. Click "Reboot" to allow it to eject the recovery drive and click "yes" to restart. It will start up without login.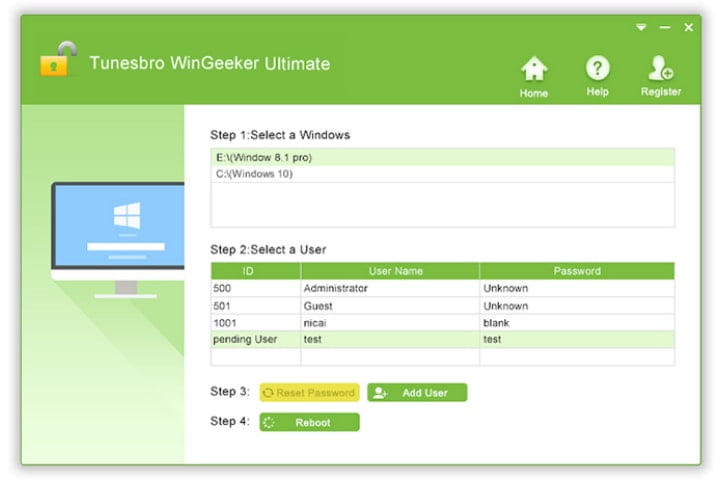 Conclusion –
Finally, you can see yourself that resetting Windows computer password is not really that hard when you know the right tricks and tweaks. Most computer experts actually use these methods to unlock any protected computers. Thankfully, TunesBro WinGeeker Ultimate tool doesn't require any technical skills to unlock your PC and you can reset any Windows computer password within minutes. It has been downloaded and reviewed by millions so you cannot go wrong with this program.
Do let us know if you have any query in the comments below and have a nice day!