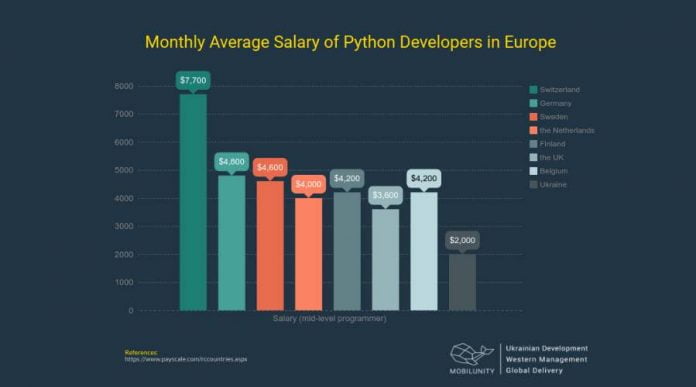 The world is experiencing an enormous tech talent shortage, meaning there are more jobs available than there are developers with proper technical skills. We have already discussed some of the most popular programming languages, that are most likely to land you a job in IT. So today, we would like to talk about money in terms of how much developers can earn, what defines the software engineer salary and what sector can bring you better perspectives.
Despite the temptation to switch to basic analysis of languages and their minimum annual salary/pay rate, but we'd rather resist and perform the analysis the other way round. We can safely assume that there are 3 major sectors of technical knowledge and skills
Enterprise Sector
Unlike working with tech startups, this area requires in-depth knowledge of the subject matter, profound experience and ability with a large amount of information. There are 2 primary programming languages that rule the enterprise: .NET and Java.
While calculating an average rate for any developer, you need to take into consideration both the country they live in and their expertise. For example, the cheapest workforce can be found in developing countries (i.e. you can hire .NET developers in Ukraine starting from $750 per month for Junior Specialists). On the contrary, the highest software developer salary would be in the US, UK, and Switzerland (have a look at Java developers rates in NY).

Another aspect that may influence the compensation rates, is the industry of the project. If you check salary by industry, you are most likely to find out that government-related projects (such as health care) are more likely to be better-funded than other. Considering everything above-mentioned, the remote work and personnel still remain a great choice for small to medium businesses with the moderate revenue level.
Web Development
Modern business relies on websites and online presence, so the need for web developers is growing. Main languages and technologies that represent this area are CSS/HTML, JavaScript, PHP, Python, and Ruby. Basically, the rates vary from $15 for a Junior front-end (according to UpWork) up to $32-55 for Python developers.
Each separate project will require a developer with certain skills, so it might be better to have knowledge of both front- and back end in order to qualify for a higher/better position. In this case, the highest mean salary is received by developers with a wider skill set and experience (and project that can afford such specialists). A lot of companies prefer programmer with full stack knowledge over those who possess the knowledge of one language/technology.
Mobile App Development
Another area that thrives right now is application development. Whether we are talking about IOS/Android apps, PWA or hybrid application (somewhere between a traditional app and web development), the knowledge of Java, Swift, Objective-C, and Cordova will be required by specific projects. The rates will vary, depending on the length, the complexity of the tasks and knowledge needed, as well as the role one has to play in each project.
What influences the developers' salary?
Despite the common phrase in virtually any job offer 'salary commensurate with experience' it rarely happens in real life. However, what is missing here, is the understanding that no one wants to work for a company for over 10 years in order to get paid what they are worth. Instead, employers should focus more on tech knowledge and experience, along with soft skills one can bring to the company. Another important aspect is the role played in the project. It is no secret that developers and QAs receive different compensations, so before rushing into the industry, you might want to check salary comparison by a job. If one is looking for a remote developer, then experience in a similar environment would be a plus.
The question is how to estimate the salary if you have never worked for a big company or have little to none experience. First, keep in mind that depending on your location, the taxes may vary significantly, so make sure to use some sort of salary calculator to estimate salary after taxes (which may make a significant difference). Next, research what is the median rate in the country or state for an in-house and remote position. And of course, critically evaluate your skills and actual experience in the industry.
Overall, the salary one can hope for is primarily defined by the project (and the size of the company), as well as the skill set required to complete the job. Key factors that define the rates are the location (of both the company and developer), level of knowledge needed to fulfill the position and experience one posses in a certain industry.