The latest and most improved version of Apple's operating system for iPhone, iPad, and iPod touch devices, iOS 9 is now available for download.Recently Apple launched next generation iPhones – iPhone 6S and iPhone 6S Plus along with some other products and now they released iOS 9 for download.
New features include live wallpapers, better battery life, a smart news app and an updated keyboard.Other additions include a News app, which contains stories specially selected by the tech giant, Proactive Assistant which resembles Google Now, and updated HealthKit tools. Apple has also added an app that makes it easier for Android users to switch to iOS.Called 'Move to iOS', the app securely transfers contacts, message history, camera photos and videos, web bookmarks, mail accounts, calendars, wallpaper, and DRM-free songs and books.To boost security, default pin codes are now six digits long rather than four which Apple said increases the possible combinations from 10,000 to one million, and is therefore more secure against hacking.
So how to download and install iOS 9 to your iPhone, iPad or iPod Touch.Follow this simple guide and made it happen.
If your device is running iOS 8, then it is eligible for the iOS 9 upgrade. This year Apple hasn't discontinued OS upgrade support for any devices, but some features such as split-screen multitasking for iPad will only work on the newest devices.
The following iOS devices will get the iOS 9 update.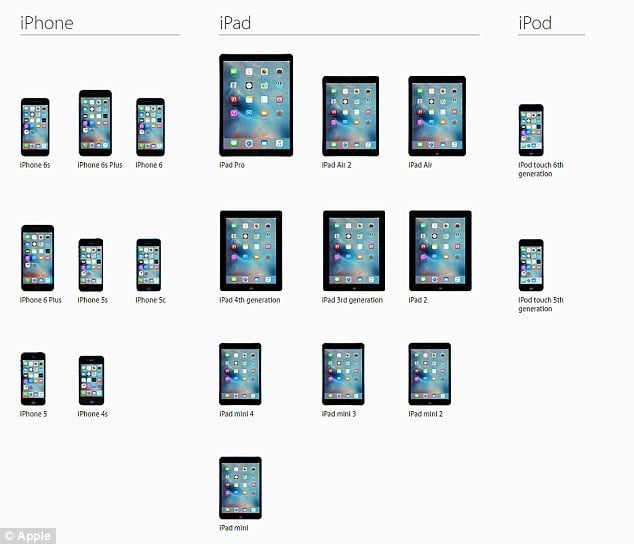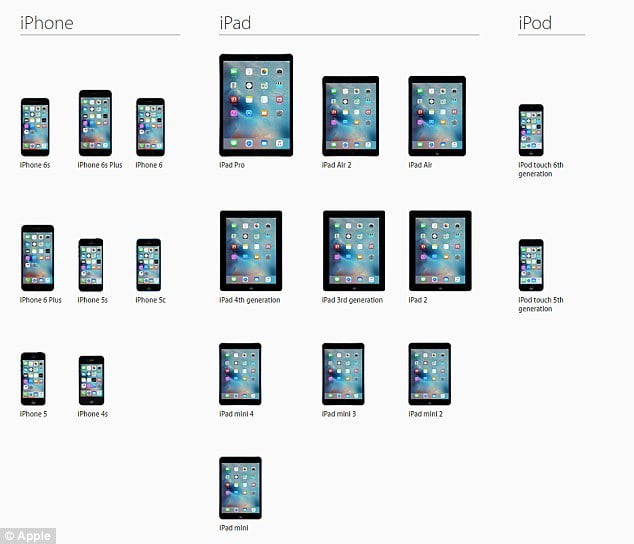 The iPad Pro, iPhone 6s, iPhone 6s Plus, and iPad mini 4 will ship with iOS 9 pre-installed, and hence don't appear in this list.
Back up

 Your Device
First of all before any update Apple advises people back up their device to iCloud or iTunes.So first backup your device.
You can do this via iCloud or iTunes, but we recommend that you do it via iTunes, because it doesn't require an Internet connection. Here are the steps to take a backup of your iPhone, iPad, or iPod touch using iTunes.
Connect your iOS device to a PC or Mac.
Open iTunes.
On the top-left (to the left of My Music), click the icon that represents your iOS device (iPhone, iPad or iPod touch icon).
Under Backups, you will see the sub-head Manually Back Up and Restore.
Click Back Up Now to start backing up your iOS device.
If you don't have access to a computer, then you can use iCloud Backup. Only 5GB is free and you'll have to pay Rs. 60 per month for additional storage on iCloud.
To start backing up, on your iOS device, go to Settings > iCloud > Backup.
Turn on the switch marked iCloud Backup. You'll get a warning telling you that your iPhone will not back up to your computer automatically. Tap Ok.
Once iCloud Backup is on, tap Back Up Now. This will start backing up your data to iCloud.
Wait for the backup to finish before proceeding further. You should see the Last Backup time (which should appear right below Back Up Now) correspond to something recent once the backup is completed.
Download and Install iOS 9
After back up its the time for updating your old iOS to new one iOS 9.You can quickly install iOS 9 on your Apple device directly via your iOS device or iTunes.
The iOS 9 update is big download, but the amount of free space required on your device is lesser than iOS 8, so there are unlikely to be troubles like last year when you are installing iOS 9. Here's how to get the iOS 9 update over-the-air (OYA).
Make sure you connected to make sure you're connected to Wi-Fi (you can't download updates over mobile data) and plug it in to a power source.
Now tap "Settings > General > Software Update "
Tap Download and Install.
Once the download is complete, you'll see a pop-up asking if you'd like to install the update. Tap Install. That's it. When the update is installed, your iPhone will restart.
For people who can't update wirelessly, or those who want to update with iTunes, follow these steps:
Install the latest version of iTunes on the computer.
Plug in the device to the computer.
In iTunes, select your device. In the Summary pane, click Check for Update.
Click Download and Update.
So what are you waiting for, start your updating process and follow the most advanced Apple's operating system, iOS 9