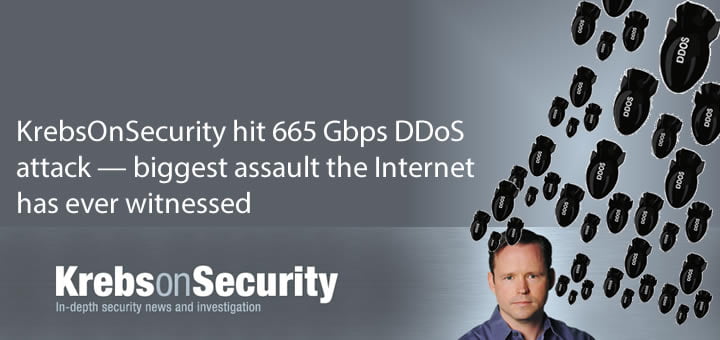 KrebsOnSecurity.com faced Internet's biggest distributed denial-of-service(DDoS) attack on Tuesday evening. Founder Brian Krebs revealed that his website has been attacked with 665Gbps DDoS attack — was among the biggest assaults the Internet has ever witnessed.
Holy moly. Prolexic reports my site was just hit with the largest DDOS the internet has ever seen. 665 Gbps. Site's still up. #FAIL

— briankrebs (@briankrebs) September 21, 2016
Fortunately, though, the attack was countered by Akamai's DDoS security that has been put on Krebs' website. And according to Akamai, it was nearly double the size of the largest attack they'd seen previously clocked in earlier this year at 336 Gbps.
There are some indications that this attack was launched with the help of a botnet that has enslaved a large number of hacked so-called "Internet of Things," (IoT) devices — routers, IP cameras and digital video recorders (DVRs) that are exposed to the Internet and protected with weak or hard-coded passwords.
Brian Krebs speculated that this attack might be retaliation for his recent posts on the takedown of the DDoS-for-hire service vDOS, because Krebs stated that some of the POST request attacks that came as part of this 620 Gbps attack included the string "freeapplej4ck," a reference to the nickname used by one of the vDOS co-owners.
Krebs is no stranger to attacks of all types — a hacker forum once used crashing Krebs on Security as a way to audition for their site and also a Ukranian hacker sent drugs to his home and called the police for his arrest.
Also Read : What Is DDoS Attacks And How Does It Works ?