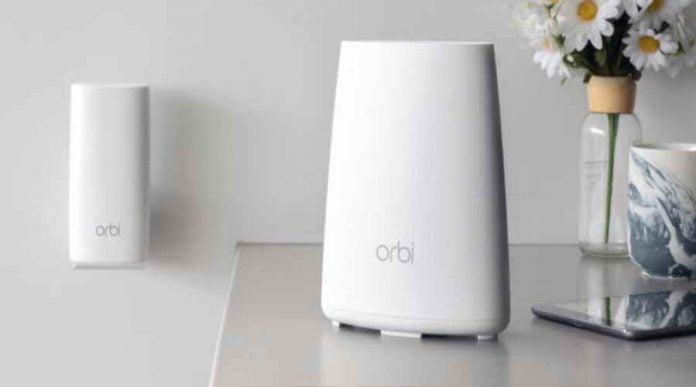 As our reliance on internet-connected appliances at home grows so does the need for a consistently reliable WiFi system which can keep up with our demands. One of the key players in this field is Netgear's Orbi WiFi system, a package which comprises a special router and satellite to replace existing routers and extenders, whilst also providing an amazingly efficient service. Orbi is special because it is the first WiFi home tri-band system, one which is able to deliver fast and secure WiFi you can rely on in all area of your home and yard. If you'd like to find out more about this, then please Check out this guide.
While traditional WiFi systems rely on dual band and mesh technology which simply cannot cope adequately when extra devices are added, leading to slower delivery speeds, Orbi has a special third band which ensures there's no loss of service speed, regardless. No more buffering, dropped connections, or lag to put up with, just the service you are paying for and have the right to expect.
There are several versions of Netgear's Orbi WiFi systems, so here we look at the main difference between three of them – the RBK30, RBK40 & RBK50.
Key features of Netgear's Orbi RBK30
Covers a total space of around 3,500 sq.ft.
No LAN Ports in the satellite.
WiFi has speeds of 2200 Mbps (AC 2200).
There are 3LAN and 1 WAN Ports in the router.
Plugs into any socket for instant use.
Works fine with auto assistant systems.
Can provide a guest WiFi network if desired.
Average cost is around $160.
Key features of Netgear's Orbi RBK40
Covers an area up to 4000 sq.ft. – which is bigger than the RBK30
Has the same WiFi capacity as the RBK30
The satellite has 4 LAN Ethernet Ports
The router is the same as the RBK30 model.
Costs around $190.
Key features of Netgear's Orbi RBK50
This version covers an area up to 5000 sq.ft.
The WiFi speed is higher than both other models, at 3000 Mbps (AC3000).
The satellite has 4 LAN Ports for wired connections, which is the same as the RBK40 model, but of course four more than the RBK30 which has none.
The router has the same features as both other models, that is 1 WAN and 3 LAN Ports.
At around $310 this version has the highest price tag.
Is one model better than another?
That really depends on factors such as the size of the space you need reliable coverage for and personal preferences. While the RBK50 Netgear Orbi WiFi model is top for speed it isn't really essential unless you have a lot of space to provide cover for. For smaller homes where there's no call for satellite LAN Ports then the RBK30 offers a great service for the cheapest price tag. Price wise the difference between RBK30 and RBK40 is much narrower than that between those and the RBK50 version.