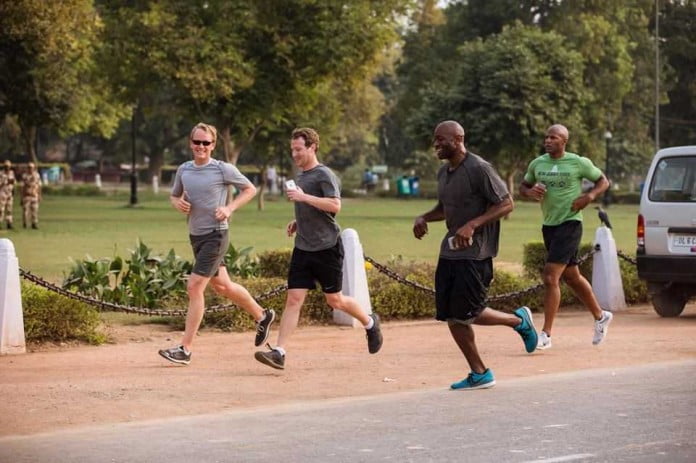 Facebook CEO Mark Zuckerberg is no stranger to New Year's resolutions. Yesterday Zuckerberg posted his 2016's New Year's resolution that he want to focus on Artificial Intelligence (AI) and is even thinking of a simple AI to run his home and workplace like the famous Jarvis character in the Hollywood movie "Iron Man".
Today again Zuckerberg posted that his physical challenge for 2016 is to run 365 miles  or one mile per day, and has invited the social media community to do the same. The post was liked by 70,000 people in under an hour.
Also Read : This Weird Trick will Speed Up iPhone in Less than 30 seconds
"This is a lot of running, but it's not a crazy amount. It's a mile a day, and at a moderate pace it's less than 10 minutes of running per day." – he wrote on his Facebook page.
He's also started a Facebook group called "A Year of Running," where users pledging to run 365 miles with him can discuss their running adventures and where he's promised to post periodically about his progress. In the hour since Mr. Zuckerberg posted the challenge, over 25,000 users have already joined the group.
Also Read : Ransom32 is First JavaScript-Based Ransomware Affecting Windows, Mac and Linux
Here is Zuckerberg's recent post about his physical challenge: