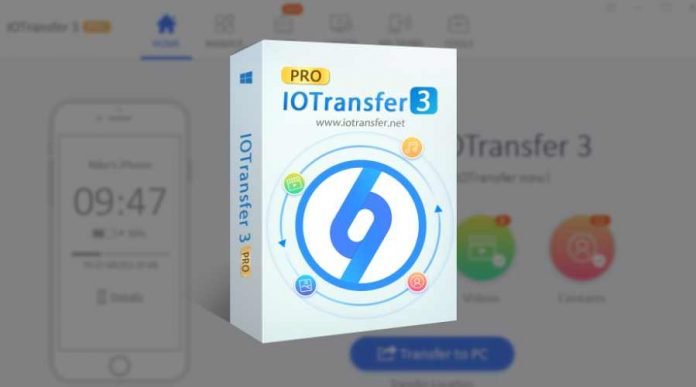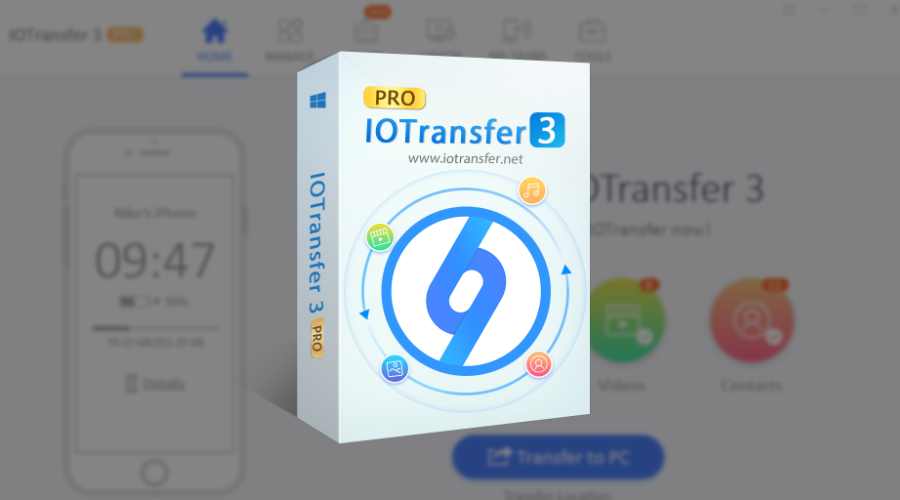 Are you looking for a perfect tool to transfer and manage files between iOS devices and Windows PC, then IOTransfer 3 is the best option out there.
IOTransfer 3 — a simple yet effective iPhone transfer software, as well as a powerful video downloader and converter for Windows. Yes, the IOTransfer 3 only supports Windows now, hopefully in the future, it will available for Mac computers too.
IOTransfer 3 Features:
With IOTransfer 3 you can easily export and import photos, music, videos, contacts, iBooks, Podcasts, Voice Memos, Apps between your iOS device and PC with just one click.
Other than its hassle-free device management feature, IOTransfer 3 is also a best in class video downloader and converter. With this tool, you can directly save videos and movies to iPhone and iPad. And also IOTransfer video converter ensures the easiest way to convert videos to other audio or video formats like MP4, AVI, MKV, FLV, MP3 and more.
With its new feature AirTrans , IOTransfer 3 transfer allows you to wirelessly transfer music, photos, videos and etc. between iPhone, iPad, and computer via WiFi. Easily and safely manage,A backup and bulk-delete files in the local WiFi network.
IOTransfer 3 is also capable to scan your iPhone or iPad to remove useless files from your device to free up more space and memory.
How to use IOTransfer 3?
First, download IOTransfer 3 from the official website and install it on your Windows PC. After that connect your iPhone, iPad, or iPod with USB cable. After allowing the access to the device with computer you will be greeted with a homepage, where you can see the option to transfer photos, videos, , and contacts to PC with a single click.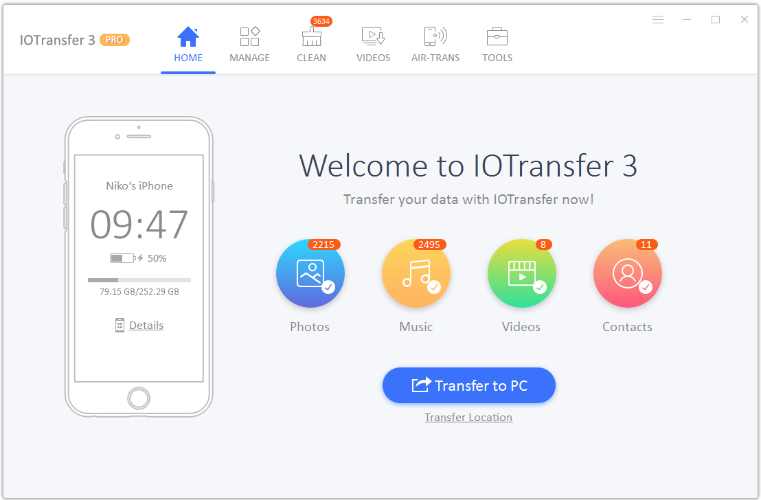 If you like to import and export selected files between Windows and iPhone or iPad use "MANAGE" tab. This is where you can also remove unwanted apps from your iOS devices by choosing the option "Apps".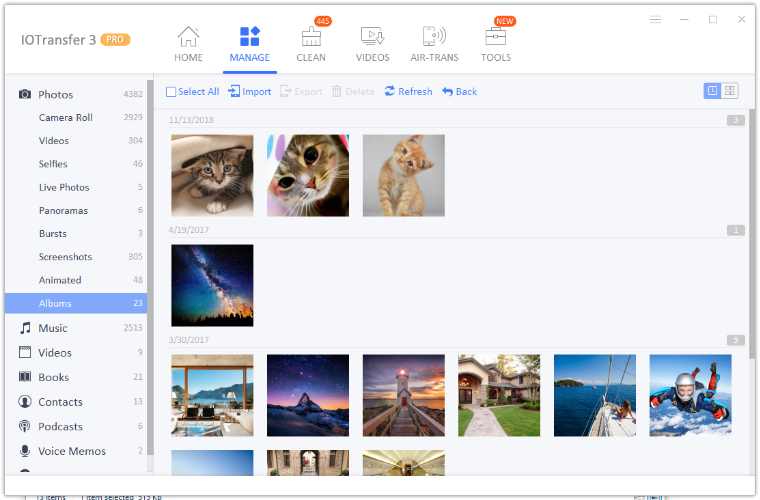 Next to MANAGE tab you can find "CLEAN" option. With this feature, you can easily and safely clean junk files from your iOS devices and free up some space in your iPhone or iPad.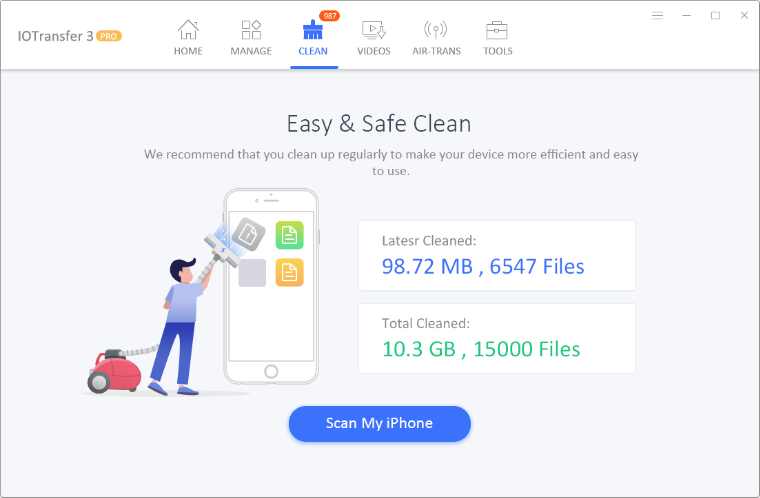 In "VIDEOS" tab you can find the option for video downloader and converter. Choosing "Downloader", you can easily download any videos from YouTube, Facebook, Twitter, Instagram or any other popular network by simply copy-pasting the video link to the box. Also, you can instantly transfer the downloaded videos to your iPhone or iPad. So with IOTransfer, you are also owing a powerful YouTube video downloader too.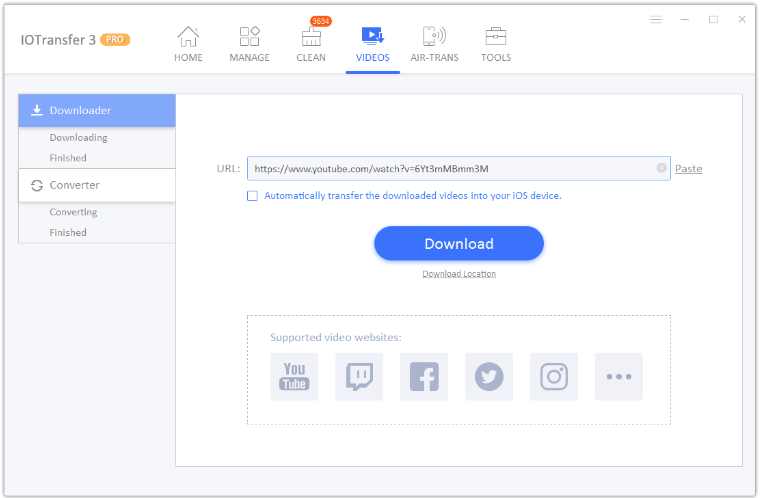 With "Converter" option, you can convert the videos you have to different format, even to audio format as well. Also, you can find the option to transfer automatically the converted videos to iOS device. This time try IOTransfer first to extract audio from video to iPhone.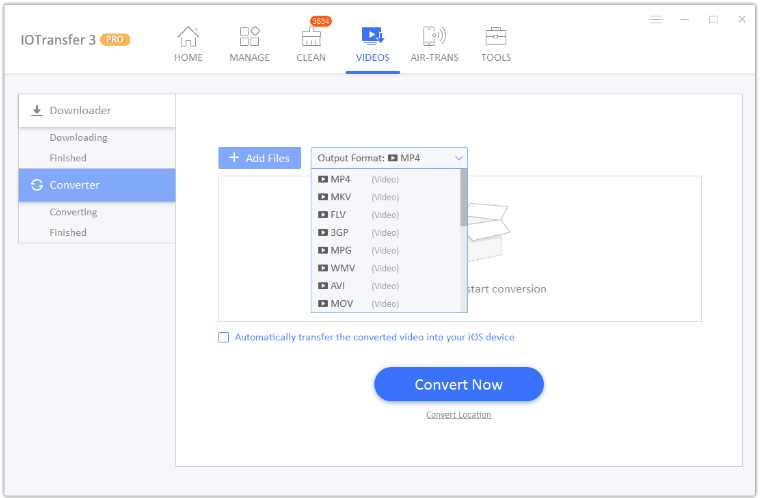 Next, "AIR-TRANS" feature will help to connect your iOS device wirelessly with Windows PC and transfer files between the devices without using a USB cable. However, to activate this feature you have to download AirTrans app from App Store for your iOS device. Now you can connect both devices by clicking "Start Transfer" button in PC and then scanning QR Code by using AirTrans app in your iOS device.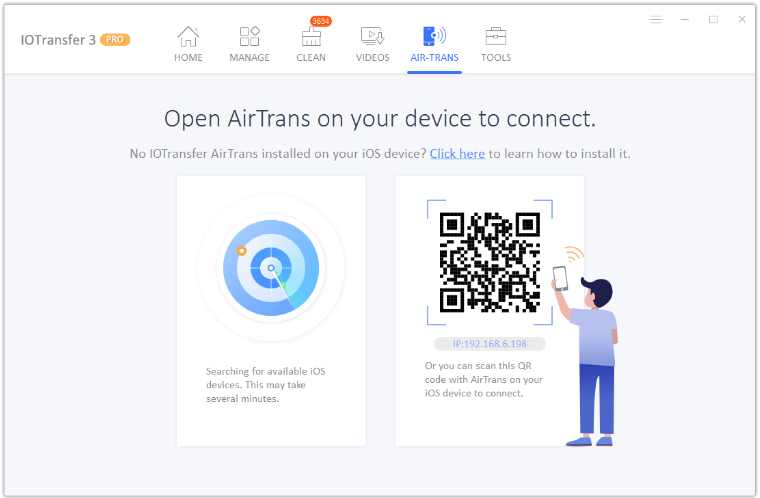 And the last tab "TOOLS" you can find some new and under development tools from IOTransfer like Instagram downloader, gif maker etc.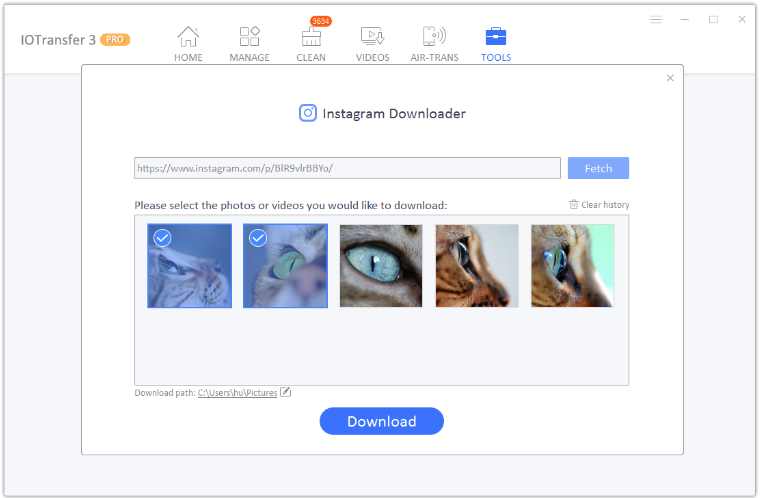 IOTransfer 3 is indeed a powerful iOS device management software accompanied with a clean user interface, file cleaner, video downloader, and converter. Anyone who is looking for a better iTunes alternative, then this is the one for you.
IOTransfer 3 offers a 7-day-trial version with limited features. I think you should definitely go for its pro pack because it is a real value for money product. For a limited time offer, IOTransfer 3 Pro one year license is available for $26.99 (46% off) and also for lifetime $29.95 (83% off).