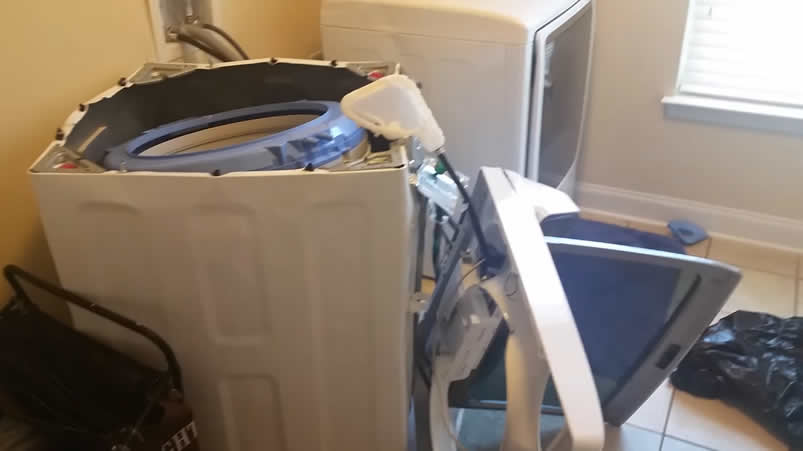 Samsung again launched "an explosive product" like Galaxy Note 7, but this time its big,literally big — its top-load washing machines.
Another stain in company's reputation,weeks after recalling millions of Galaxy Note 7 after batteries inside began to overheat and catch fire,Samsung again force to recall its another product — top-load washing machines — after receiving hundreds of reports of machines vibrating excessively — in some cases, so much that the lids became detached.
Samsung and US safety officials announced a recall on Friday of 2.8m washing machines. The recall Friday affects 34 models of washing machines manufactured between 2011 and this year.
Also Read : Samsung W2017 Android Flip Phone Comes With Dual Full-HD Displays, Snapdragon 820 and 4GB RAM
The Consumer Product Safety Commission [CPSC] said – "The washing machine top can unexpectedly detach from the washing machine chassis during use, posing a risk of injury from impact".
Samsung already received 733 reports of malfunctioning, top-loading washing machines and nine injuries, including the broken jaw and an injured shoulder.
"Our priority is to minimize any safety risk and address the conditions that lead to the rare instance when the top of the washer unexpectedly separates from the unit," – the company said in a statement.
The company says the issues typically occur when bedding, water-resistant or bulky items are washed on a high-speed cycle. As people wait to fix, exchange or return affected washers, Samsung and the CPSC say they should use the delicate or waterproof cycles when washing such items.
Owners of the recalled top-load washers qualify for one of three options: free repair with extended warranty; a rebate toward any new washing machine, including free installation; or a full refund if the machine was bought within the past 30 days.
Also Read : Samsung Begins Mass Producing World's Fastest 4GB HBM2 DRAM