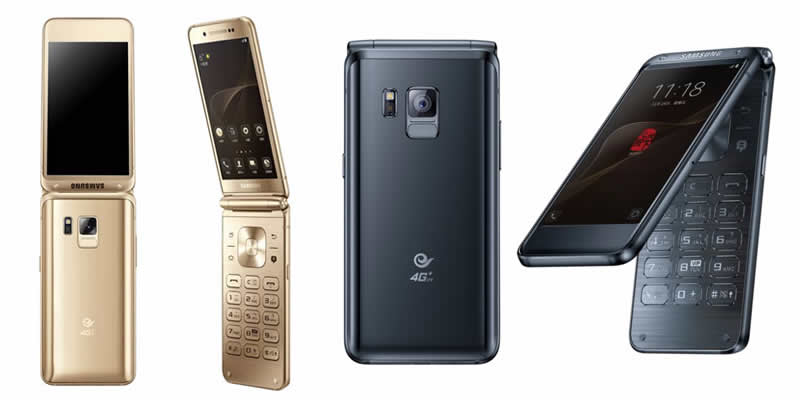 As the flip phones still have market in Asian countries, Samsung again going to launch its second dual-display Android flip phone — Samsung W2017.
Last year in November Samsung launched its first dual-display Android flip phone W2016 exclusively for China.
Like the W2016, the new W2017 comes with top of the line specs, packed into the clamshell design that was so popular many years ago. The new Samsung W2017 comes with a pair of 4.2 inches Full HD Super AMOLED displays (one on the outside and one on the inside).
W2017 is powered with Quad-Core Qualcomm's Snapdragon 820, aided by 4GB of RAM and 64GB of internal storage expandable via microSD.
Also Read : This Chinese High-Tech Spy Drone Can Bombard Targets For Days Before Refuelling
The main camera is a 12 MP f/1.7 aperture unit with 4K video recording support, while selfies are taken care of by a 5 MP snapper on the front f/1.9 aperture. Samsung W2017 supports 4G network and has a 2,300 mAh battery. The deice measures 127.8×61.4×15.8mm and weighs 208 grams and also features micro USB headphone jack, NFC, wireless charging and fingerprint sensor.
The phone has been already be listed on company's Chinese website and the device is expected to be end up costing an astounding ¥20,000 ($2,960). That's twice as costly as last year's W2016, which debuted for ¥9,999 ($1,480).