Internet tycoon Elon Musk's SpaceX successfully landed its powerful Falcon 9 rocket for the first time in an upright position at Cape Canaveral, a major milestone in the drive to cut costs and waste by making rockets as reusable as airplanes.
"The Falcon has landed," a commentator said above the screams and cheers of people gathered at SpaceX headquarters in Hawthorne, California, as images on SpaceX's webcast showed the first stage of the rocket touching down.
Also Read : 10 Free Courses on Astronomy and the Universe
SpaceX, headed by Internet tycoon Elon Musk, is striving to revolutionize the rocket industry, which currently loses many millions of dollars in jettisoned machinery and sophisticated rocket components after each launch.
Also Read : First Stopover On MOON For Refueling And Then Continue Journey To Mars
The upgraded 23-storey-tall rocket lifted off on Tuesday afternoon on a satellite-delivery mission and a test flight of a booster rocket return-and-landing system. The upper-stage booster continued its ascent to Earth orbit with its payload. The rocket reached a height of 125 miles (200 kilometers) before heading back to Earth and touching down at a former US Air Force rocket and missile testing range that was last used in 1978.
The rocket's main stage then turned around, fired a series of engine burns, deployed landing legs, and settled itself onto a newly refurbished landing pad occupying a decommissioned missile site about 10 kilometres from the launch pad.
Company employees erupted in jubilation as they watched a live stream of the white booster slowly descending amid a glowing orange ball.
The stakes were high for SpaceX, which has a $1.6 billion contract with NASA to supply the astronauts living at the International Space Station over numerous back-and-forth trips with its Dragon cargo ship. Just six months ago, a devastating explosion – caused by a faulty strut – destroyed the Falcon 9 about two minutes after launch, along with hundreds of millions of dollars in cargo and equipment bound for the ISS. The company fixed that problem and also made the newest version of the Falcon 9 about 30 percent more powerful than previous iterations, Musk said.
Also Read : China Has Had A Giant Robotic Telescope On The Moon For The Past Two Years
SpaceX Falcon 9 : Takeoff & Landing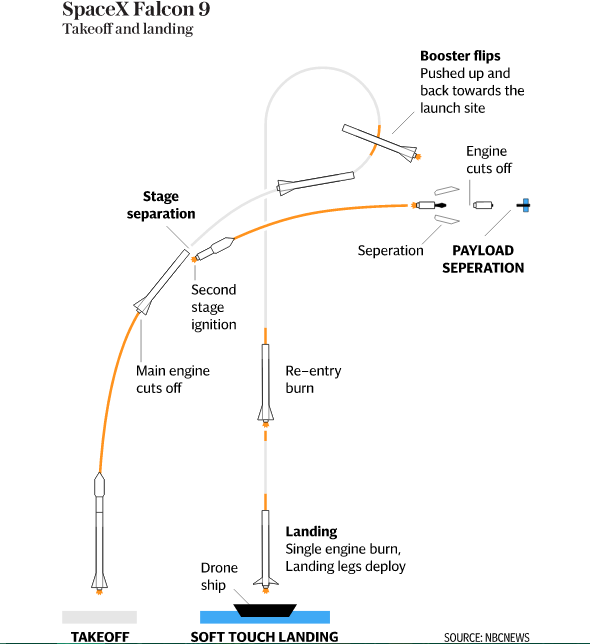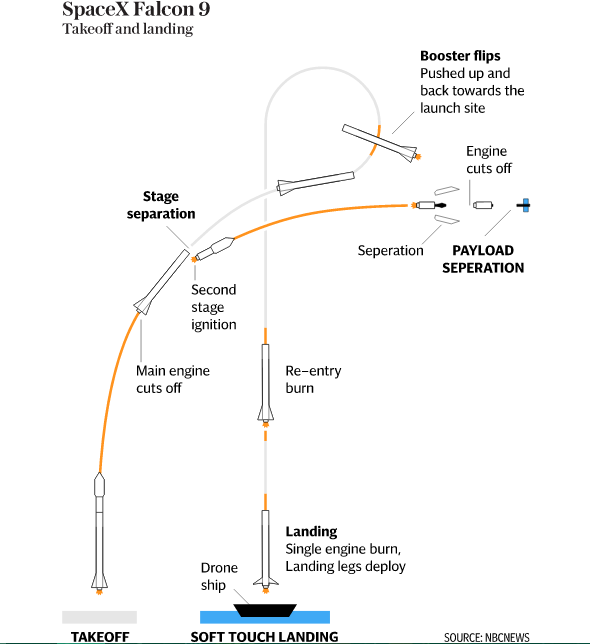 Online Celebration SpaceX Falcon 9 Success
Also Read : NASA To Develop First Ever Space Shotgun To Blast Asteroids
Another view of Falcon 9 first stage approaching Landing Zone 1 pic.twitter.com/i5oNfSYmrc

— SpaceX (@SpaceX) December 22, 2015
"Welcome back, baby!" Elon Musk tweeted after SpaceX Falcon 9 touchdown.
11 satellites deployed to target orbit and Falcon has landed back at Cape Canaveral. Headed to LZ-1. Welcome back, baby!

— Elon Musk (@elonmusk) December 22, 2015
US space agency NASA applauded the feat.
"Congratulations @SpaceX on your successful vertical landing of the first stage back on Earth!" NASA said in a tweet.
Congratulations @SpaceX on your successful vertical landing of the first stage back on Earth! https://t.co/Zw3LR8fPTI

— NASA (@NASA) December 22, 2015
Amazon founder Jeff Bezos also congratulate Spacex for it success:
Congrats @SpaceX on landing Falcon's suborbital booster stage. Welcome to the club!

— Jeff Bezos (@JeffBezos) December 22, 2015
Also Read : ALIENS Are Attempting To Make Contact With Earth Right Now – Edward Snowden