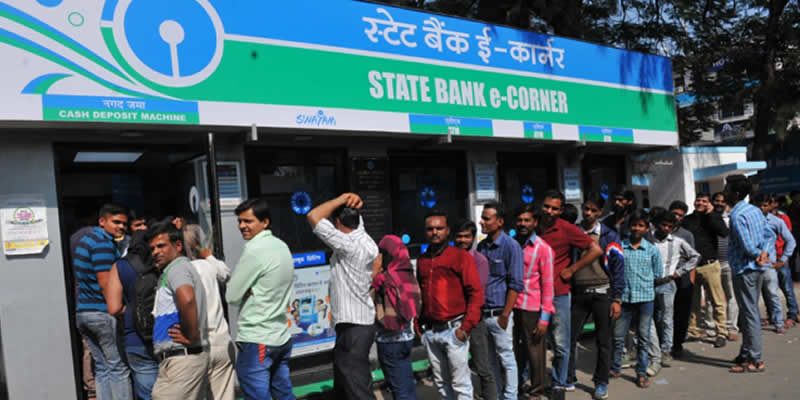 The demonetisation of Rs. 500 and Rs. 1000 notes has made long queues outside ATMs a common sight. Majority of ATMs in the country are down now, so nearby ATMs with cash are difficult to find.
But good news is that because of the recent cash crunch many organisations and individuals to come up with tools to help you find nearby ATMs with cash.
These apps and websites are mainly crowd-sourced,that means people like you and me are updating the list. So you may found some inaccuracy in data but it doesn't hurt to check these tools before you go out to withdraw your money from ATM.
Also Read : 13 Greatest Programmers Of All Time Who Help To Shape The IT World
Tools To Find Nearby ATMs With Cash :
---
Walnut, a personal finance management app, lets you locate ATMs with cash in your area. The app has approximately 2 million users and tracks when they withdraw cash from an ATM. Based on this information, it can tell you if the ATM has cash or no cash; the user base also shares details such as the length of the queue with Walnut, providing the app with more data to serve to other users looking for cash. The company says it plans to add information regarding the availability of specific notes at ATMs in the next update.
[appbox googleplay com.daamitt.walnut.app]
CMS Infosystems is a company that manages 55,000 ATMs across the country. It has setup an ATM finder tool that provides information on working ATMs; you can select any city and find out if nearby ATMs have cash or no cash. This is limited to only the 55,000 CMS ATMs, but it has the benefit of having accurate information, straight from the company that operates these ATMs.
Cash No Cash or Cashnocash.com, launched by Quikr and NASSCOM, is a website that provides you information about ATMs with cash in your vicinity based on your pincode. Type your pincode in the search box and hit the Find Cash button to find which ATMs are still working and have cash. Cash No Cash will highlight the ATMs with cash in green pins, the ones with long wait time in orange, and out-of-cash ATMs in red.
Offering information based on crowdsourced data, ATMsearch.in is a website that can provide you information about status of ATMs in areas around you. Search for any area on the website by typing the location and hitting the Search ATM button. You will get a list showing ATMs that have cash or no cash, and how long the ATM queue is, along with nearby landmarks. As a crowdsourced website, ATM Search lets users update the information about existing ATMs in the database, and allows them to add unlisted ATMs by providing basic details, such as bank name, landmark, and crowd status.
5. Social Media
Social media is probably the best tool for crowd sourcing information on working ATMs and it's not surprising to see people helping others out on these platforms. The good people of Twitter and Facebook are helping out to find nearby ATMs with cash. Three main hashtags are being used on Facebook and Twitter – #WorkingATMs, #ATMsWithCash, and #ATMsNearYou.
As we already said these tools are crowd source based so some inaccuracy in information may occur.
Also Read : Build Your Own Deadly USB Killer To Take Down Any Device