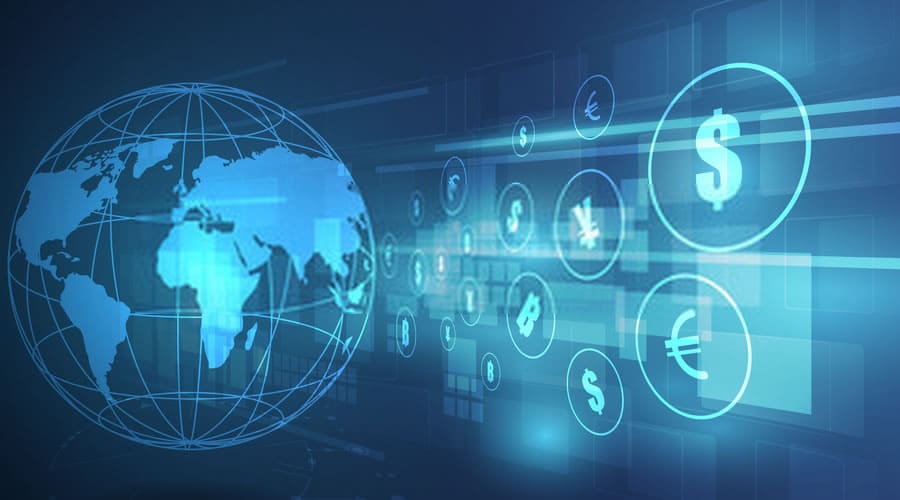 There are a few different ways to transfer money abroad. The traditional choice is using high street banks. The two alternatives now are to use fintech money transferring apps, such as Transferwise, and lastly, you can use remittance firms that tend to facilitate larger amounts and can be done over the phone. The latter may also have a dedicated account manager, too.
There are benefits to each, and this coincides with the question of whether you should transfer your money on the go.
Transferring on-the-go
Money transfer apps have been revolutionary. Their ease-of-use has meant that dealing with multiple currencies now requires very little financial literacy or even effort. You can pretty much go on vacation and not have to even take a penny of the domestic currency. This isn't necessarily recommended, but many do it like this. You turn up and pay with your "borderless" card that gives a near-perfect exchange rate. Additionally, if you want to have cash, you can simply use the card in foreign ATMs and many companies will not charge you extra exchange spread for it.
Money transfers via an app have a unique advantage too. They're always going to be there. If you want to chuck another £100 into your e-wallet, or if you want to split the bill at a restaurant, the app will be operating 24/7. This is absolutely instant with very little complexity, as the apps are limited in their user interface (which makes them both intuitive and easy to navigate). It's not like a website, which has hundreds of different pages.
The best thing about this market at the moment is that there are so many apps. Even just picking a couple from the top 10 money transfer apps is incredibly difficult. Competition is fierce, and the market is exciting. Some companies are even venturing into other markets too. Take Revolut for example. They're now integrating other features on top of currency exchange and multi-wallet accounts, such as buying cryptocurrency, having saving spaces, integrating licensed bank accounts into the Revolut account.
We first saw a currency exchange revolution, but now we're witnessing these companies take a broader approach at making our whole financial lives more simple. Going into the future, it won't be a surprise if money transfer fintech and challenger banks merge somewhat, where you can have multi-currency accounts, great exchange rates, yet attain overdrafts, credit and receive interest from saving. This movement may have to come from licensed challenger banks, though, as opposed to coming from the money transfer apps.
Ultimately though, this has meant that there is literally no need to use high street banks any more when dealing with currency or money transfers. The selling point used to be the same: convenience. But now, fintech apps are far superior and purpose-made for this gig.
So why would you use a remittance company ahead of time, avoiding ad hoc exchanging? Well, there are a couple of things to consider.
Using remittance services ahead of time
First and foremost, such fintech apps we've been talking about tend to have only 30 currencies, if that. This is fine if you're visiting countries that deal with major currencies, but this will likely not cover exotic currencies. This means that a trip to Barbados, for example, will require a more specialist remittance company, and you may want to use international money transfer websites rather than an app. Not to mention the fact that you may not trust ATMs in certain countries, so carrying your cash with you prior may be preferable.
Many don't trust public wifi too, as it can be easily hacked. This may mean you want to stay away from mobile transfers on-the-go, as well as the possible threat of someone stealing your phone and accessing the app. Such apps make it extremely easy to use, but this can somewhat be a security concern. If it only takes a couple of clicks to transfer all my savings, do I really want to be using it for large sums of money? Many will use money transfer apps for little holidays, and use proper remittance websites and/or phone up when dealing with large amounts. After all, you don't want to leave a lot of money in these apps and then be locked out of your account. The only way to contact customer service is usually through the in-app messaging chat, which doesn't fill everyone with the same confidence.
Another reason is that some of these Fintech apps are not fully licensed as banks, even though they act like one. Whilst your deposits should be covered by FSCS if regulated by them, remittance companies tend to be more secure and reliable. After all, you can literally phone them up and you may have a dedicated account manager. It's also possible that you will receive a better rate when dealing with large quantities of money — as this is what they're specializing in. Money transfer apps tend to be more limited to small amounts, though again, this may depend on the app you use.