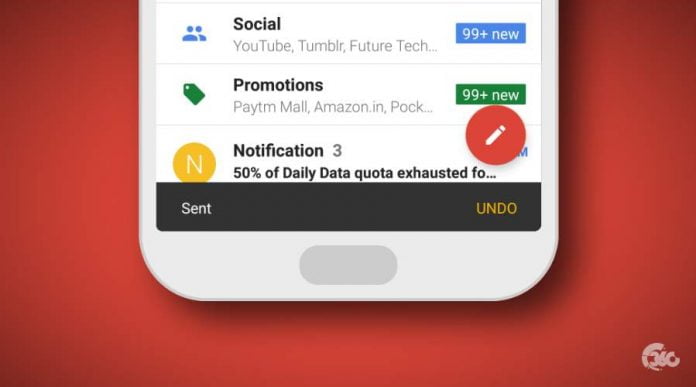 Gmail finally integrated "Undo Send" email feature on its latest version of Gmail for Android.
"Undo Send" mails was one of the longest beta testing feature of Gmail, started in March 2009. And then finally in-cooperated Gmail on the web back in June 2015 and then in iOS. Now after three more years, the feature is made its way into Gmail for Android.
"Undo Send" allows people using Gmail to cancel a sent mail if they have second thoughts immediately after sending. This feature can't pull back an email that's already gone, it just holds your message for ten seconds so you have a chance to hit the panic button.
So how to do it? — After you composed a new email hit send. Now you can see "Sending" notification that popup below the screen along with an 'Undo' button. If you like to cancel the sending email tap on that "Undo" option — the thing is you only got10 seconds to decide to cancel the process. After cancellation, Gmail will move your message to the draft folder so you can properly finish what you started. However, in the Gmail web version undo send option, users can extend the time limit of cancellation.
Android Police has first spotted the Gmail for Android can now undo sent emails. The feature works with version 8.7 and forward. Even some of the updated version of Gmail is still not showing this feature, for those users try downloading the latest 8.7 release from APK Mirror and give the Gmail app a force close.