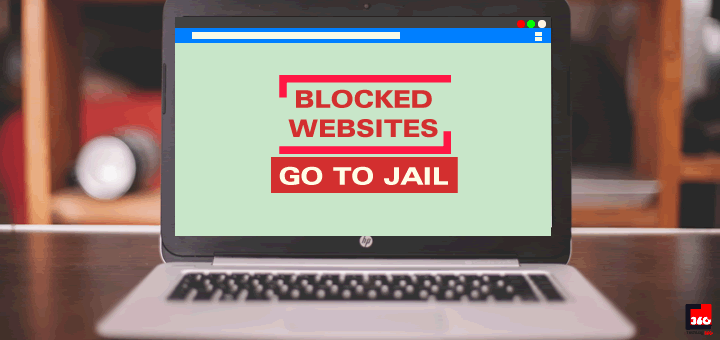 Now every computer geek in India is going to be a criminal because of latest approach of Indian judiciary to torrents and blocked websites. According to the redefined law – India users may end up in jail for 3 years with the addition of Rs 3 lakh penalty for just visiting torrents and other blocked websites.
This is just for viewing a torrent file, or downloading a file from a host that may have been banned in India, or even for viewing an image on a file host like Imagebam. You don't have to download a torrent file, and then the actual videos or other files, which might have copyright. Just accessing information under a blocked URL will land you in jail and leave your bank account poorer by Rs 3 lakh.
Also Read : Websites can use your phone's battery status to track you online
If you visit such a URL, you will be shown the following warning.
"This URL has been blocked under the instructions of the Competent Government Authority or in compliance with the orders of a Court of competent jurisdiction. Viewing, downloading, exhibiting or duplicating an illicit copy of the contents under this URL is punishable as an offence under the laws of India, including but not limited to under Sections 63, 63-A, 65 and 65-A of the Copyright Act, 1957 which prescribe imprisonment for 3 years and also fine of upto Rs. 3,00,000/-. Any person aggrieved by any such blocking of this URL may contact at [email protected] who will, within 48 hours, provide you the details of relevant proceedings under which you can approach the relevant High Court or Authority for redressal of your grievance"
The Indian government, with the help of internet service providers, and presumably under directives of court, has banned thousands of websites and URLs in the last five odd years.
Earlier, most of the URLs and websites were blocked using DNS-filtering. This means the DNS of the blocked site was added to a list maintained by the internet service provider (ISP) and whenever a user tried connecting to that site, the DNS server of the internet service provider would block that request.
Also Read : New Study Claims Merely Visiting Piracy Sites can Place a User's Computer at Risk
However, this was easy to bypass through third party DNS servers, HTTPS or other encryptions to secure the network between the user's computer and the site server.
Now the government is relying on big companies like Tata Communications and Airtel that manage a number of internet gateways in India, and have more sophisticated tools available to enforce the blockade instead of relying on ISPs, which are more in number and lack similar wherewithal as the mangers of internet gateways.
The Bombay High Court recently in its Dishoom John Doe order passed on July 26, 2016 asked internet service providers in India to not just block URLs but also explain to users why the URLs have been blocked and possibly warn them of consequences of illegally accessing copyright work.
Are you really going to end up in jail with this ridiculous law ?
The idea is to tell consumers that downloading a film is illegal. The idea is to tell them that if they download a film, they will face trouble. As of now, it is clear that you may land up in jail — or at least in trouble — if someone pushes for it. Now, it is possible whatever charges you face if you visit a blocked may not hold up in the court but as far as the warning message is concerned, it makes it clear that visiting any blocked URL in India — and not just a torrent URL — has potential to land a web user in trouble.
This means end of torrent in India ?
Recently KickAssTorrents went offline following the arrest of its founder – but we still downloads files from torrents. Because if government takes down one torrent – several will rise to replace it.
And also not all torrents have been banned in India you can easily get a better alternative. As you know even blocked torrents are accessible using easily available virtual private networks. These VPNs are more secure from detection.
But there is no denying the fact that torrent users face uncertain times ahead.
Also Read : The End of Pirated Games – Games Expected to Become Uncrackable by 2018