It was just this year that WhatsApp finally added voice call support, but now it seems the popular messaging app is looking to outdo itself by adding video call feature soon.. Leaked images posted by a German Apple blog Macerkopf giving a hint that WhatsApp will soon going to add video call feature. Since the iOS users would be the first to receive the feature, with Android users to follow later.
The video calling feature on WhatsApp will work over both Wi-Fi and cellular networks. On top of the video feed, there will be a small window with your image. Users will be able to move this preview window across the screen, and also switch between front-facing and rear-facing camera when on call. An option to mute the microphone will also be present.
Also Read : Top Android Apps that Drain Battery and Use Up all your Data and Storage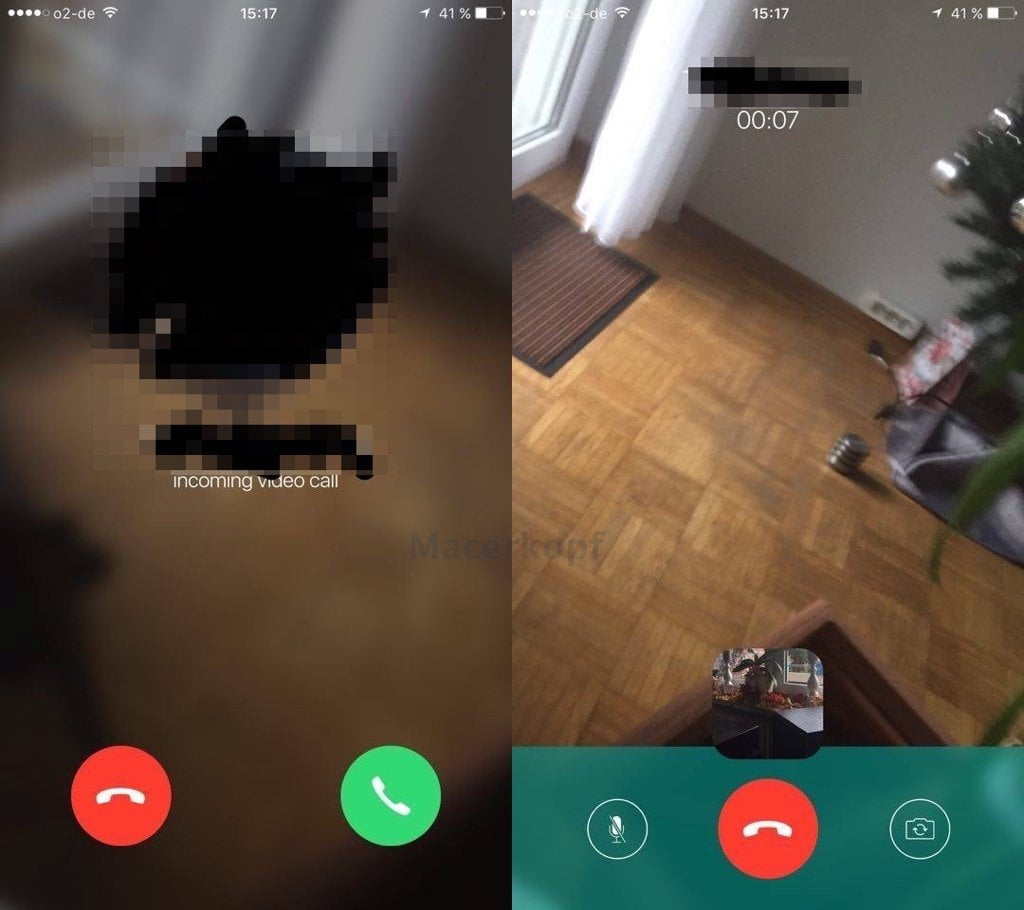 Who Get WhatsApp Video Call Feature
Also Read : Edward Snowden Doubts Security of Telegram, but Founder Pavel Durov Disagrees
Judging by these images we can more or less confirm that the new version (v2.12.16.2) for iOS will have WhatsApp video call feature. Considering the current version on App Store is 2.12.12, the next update may bring video calling capability to iOS users. In all likelihood, WhatsApp would release the feature by invitation just like it did with voice calling, before rolling it out to all users.
Besides video calling, WhatsApp is also said to add support for multiple chat tabs. It would allow users to easily switch between individual chats without needing to go back to the chat list. Moreover, WhatsApp is also expected to get a makeover with green color in focus.
With video calling, WhatsApp will take on the likes of Skype, Apple's FaceTime and Google's Hangouts that are currently some of the most popular video calling apps. At last count, WhatsApp had over 900 million monthly active users globally.
Also Read : Researchers Developed First Light-Based Microprocessor Chip to Create More Powerful Computers & Ultrafast Communications
What do you think with WhatsApp video call feature will it take down Skype, FaceTime & Hangouts services? We'd love to hear from you in the comments!