Midst of anti-racism protests are on the rise across the globe following the death of George Floyd, newly appointed Microsoft AI robot journalists at MSN has been accused of racism.
Microsoft decided to replace a majority of human journalists with advanced AI robots at MSN to curate news from other sources. And a week after, now the newly joined AI has been criticized after the automated system confused two mixed-race members of British pop group Little Mix.
The robot editors over at MSN.com had selected an article about Little Mix singer Jade Thirlwall's experience with racism. Instead, they used a picture of Thirlwall's bandmate Leigh-Anne Pinnock to go with it.
The news caught the attention of Thirlwall drew, and in an Instagram story, she expressed her anger.
She wrote, "@MSN If you're going to copy and paste articles from other accurate media outlets, you might want to make sure you're using an image of the correct mixed-race member of the group. This shit happens to @leighannepinnock and I ALL THE TIME that it's become a running joke … It offends me that you couldn't differentiate the two women of colour out of four members of a group … DO BETTER!"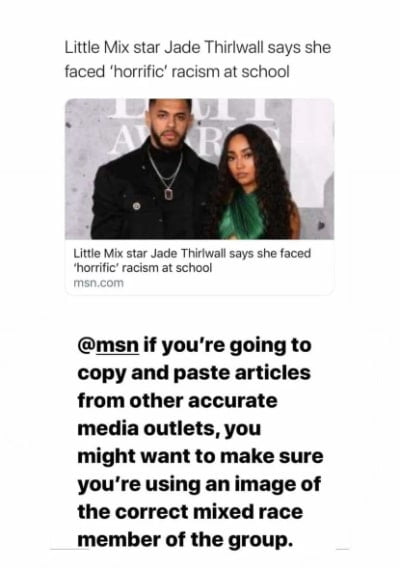 It's not clear exactly what caused this error, but in an updated statement, Microsoft said it was not a result of algorithmic bias but an experimental feature in the automated system.
"As soon as we became aware of this issue, we immediately took action to resolve it and have replaced the incorrect image," a Microsoft spokesperson told The Guardian.
One staff member said Microsoft was deeply concerned about reputational damage to its AI product — "With all the anti-racism protests at the moment, now is not the time to be making mistakes."
Now Microsoft has been told the remaining human staffs to stay alert and delete the story if the AI picks it up and republishes on MSN.com. They have also been warned that even if they delete it, the robot editor may overrule them and attempt to publish it again.