Today people use smartphones not only for calls, texting, and entertainment purposes. Nowadays, users can work with the help of Android and iOS-based gadgets. But for the storage of multiple files such as documents, photos, images, PDFs, and other assets, it is necessary to have enough memory.
Cloud storage is the perfect solution for this purpose. Using cloud-based software provides many benefits at once. These applications for Android ensure security and disaster recovery that are highly required by business people who store their essential files on the smartphone and run various critical business processes via Android-based pocket screens. Among other advantages of the cloud storage apps are:
Usability and high-level accessibility;
Cost-efficiency (affordable pricing plans or even free options);
Convenient file sharing properties;
Affordable-to-use storage;
Multiple-user access to files;
Qualitative synchronization.
The main idea that smartphone owners who use cloud storage software upload any files to cloud storage servers. First, the memory of the device is not used. Secondly, this is one more way to secure back-ups. All the text documents, imagery, videos, and other data files will not be lost because of gadget failure or smartphone loss, theft, or any tech errors take place.
The List of Top Cloud Storage Apps for Android 2021
The special-purpose applications provide users with convenient storing data capabilities. The most top-ranking cloud-based apps include up to 15 GB for storage of photos, videos, text documents, and other files. The ranking rates depend on the available features of the cloud-service apps for Android. One more necessary aspect that is taken into consideration in the review is pricing. Users prefer apps with the free version. Extra storage, in this case, is purchased optionally. Let's take a closer look at the top three cloud-based software for Android.
1. Google Drive
This is one of the most popular applications for Android smartphones. At the same time, Google Drive is available for desktop use and iOS-based gadgets. The free version provides 15 GB of cloud storage for any purpose without any charges. People who work with text documents, spreadsheet files, and other shareable data can find Google Drive any presentation, preview, and edit tools. If users require more GB for work or graphical content storage, there other paid plans 100 GB, 1 TB, 10 TB, 20 TB.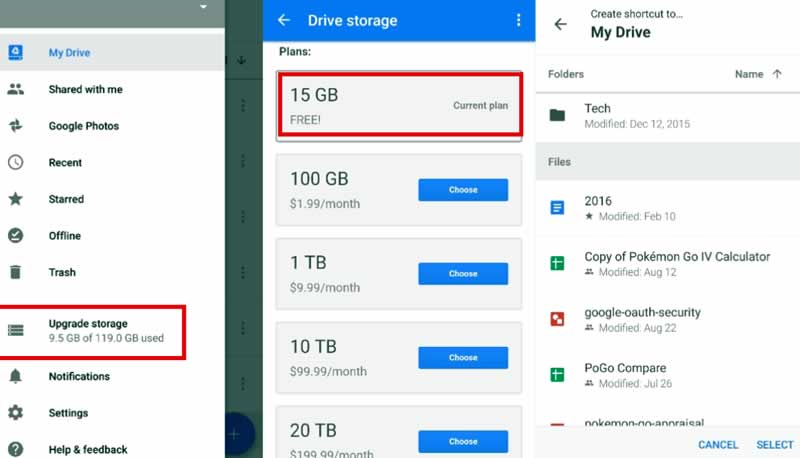 To sum up, Google Drive offers the following data storing options to owners of Android-based smartphones:
Storage and access to files at any time and everywhere. The user needs to sign in to the Google account only.
Searching for files, their editing, and preview options in several clicks. The interface of the application is user-friendly.
Availability of the free plan with 15 GB for cloud storage of any data. A range of paid plans with 100 GB, 1 TB, 10 TB, 20 TB.
Offline view and a preview of Google Drive content created (owned) by the user. File sharing option with the help of permissions and shareable links.
Data segmentation options via folders, file assortment, other Google Drive tools (Starred, Recent, Quick Access).
Paper document scanning via the smartphone's camera. Various formats of files to create, edit, store, share.
The minimum pricing plan for extra storage is only $1.99 monthly for an additional 100 GB. Users can get up to 30 TB for $29.99 per month. Google Drive pricing is the same for desktop and mobile versions. Sometimes users prefer free cloud storage only. To meet free-of-charge limits. People use file compressors. It is possible to create different folders in Google Drive and store here compressed videos, photos, PDF presentations, and assets of other formats. One of the best options for Android is 7Zipper, while for desktop, it is better to use an online video compressor.
2. Amazon Drive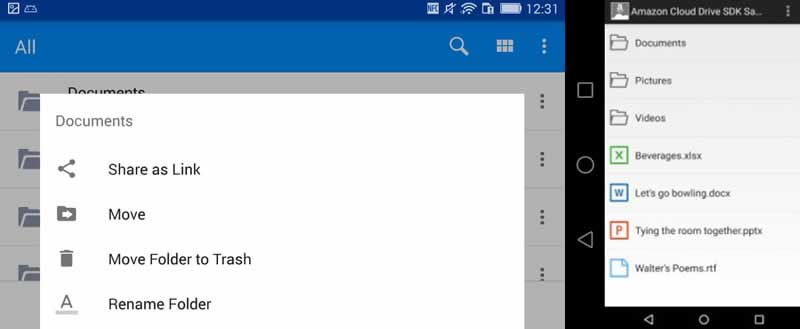 Amazon Drive is a popular app for Android-based cloud storage. It provides easy access to text documents, videos, photos, music, other files. Users can preview photos, video files, and text documents from their Android devices. All the changes to the stored and shareable content are possible online. Amazon Drive offers the following options as well:
Create folders and make the storage space more structured this way.
Users can add files to new folders, cut them, and move content to new ones.
It is possible to download any cloud-stored files to the Android storage memory.
Users can use links and attachments to share their content. They can be sent via email, messengers, SMS, etc.
The free version provides only 5 GB without any charge. Other Amazon Drive storage plans start at $11.99/year. Users can try a free plan for 3 months. Among new options are bug fixes and bulk file/folder selection.
3. Mega
It is one more cloud storage app with free 50 GB for owners of Android smartphones. The application is available on iOS devices as well. The main advantage of the software is its drag-and-drop interface for fast and easy modification. The Mega users can share files, store video, music, photos, and other data.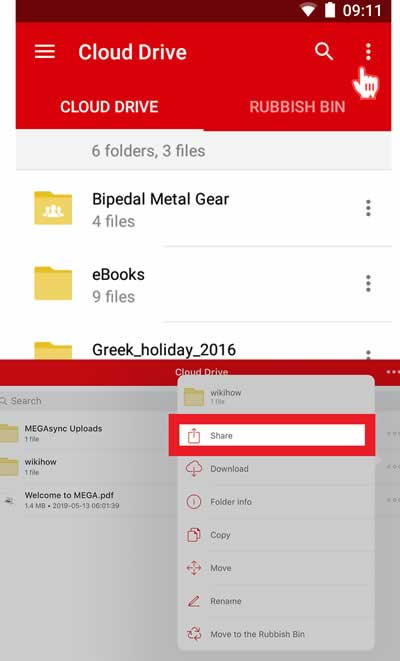 Additionally, Mega offers streaming options for users who would like to share videos or monetize their streaming activities. The cloud storage application is fully-encrypted, which means high-level data security. Affordable pricing plans complement a wide range of services provided by the Mega cloud storage (video chat, real-time content updates, easy access to files, etc.). 400 GB of extra cloud storage costs only $6 per month. If the user requires more cloud storage, there is a paid plan with 8 TB for $25 per month. It is worth noting that users get a transfer quota for the first month. Among key hot-topic features is bug fixes.
The Final Word
Today the market is full of different cloud storage applications for Android and iOS devices. Users can select the most optimal one according to their requirements and budget. This review presented information on the most popular cloud storage for Android available on Google Play and other app stores. Each of the three apps offers free versions and paid plans to choose from. The key aspect to take into account is the range of available options for data storage, editing, sharing, and assortment.