A firewall is, after all, the ultimate protection that saves your device against malicious programs by blocking all sorts of threat suspicious files. A reliable firewall further looks over your network security and stands as an ultimate shield for your device. Coming to Android, it seems like an open platform without any convenient protection from outer threats. But Apps such as NoRoot Firewall give an easy way to set up your personal firewall on your smartphone.
At such times, it becomes important to load up your Android smartphone with a reliable firewall that looks after the overall health of your device. But how do we do that? Since Android doesn't offer inbuilt firewall protection, how can we add one to our phones? Don't worry, you can check out list of the best firewall for Android you can choose from. But for this article, we will be using a free and easy to use the app to set up a firewall on your Android smartphone and use it efficiently.
Steps to Add a Firewall Protection on Any Android
First and foremost, as Android has no inbuilt firewall protection, the only way left is to use a third-party application. NoRoot Firewall does everything for you. Just as the name suggests, it requires no root access, it is reliable, and it contains certain unique features which make it the best fit for this job.
Configuration
NoRoot firewall comes with plenty of options for elite users to configure their firewall options. There are some of the options you might consider tweaking.
Custom App Filters: You can set up separate IP and port number for apps you want to create the firewall connection. This is ideal for games or other high internet consuming apps.
Ability to export preferences: In times of changing devices, you can export the settings for your firewall and import them to your new devices easily in a snap.
Connection Logs: Ideal for tech geeks who need to keep track of connection details.
Adding NoRoot Firewall Protection on your Android
NoRoot Firewall is easy to add and set-up on your smartphone. The app offers robust protection without root. Here is how to add NoRoot Firewall on your device:
Firstly, install the application from Google Play or click here.
Once the installation is successful, launch the app.
Click on the 'Start button.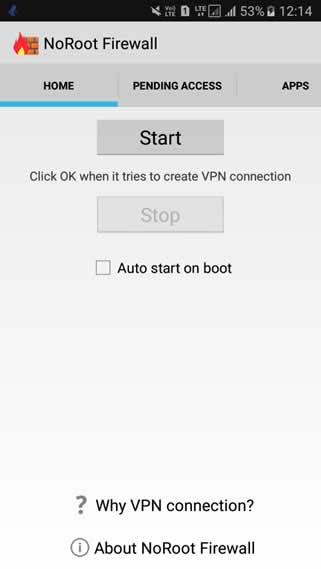 Now, click 'OK' from the pop-up menu to allow the connection.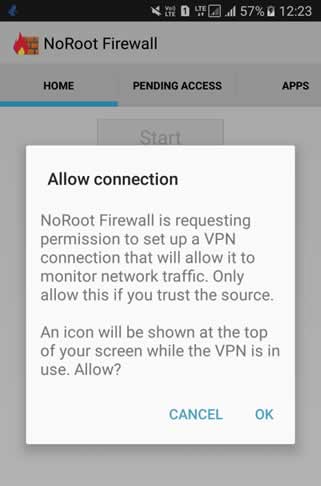 Click on the 'Pending Access' tab on the top.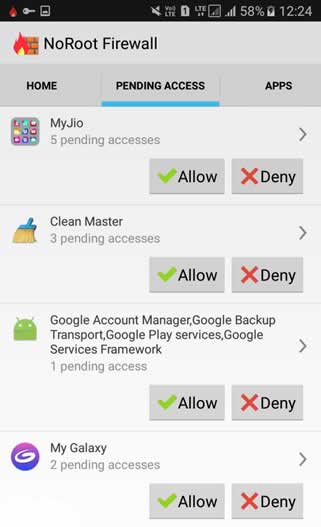 It will display a list of apps that need to be connected to the internet.
Allow or deny each app as per your preference.
And that's all. NoRoot Firewall is now added to your Android Smartphone and active.
NoRoot Firewall – Features
NoRoot Firewall is the perfect solution to keep your Android phone safe and secured. It offers the following amazing features as a Firewall Protection app:
It requires no root access and works just fine, even with the latest Android update.
Instant access control based on IP/ hostname/ domain name
Controls outgoing/ incoming network connections.
Intuitive interface
Requires minimal permission
Allows global filters for each app
Allows to block specific IP/ Port for all or selected installed applications
Although this app's features look pretty convincing, one thing to remember is NoRoot Firewall does not work on LTE Android smartphones since it doesn't have support for IPv6 yet. We might see this feature too in the coming upgrades of the application. However, as of now, it offers a pretty decent and powerful service.
Besides, the application is lightweight and occupies very little space on your smartphone (size varies with device). It has a 4.2 rating on Google Play. NoRoot has over 5,000,000+ installs, and the app keeps getting regular updates, which is one of its impressive things.
Conclusion
And that is how you add your personal Firewall on your Android smartphone. NoRoot Firewall Protection is one of the best solutions when it comes to a reliable firewall for Android. It is quite easy to set-up and protects your personal data from getting leaked on the internet, and also acts as a shield for your phone. Above all, this application is trusted by many and is one of my personal favourites.