A month after launch, CD Projekt Red has posted an extensive video to address the players and talks about DLC, patches, and upcoming updates for the much-discussed action role-playing game Cyberpunk 2077.
In the video, the Polish development studio apologizes for the current state of Cyberpunk 2077 on consoles.
The video entitled "Our Commitment to Quality" has been presented by the co-founder of the developer studio, Marcin Iwiński himself, and expressly apologizes for the state of the console version of Cyberpunk 2077.
He acknowledges that the console version of Cyberpunk 2077 did not meet the established quality standards. More importantly, he said the responsibility for the matter rests squarely with the studio's management, not the developers.
"I and the entire leadership team deeply regret this, and in this video, I am the one who acknowledges it publicly. Do not blame any of our teams for what happened. It is a talented group that works hard," he said.
A new roadmap also shows the further development steps that CD Projekt has envisaged for the role-playing action game. While the promised and free next-gen update for the game consoles will not appear until the end of the second half of 2021, Patch 1.1 and Patch 1.2 are to be released soon.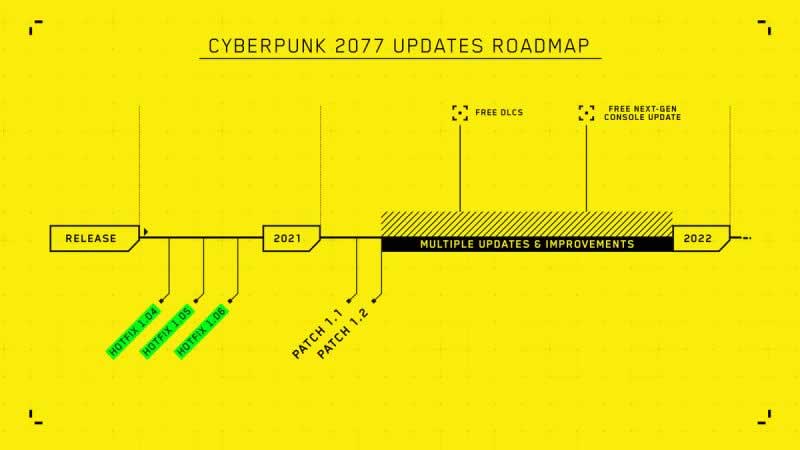 The first update (patch 1.1) is to be rolled out within the next ten days, an even larger update (patch 1.2) is to follow "a few weeks "later. During a phase of further improvements and updates, the first free DLC is also planned, says Marcin Iwiński.
Iwiński says CD Projekt is also currently working with Sony to bring the game back to the PlayStation Store as soon as possible.
In an extensive FAQ on the video, the developer has also summarized all relevant information on the current state of affairs and upcoming developments.