Want your website to attract more email subscribers? Or perhaps you'd want to provide customers who buy at your online business a special discount? It sounds like you need a pop up if you're attempting to accomplish any of these things. Despite their negative image, pop-ups are crucial in online marketing. A pop up typically converts at a rate of about 3%. However, with a little effort, you can narrowly target your audience and increase conversion rates to above 5% or even 10%.
Sounds promising? In this post, we'll outline the best pop-up builders and demonstrate how to make a pop-up that converts in just 3 easy steps.
How to create a pop-up in 3 steps:
Set your goals
I advise you to start by determining the purpose of your pop-ups before you start designing them. This will assist you in selecting the best pop-up form template for your requirements. Pop-ups frequently assist in achieving the following objectives:
Collecting email signups
Promoting an offer
Saving abandoned carts
If you aim to save abandoned carts, you should consider using a pop-up that can suggest a call-to-action button (CTA) or/and a special discount code: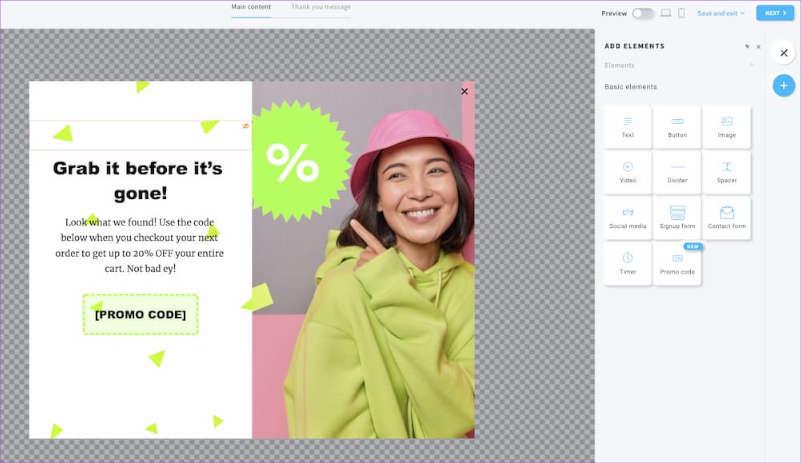 Use a pop-up form with input fields, such as name and email address, if you want to gather signups for your email marketing list: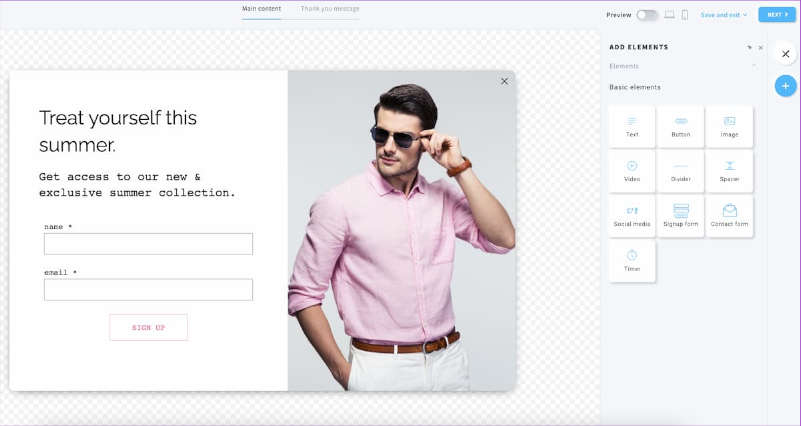 It suffices to have a pop-up window containing your sales page's URL, a picture, some text, and a CTA button when marketing an offer.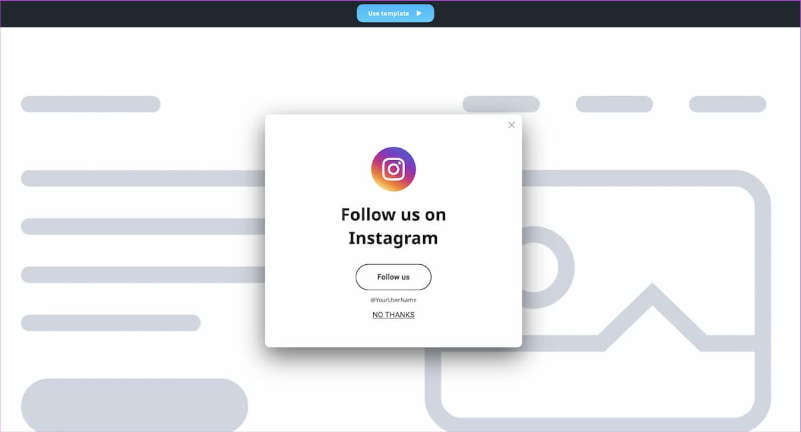 Remember, that most pop-up builders include a variety of pop-ups, including:
Entry pop-ups that appear right when a person enters the website;
Exit-intent pop-ups emerge when a user's cursor departs from the main window in an attempt to shut the tab;
Pop-ups that display after a user has spent a certain length of time on a website are known as time-delayed pop-ups;
After a user has scrolled down a certain amount of a page, scroll pop-ups may appear;
When a user clicks on a pop-up button, one-click pop-ups will appear.
These pop-ups provide many ways to engage a user. For example, entry pop-ups appear more frequently than time-delayed pop-ups, but they also frequently have lower conversion rates.
You may further limit who will see your pop-ups by adding the following criteria:
The page(s) on which your pop-up window should or shouldn't be displayed;
How frequently the pop-up form will appear;
When the pop-up form should disappear;
Who should view your pop-up form;
Which devices should display your pop-up form;
In which countries your pop-up should be visible.
All these options might feel a bit overwhelming at first. Thus, our advice is to start small.
Find a proper pop-up builder
These days, pop-up form builders include several useful features that would be challenging to add on your own. The majority of pop-up form builders include:
Pop-up form templates that are already established can expedite the design process;
Using targeting choices, you can connect with even the most niche audience;
The ability to edit and preview your pop-up forms will help you make sure they look beautiful wherever and whenever they are shown.
Naturally, these features vary amongst various pop-up form builders. You should consider which tool will be most cost-effective and suitable for your particular use case.
The list of the top pop-up builder tools for beginners can be seen below: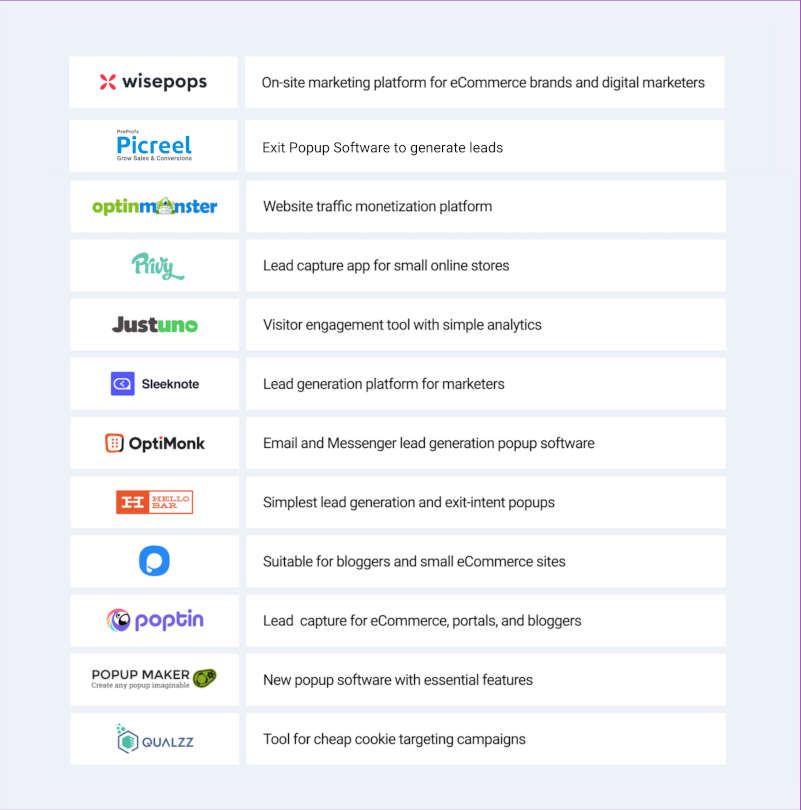 Tip: Find a builder that can be easily combined with the rest of your marketing resources and the best marketing software currently on the market.
It's time to select your pop-up template and enter your text after establishing your aim and locating the appropriate tool. Feel free to spend a few minutes perusing the templates offered by the majority of pop-up builders. Remember that you can completely alter the template, so don't worry if it doesn't immediately fit your logo.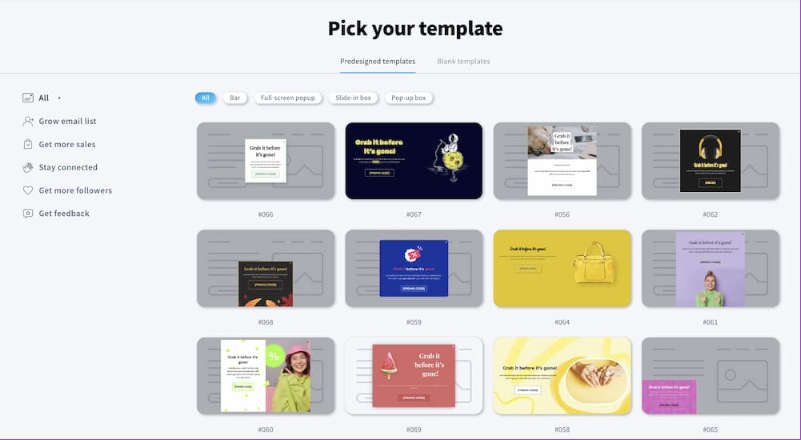 It's time to alter the template and add your content after you've chosen it. Most pop-ups consist of:
A clear headline;
A detailed explanation of the offer;
An image relevant to the offer;
Fields for name and email field;
CTA button to either navigate to the offer page or submit the form;
Consent details outlining who will process the data and how;
Unchecked checkboxes allow site visitors to affirm their desire to join the list.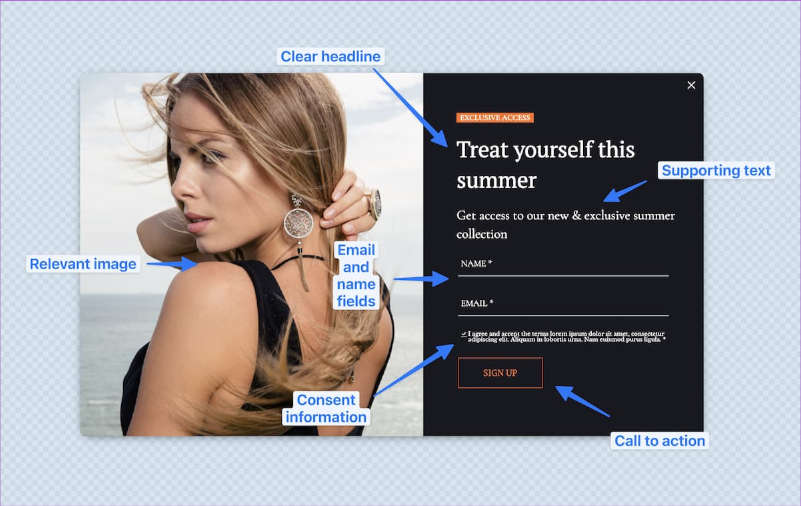 Preview and publish
Check how your pop-up form appears on desktop and mobile devices by previewing it in your pop-up builder. Click save and move on to the installation phase if everything seems good.
The majority of pop-up creators will produce a piece of Javascript code that you must then install on your website.
The optimal approach is as follows:
If you have a WordPress site, head over to the Appearance > Theme file editor > Theme header, and paste your Javascript code at the bottom, right before the </head> part.
Find a block that allows you to insert your code and paste it there if your website was created using another website builder.
Use a solution that can put external Javascript code on your website for you, such as Google Tag Manager.
Keep in mind that you may always improve your pop-ups after you press the publish button. To make sure your pop-ups reach the most promising audience, you may improve your message, design, and targeting.
Start building your first pop-up today
The only technically challenging component of the procedure, as you have learnt today, is the installation step. There shouldn't be anything preventing you from growing your email list or utilizing pop-ups to promote your offerings as we covered everything in our thorough overview.