Outlook is one of the top email services in the world today. Many corporations prefer Outlook because it can be integrated with Microsoft Exchange Server and Microsoft SharePoint Server, which allows shared mailboxes and calendars.
If you've been using Outlook for some time, the chances are that you've come across an error message related to your file size. It usually reads, "the Outlook data file has reached the maximum size."
Whether you're using the 2016 or even 2019 versions of Outlook (which have a size limit of 50GB), this error message can come up. In this post, we'll be looking at the causes of this file size error and how you can fix it.
What is OST File?
An OST file is an Outlook file. The purpose of the OST file is to permit offline access to the documents on your Exchange server. If you are using an Exchange server or you have an IMAP account, the size of your OST file is likely to be considerably larger because of the amount of data being stored. It should be noted that the size of your OST file does not reflect the size of your mailbox.
What is PST File?
Apart from OST file, another type of Outlook file format we must consider is PST file. PST stands for Personal Storage Table. This is a locally stored file that contains the data from your Outlook account.
The main difference between an OST and PST file is that the former relates to data from your Exchange server and is not stored locally. On the other hand, PST files are your personal files and are stored locally.
How to Cut Down the Size of Your OST File
Thankfully, there are many options for reducing the size of your OST file. For example, you can choose to turn off the synchronization option for large folders as well as disabling caching for shared folders and public folders that are not essential. Let's discuss some other more technical options below.
1. Recreate Your OST File: When your OST file reaches the size limit, you can make Outlook create a new one by adding ".old" to the name of the OST file after closing Outlook. When you open the app, a new OST file will be automatically created to cache your data.
2. Shrink File Size by Compacting it: One of the first options you should look at when considering how to reduce the size of your OST file is to compact it. Compacting the OST file will not result in any data loss. Instead, the file storage process is optimized to ensure that there is no "white space." Now, you may be wondering, 'what is white space?' Let me explain. Outlook doesn't reduce the size of your OST file when you delete items. Instead, the space that the file used to occupy will become a "white space."
Nothing is stored in the "white space." However, it is not harnessed immediately to avoid performance issues. Compaction essentially ensures you can use the 'white space.' Outlook only compacts your OST file when 20 percent of the file is 'white space.' There is an option to compact your file through on Outlook, and there are many third-party apps that can do this.
Stellar Gives You Full Control Over OST and PST Files
Stellar is one of the top tool for compacting OST files. You can also use it to split your converted PST file and save space.
If you have orphaned OST files, you can use Stellar Converter for OST to convert it to a PST file and then export it to your Exchange server. This ensures that you can still access and make use of old data even when your Exchange server is no more.
Apart from all the features mentioned above, this software allows you to look for particular emails in your files by searching with date, subject, or even the sender's/recipient's email address.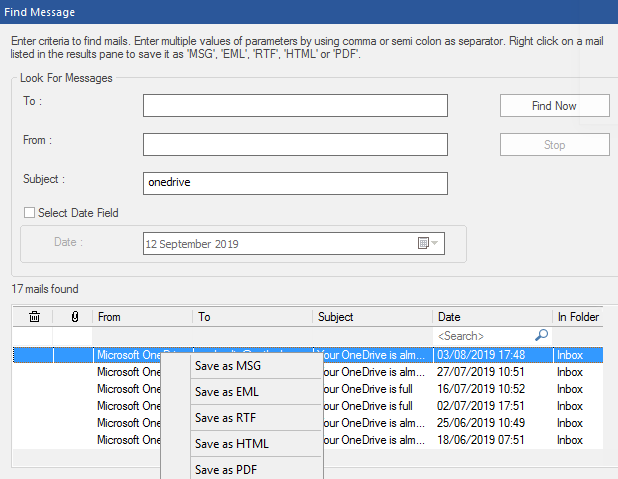 What's more, you can use this app to scan and preview the contents of an OST file. Therefore, you do not have to open it in your server before you can find out what it contains.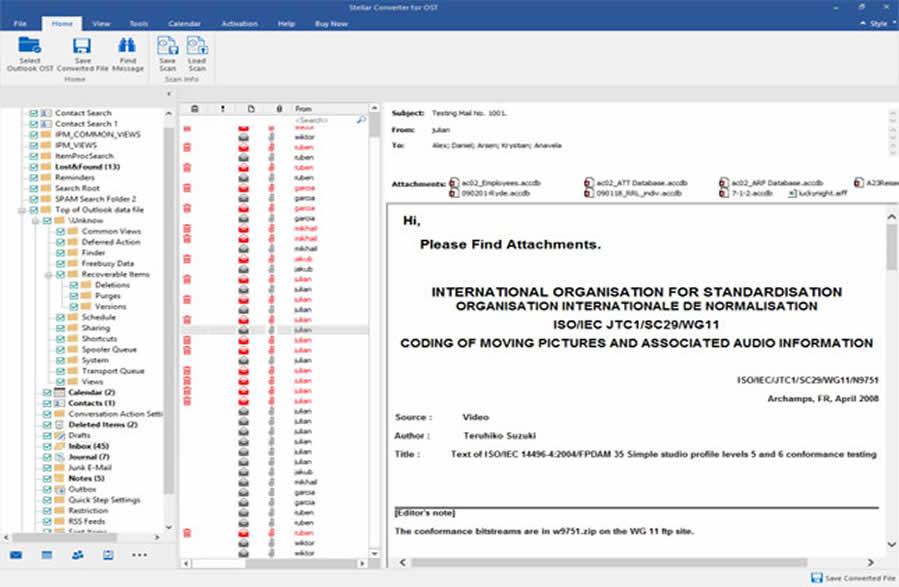 Once you find the conversation thread you're looking for, you can save and convert the file to different formats like, MSG, EML, RTF, HTML, or even PDF.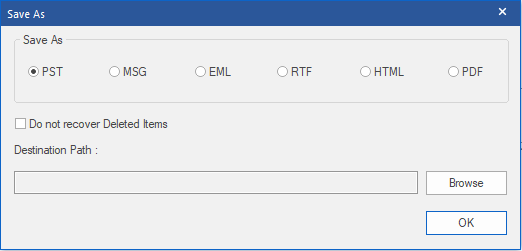 You can do so much more with Stellar. This app has been around for many years, and thousands of companies across the world use it.
Stellar is one of the leading data care corporations in the world and is ISO 9001 and ISO 27001 certified. Whether you want to convert OST files, recover data, erase data, or even convert the files in your mailbox, the stellar app is your answer. Check it out today!