IBM has announced the creation of the world's first 2nm chip, which is based on GAA technology (Gate All Around) with nanosheets. The new manufacturing process promises major advances in performance and efficiency.
Compared to the current best 7nm process, 2nm chips should increase performance by 45 percent or reduce power consumption by 75 percent.
With which 7 nm process IBM compares here remains open. In the global semiconductor business, the 7 nm processes from the contract manufacturer TSMC are currently in great demand, but Samsung also manufactures in 7 nm. At Intel, the 7 nm process is still pending due to the delays in the 10 nm process. TSMC has been manufacturing the Apple A14 Bionic in 5 nm since last year.
The design shown by IBM, on the other hand, uses Gate All Around with three nanosheets, as planned by Samsung Foundry with 3GAE and TSMC with N2. With FinFets, the channel — i.e., the transition from source to drain — is enclosed on three sides by the gate, with GAA. However, it is formed from nanosheets or nanowires that completely enclose the gate.
According to the company, it has managed to fit " 50 billion transistors on a chip the size of a fingernail." A feat that makes it possible to considerably reduce the final size of the processor, increase its performance and reduce its energy consumption.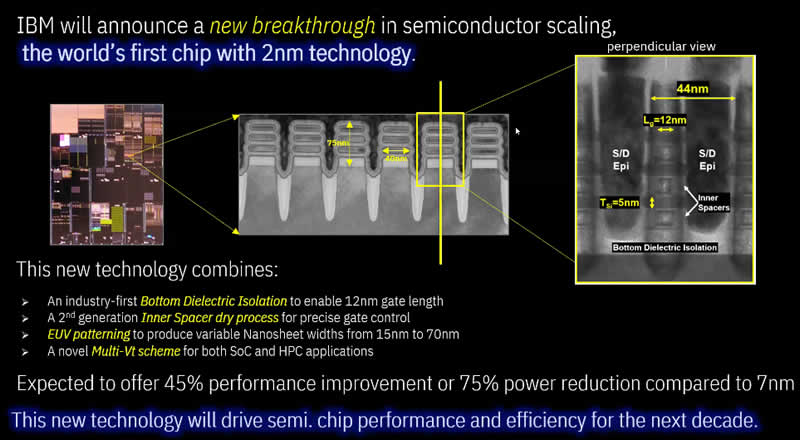 The advantages of these chips could directly impact the battery life of mobile phones, being four times higher compared to 7nm. IBM believes that smartphones could be charged every four days, an advantage that many users would appreciate.
But 2nm chips are not just for phones; laptops and self-driving vehicles will also benefit. While the former would obtain higher speed and lower battery consumption, the latter would react more quickly to road situations.
And, how could it be otherwise, 2nm chips will get along very well with 5G technologies, the very future 6G, data centers, and, surprisingly, quantum computing. In other words, the possibilities it offers are very great, and IBM is arriving before its competitors.
However, IBM still has a long way to go. Getting to build 2nm chips is a very important step, but manufacturing them on a large scale is a huge challenge. The computing giant has not mentioned when the first devices with these characteristics would arrive on the consumer market.