Qualcomm announced Quick Charge 5 technology — claims it is "the fastest commercial charging technology for Android devices."
According to Qualcomm, Quick Charge 5 works 70 percent more effectively than its predecessor. The new fast charging technology for Android mobiles supports more than 100W and charges half of your mobile in 5 minutes.
The announcement comes a few days after the launch of the iQOO 125W Ultra Flash Charger.
The idea of ​​the company is that this technology can reach as many manufacturers as possible, a point where they ensure that they are already working. "We are working closely with manufacturers to create industry-leading devices that meet consumer demand for more immersive and accessible mobile experiences," says Ev Roach, vice president of product management at Qualcomm Technologies.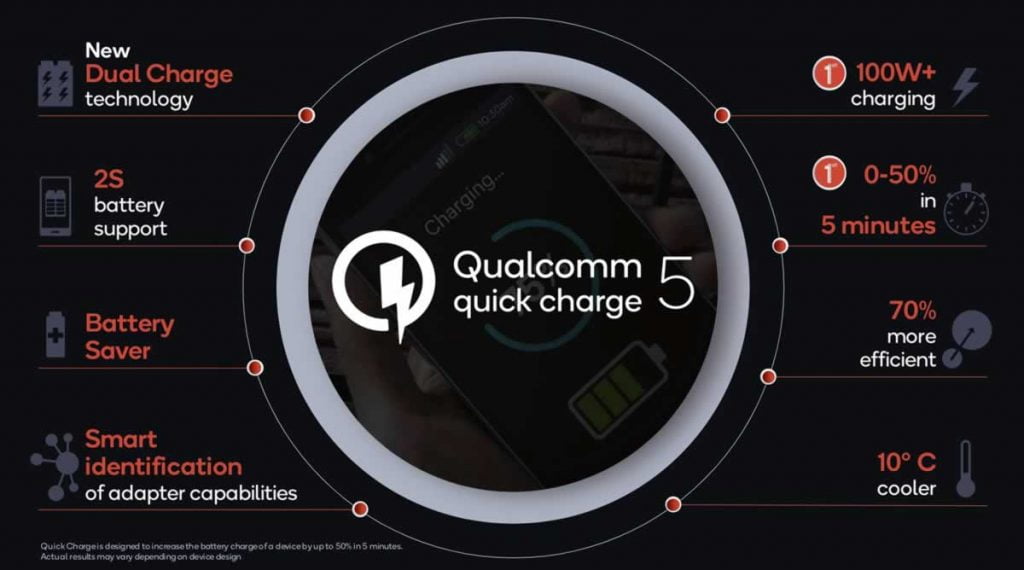 Apart from the charging speed, Quick Charge 5 is also packed with Qualcomm Battery Saver and the new Qualcomm Smart Identification of Adapter Capabilities technology — designed to improve efficiency based on hardware specifications and therefore extend the life cycle of the batteries integrated in the charged devices.
The first Quick Charge 5 compatible devices are expected to be launched in the third quarter of 2020. The rapid charging process is initially supported by the Qualcomm Snapdragon 865 and Snapdragon 865 Plus chips. Later 700 series Snapdragon chips will also be supported.