Telegram announced at the beginning of June the future availability of Telegram Premium, and it's now official.
Telegram Premium service gives users the possibility of accessing exclusive functions and features in exchange for paying a monthly fee — something that, in addition, will allow the company to obtain income directly from users and not from advertisers.
The subscription will allow Telegram to add what users have been asking for and, at the same time, keep "the most feature-packed messenger on the planet" free. Telegram Premium almost doubles all the limits in the application.
Telegram Premium features:
Upload files up to 4 GB to the application
Accelerated download of photos, videos and documents at maximum speed
You can follow up to 1000 channels
Create up to 20 chat folders, each of which will fit up to 200 chats
Connect the fourth account in the application
Pin up to 10 chats in the main list
Save up to 10 favorite stickers
You can also write a longer bio and include a link in it
Voice messages can be converted to text
Full screen stickers with animation
More ways to respond to messages: 10+ new emojis
Availability of animated profile pictures
Special Telegram Premium badge for premium users that appears next to their name in the chat list, chat headers, and member lists in groups
New exclusive app icons
Disable ads in channels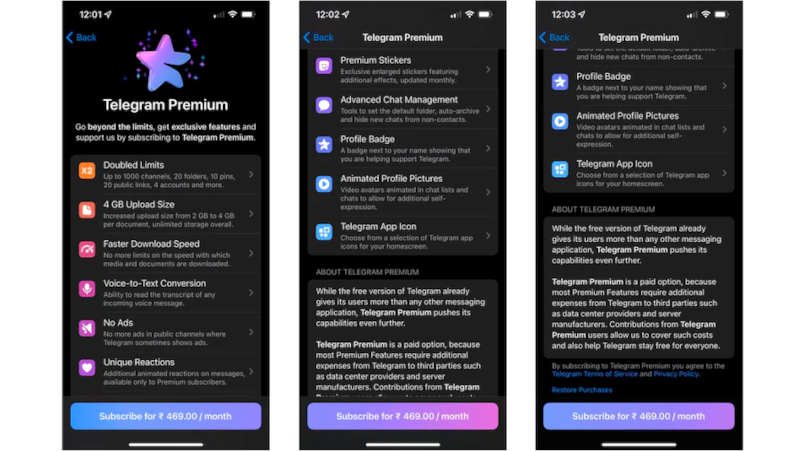 Telegram has released version 8.8 on the Apple App Store, which introduces the Premium tier for $4.99 per month and soon, the feature is going to be available for Android users too.