After several months since its first announcement and after a few weeks of testing, WhatsApp has finally officially announced the imminent implementation of its new Communities features and emoji reactions for messages in its next update of the application available to the general public.
WhatsApp Communities will allow us to bring together different groups under the same structure and will offer us a series of additional tools aimed at improving the organization and management of our conversations.
Communities do not come to replace the groups, but feeds on them and, based on its tools, seek to reduce the disorder that usually exists in these, such as the endless amount of messages that, on many occasions, makes us lose important information.
The administrators, who will be in charge of managing these spaces, will be able to choose which groups (new or existing) will be part of their Community. They will also have the necessary permissions to delete messages or files that they consider inappropriate for everyone. These communities will continue to use the end-to-end encryption used by the service in group and individual chats.
Along with the addition of the WhatsApp communities for the better management of the different groups, Meta has also announced some other improvements:
From now on, it will be possible to react to the message with emojis, a feature that we have had for a long time on Telegram, Instagram, Messenger.
Files up to 2 GB in size can be sent.
Voice calls can now be up to 32 participants.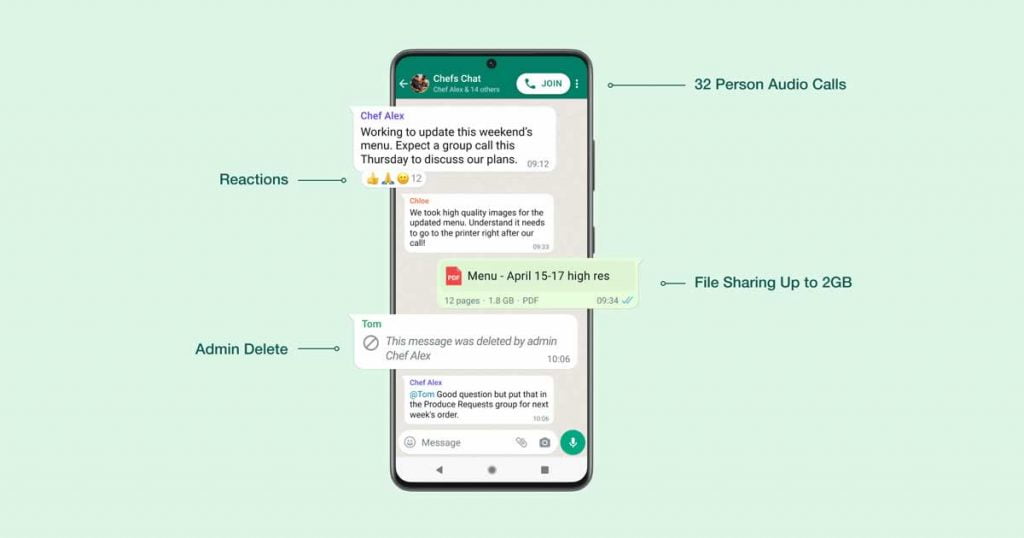 The Communities will be made available to all users in the coming months and aim to mark a new chapter for Zuckerberg's messaging app, which will no longer be just a private communication tool but will aim to become a much more versatile and complete tool, also for large organizations and professional realities.