After recent massive Facebook data leak now, WhatsApp suffered a security breach — a message from an anonymous seller appeared on the internet about the sale of phone numbers to nearly 500 million WhatsApp users from all over the world.
According to Cybernews, on November 16 in a forum of the BreachForums hacking community, one of the participants posted an advertisement for the sale of the 2022 database of 487 million mobile numbers of WhatsApp users.
The data set is said to contain data from WhatsApp users from 84 countries and it is estimated that 32 million numbers would be from the United States.
In the first position is Egypt, with 44,832,547 stolen accounts, followed by Italy (35,677,323), the United States (32,315,282), Saudi Arabia (28,804,686), France (19,848,559) and Turkey (19,638. 821).
On the contrary, the countries least affected by this theft would be Indonesia (130,331), Puerto Rico (130,586), Cyprus (152,231), Serbia (162,898), Luxembourg (188,201) and Brunei (213,795).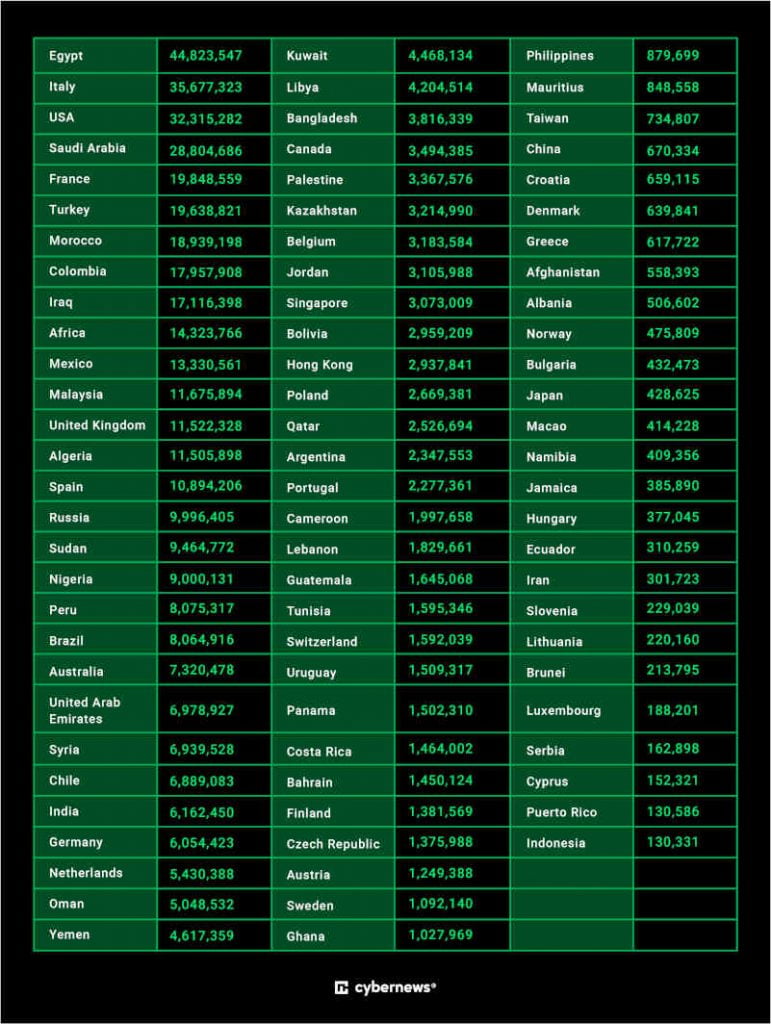 The hacker told Cybernews that they were selling the US dataset for $7,000, the UK dataset for $2,500, and the German dataset for $2,000.
As the Cybernews researchers, who have had access to a sample of 1,097 numbers registered in the United Kingdom and 817 numbers in the United States, the phones are real and, indeed, belong to users of the Meta messaging service.
At the time, the method by which these numbers were obtained is unknown, though there is some evidence that suggests that a scraping technique was employed to collect the — casting doubt on the assumption that the WhatsApp servers had been infiltrated.
WhatsApp currently has 2,000 million users worldwide, which means that a large part of users would have their phones compromised. The most important and positive thing about the news is that no private or personal data has been leaked. Although, phone numbers that have been leaked could be used for marketing, phishing, impersonation, and fraud.