While the US military continues to build more advanced Unmanned Aerial Vehicles (UAVs), popularly known as Drones, the US company Battelle has developed a anti-drone weapon to knock drones out of the sky without totally destroying them.
The Battelle anti-drone weapon DroneDefender is a thoroughly dystopian looking gun-type gadget that uses targeted radio pulses to neutralize in-flight drones and force them to land or hover. Despite its appearance, it's not made to fire any projectile. Instead, the DroneDefender works by jamming the communications of commercial drones, causing them to lose control and, ideally, land.
Video Demo Of Anti-Drone Weapon DroneDefender
You can watch the video given below to know how the anti-drone weapon DroneDefender works. It shows how the weapon is able to stop a drone in its tracks and cause it to land.
Also Read : iRobot is Launching A Vacuum Cleaner That Can Actually See
Also Read : First Stopover On MOON For Refueling And Then Continue Journey To Mars
The DroneDefender weighs less than 10 pounds and can be mounted on any existing weapon with a picatinny rail—a fairly standard mount found on military rifles  and can disable a hostile drone within a 400-meter radius.
How Anti-Drone Weapon DroneDefender Works?
As soon as the trigger is pulled, DroneDefender emits radio pulses that interrupt the communications system of the drone (both drone and GPS signal it sends out) and makes it think that it gone out of range, thereby preventing the drone from accepting any additional commands from its operator. The drone then enters into its safety protocols that force it to either hover in its position or slowly prepares to land, or return to its point of origin.
Also Read : Samsung Going To Power Next Generation Smartphones With 6GB RAM Chips
"The system works by disrupting radio control frequencies between the drone and the pilot,"  —  Dan Stamm, who developed the DroneDefender, said to Motherboard. "It basically makes the drone think that it's gone out of range. The drone enters into its safety protocols which include one of three options. It'll either hover in position until the pilot can regain control link, it lands so the pilot can recover it physically, or it returns to its point of origin."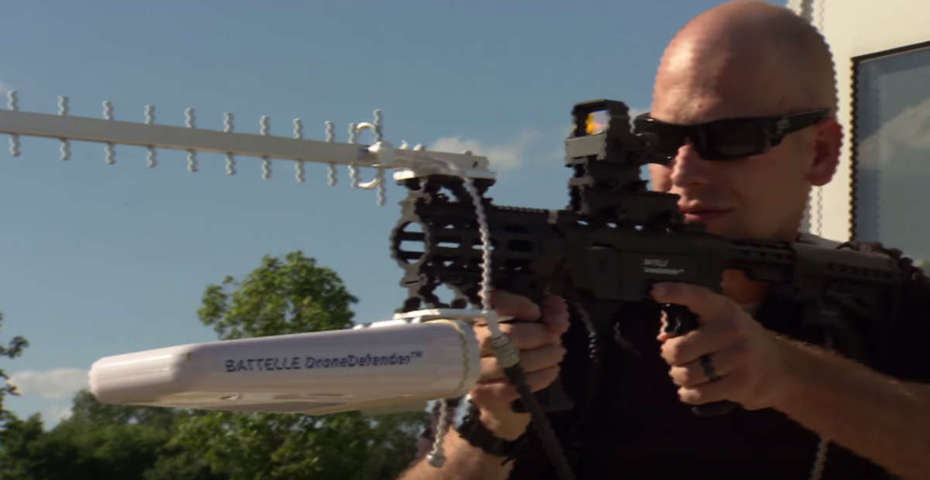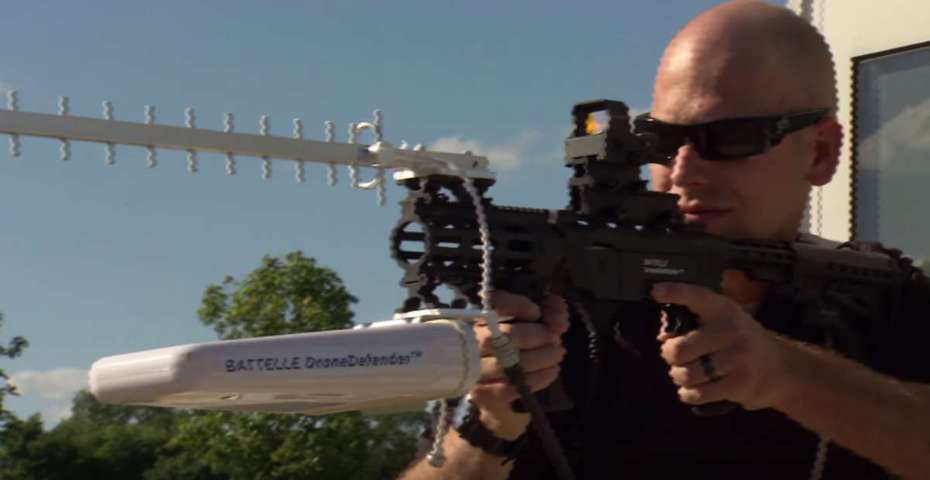 It's primary targets are small commercial drones flown in places the federal government doesn't want them to be: the radio bands it uses to disrupt drone signals are restricted, so this isn't a product for everyday consumers annoyed by their neighbors quadcopter. Not to mention the fact that currently, the cost hasn't been publicized.
Though other companies have tried to make drone-neutralizing devices before, this is the first device that is able to knock drones out of the sky without purposefully damaging it.Battelle is a major government contractor that helps manage some of the country's national laboratories and regularly makes scientific breakthroughs and discoveries.
Also Read : Aston Martin Racing 808 Smartphone Is The Phone James Bond Should Have
Stamm noted that the DroneDefender would be useful for controlling drones over wildfires, public events, or other sensitive airspace. In several instances, police have attempted to force drones down with their helicopters or have interrupted pilots while they're flying, which is usually more dangerous than asking them to bring a drone down safely. The DroneDefender could potentially provide a safer method of stopping a drone.
The device can only be used by the federal government because the radio frequencies it uses are governed by the Federal Communications Commission. That means consumers probably won't ever be able to buy a DroneDefender, either.
Also Read : Qualcomm Snapdragon Flight – The Technology To Develop Advance Consumer Drones Ever