Apple presented a smaller version of its Siri speaker, Homepod Mini, at its special event in addition to the new iPhone 12 models.
The latest version of the Apple smart speaker adopts a completely new design for a reduced form factor, a small sphere that encapsulates a powerful audio system supported by Apple's S5 chip. The result is a 360-degree sound experience, accompanied by maximum compatibility with the iPhone and the voice assistant Siri.
The first novelty flaunted by HomePod Mini concerns its dimensions — we are talking about a device just 2.54 cm high , which however brings with it new features and a lot of unexpected power.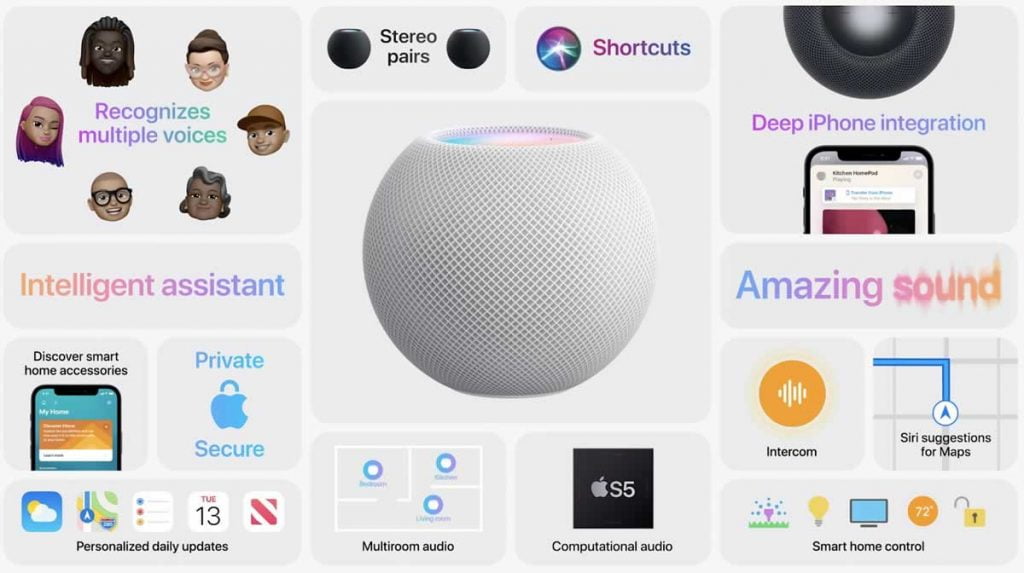 The acoustic compartment of the small Homepod consists of a full-range driver, powered by a neodymium magnet, and a pair of passive radiators. Thanks to the integration of the S5 chip, the device will be able to analyze every single song played to automatically optimize the volume and dynamic range, as well as the movement of the driver itself. Apple has called this 'Computational Audio,' a solution that will ensure an unprecedented sound experience.
The device will be able to play songs from the main streaming libraries — first of all, Apple Music — and radio stations, but apparently, it will not support music playback from Spotify, leaving millions of subscribers to the Swedish giant's platform dry-mouthed.
Siri remains the absolute protagonist, of course — according to statistics provided by Apple, the Cupertino voice assistant has been installed on over a billion devices, satisfying more than 25 billion requests every month.
Homepod mini will be able to recognize the voices of each member of the household using the three integrated microphones so that you can customize Siri's responses. By connecting more than one Homepod device to the same network, speakers will be able to communicate with each other by exchanging messages, and alerts addressed to users.
Furthermore, with a single question, it will be possible to listen to the latest news, receive information on weather and traffic and on the appointments marked in your calendar.
The Homepod Mini is available from November 16, 2020, in white and space gray and will cost $99 in the United States and eight other countries. Apple will open pre-orders on November 6.