On March 18, 2022, the developer Hector Martin announced a release of the alpha version of the Asahi Linux distribution kit for Mac on M1, M1 Pro and M1 Max chips. The M1 Ultra and thus the Mac Studio are left out in the first alpha version for the time being.
Hector Martin took on the project of porting Linux to Mac with the M1 in early 2021. He is assisted by other developers, including Alyssa Rosenzweig, who reverse-engineers the GPU drivers for the M1 chip — Asahi Linux is intended to be a fully functional Linux distribution for the MacBook Air, MacBook Pro, the iMac and Mac mini.
Asahi Linux is based on the Arch Linux package. It contains a stock set of applications and comes with the KDE Plasma desktop. The Asahi Linux distribution is built using the regular Arch Linux repositories, and all specific changes, such as the kernel, installer, bootloader, auxiliary scripts and environment settings, are moved to a separate project repository.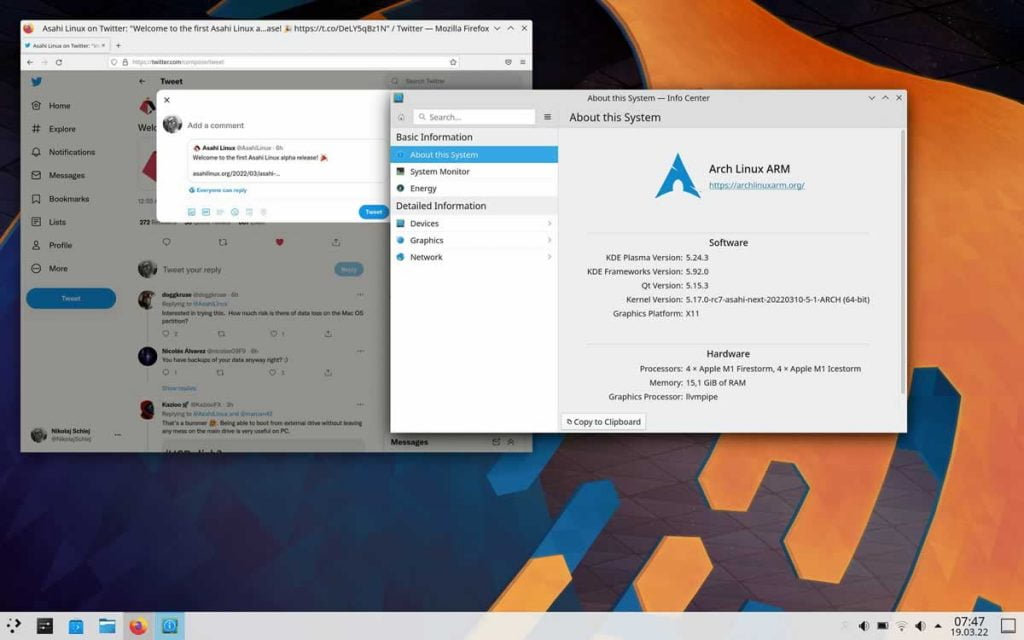 The first alpha of the free operating system that has now been released assumes the following system requirements:
M1, M1 Pro or M1 Max
MacBook Air, MacBook Pro or Mac mini
At least 53 GB of free hard disk space
macOS 12.3 ("Monterey") or newer
An active internet connection
These components are supported and work properly on the Asahi Linux distribution Alpha for Mac on M1 chips — Wi-Fi, USB2 (Thunderbolt ports), USB3 (Mac Mini Type A ports), Display (no GPU support) , NVMe drives, Ethernet port, card reader, cover close sensor, built-in screen (framebuffer only), keyboard, touchpad, keyboard backlight control, CPU frequency switching, battery status, headphone jack, HDMI output (Mac Mini).
The developer of the project promises to soon add support for USB3, built-in speakers and a screen controller (backlight, V-Sync, power management).
Not supported or stable — DisplayPort, Thunderbolt, HDMI port on MacBook, Bluetooth, stock GPU graphics acceleration, video codec hardware acceleration, Neural Engine, touchpad, CPU power saving modes, video camera.
The author explained that in order to test the operation of the Asahi Linux alpha for Mac, it is better to use Dual-Boot. The project has summarized what is already working and in which respect the developers still have a lot of work to do on its official blog.