Taiwanese vendor Asus introduced the Zenbook 17 Fold OLED hybrid laptop at IFA 2022 in Berlin. This laptop was the first in the world to receive a 17.3-inch foldable OLED (FOLED) screen panel.
The new Zenbook features a unique design that allows two OLED display configurations in one device. A large 17.3-inch 2.5K 4:3 touchscreen folds in the center to create two 12.5-inch 1920 x 1280 pixel 3:2 displays, giving Zenbook 17 Fold OLED a unique form factor for unprecedented versatility.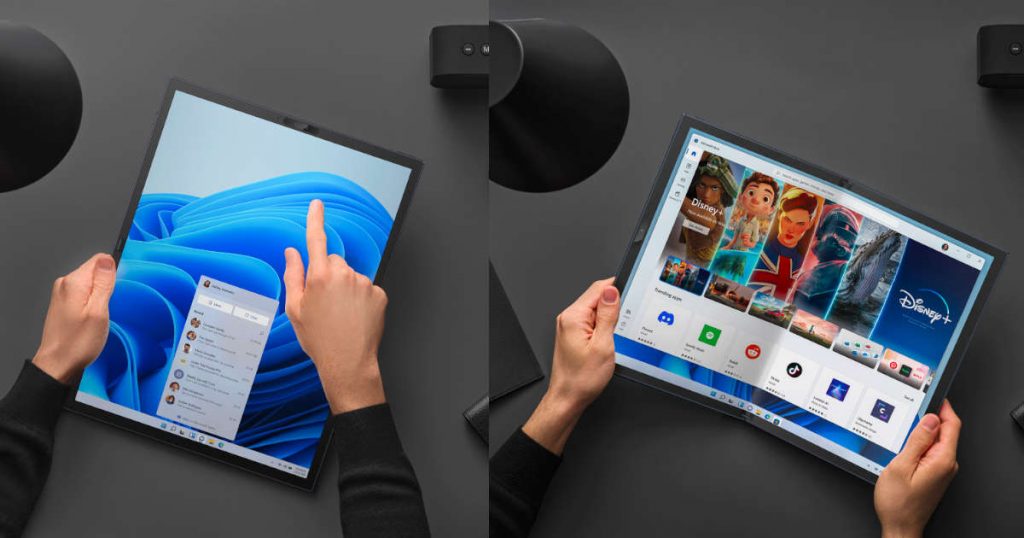 The panel has Dolby Vision validation and incorporates four speakers with the signature of Harman Kardon and Dolby Atmos seal. Despite its size, it is a kind of extremely light ultrabook in weight, since, without a keyboard, it only weighs 1.5 kg.
Designed in collaboration with Intel, Zenbook 17 Fold OLED follows the dictates of the Intel Evo specification. Asus has included 12th generation Intel Core i7 U-Series processors on board, along with Intel Iris Xe graphics and Intel WiFi 6E connectivity with 16 GB of RAM and a 1 TB PCIe 4.0 SSD. The built-in 75 Wh battery can be charged with up to 65 watts via one of the two Type-C Thunderbolt 4 ports. There is also a 3.5mm jack for headphones or headsets.
A 5-megapixel camera and an array of four microphones are installed for video conferences. Both components are supported by AI for image enhancement as well as noise reduction.
According to Asus, the folding mechanism should withstand at least 30,000 folding processes without damage. That equates to approximately 16 folds per day over a five-year period of use. Asus speaks of "military-grade durability" and, in addition to the folding mechanism, also carried out tests on extreme temperatures and vibrations as well as drop tests from a height of ten centimeters in all directions.
The new Asus Zenbook 17 Fold OLED will be available during the fourth quarter of 2022 and will start at $3,499.