Spotify is one of the leading music streaming platforms with a lot of songs amounting to about 60 million in total. This would be a lot greater if the songs can be accessed and enjoyed offline by the free users as well, but unfortunately, offline listening is for the Spotify Premium users alone. So, the best that you could do about this is to have Spotify songs converted to an output format which can be played offline and which can be played in any audio player you want. So, in that case, the question must be how do you convert Spotify to MP3? Is it possible for you to convert Spotify to MP3? What are the most recommended converters that can help you convert Spotify to MP3?
To know the answer to all these questions, you must take time to read this post for it will be helpful enough for you in solving your problems about how to convert Spotify to MP3. This will also help you a lot to play your favorites with ease and comfort.
Part 1. Can You Convert Spotify To MP3?
With the convenience it offers to have Spotify songs played offline, we cannot deny the fact that most of the Spotify users are wishing to have their Spotify favorites converted into an audio format that will definitely help them make this possible. But expect that you may find a hard time to do this because Spotify songs and tracks are DRM protected. When you say DRM protected, it means that the songs are not playable in just any device that you want to use. The songs are only playable on devices that are authorized and supported by Spotify. Having the songs protected by DRM means that the songs are not also convertible to any output format that you want. So, the question here is how to convert Spotify to MP3? MP3 being one of the output formats that are very accessible in almost all gadgets.
Despite the fact that Spotify songs are not convertible to MP3 because of DRM and some other law related issue concerning this, you can still make this happen. So, in order to convert Spotify to MP3, you would need the help of a powerful tool that can work well with Spotify and most especially, can do the job perfectly.
Part 2. What Is The Best Spotify To MP3 Converter?
If you are looking for the most powerful and most effective tool that can help you convert Spotify to MP3, your pick must be no other than "TuneSolo Spotify Music Converter".
Here is the list of the best features of "TuneSolo Spotify Music Converter".
"TuneSolo Spotify Music Converter" can help you enjoy your favorite Spotify songs even if you are not connected to any network by letting you download as many songs you have chosen. You must be aware already of the fact that you can only download songs and have them played offline if you have subscribed to Spotify Premium. But with "TuneSolo Spotify Music Converter", you can have these songs enjoyed offline even if you have no subscription to begin with or even if your subscription is cancelled already.
As what was discussed in the first section above, Spotify songs are DRM protected which is the main responsibility for not having the songs played in a lot of devices. But with "TuneSolo Spotify Music Converter", you can play these songs on as many devices as you want.
With "TuneSolo Spotify Music Converter", you can have the songs you have downloaded converted to MP3 format and any other output formats including AAC, WAV, FLAC and many more. Once the songs are successfully converted, you can finally enjoy them for offline listening.
If you wish to use "TuneSolo Spotify Music Converter", you will not have to wait for a long time until the songs have finished converting because it can convert Spotify to MP3 five times faster than the usual speed of conversion. It can finish the job in just a couple of minutes and is literally enabling you to save a bunch of your time and use this saved time to do some other activities that you want.
If you are worrying about losing some important information of Spotify songs, well you do not have to worry anymore because "TuneSolo Spotify Music Converter" can retain the most significant information of Spotify songs that is mainly needed to identify Spotify music. It can keep the metadata information and ID3 tags of songs.
Now if the organization of output files is your issue, you will not encounter any problem about this if you have decided to use "TuneSolo Spotify Music Converter". You can modify the arrangement of your files by artist or by album or by any category you prefer to have. This will help you save a lot of your time as well because it will be a lot easier for you to locate a specific file.
Another good thing with using "TuneSolo Spotify Music Converter", you will be entitled with unlimited free updates and support from the technical team once you have any question in using the app or whenever you encounter any problem while using this.
Here are the easy steps that you have to follow to convert Spotify to MP3 using "TuneSolo Spotify Music Converter"
The first thing that you have to do is to download "TuneSolo Spotify Music Converter". You can get this app from the application store. If you are done with downloading the app, have it installed and running on your device as well.
Next thing to do is to have the Spotify songs uploaded into the converter. You can do this process by just having the song files dragged and dropped into the converter. Another method to upload the files is to copy and paste the song links into the converter.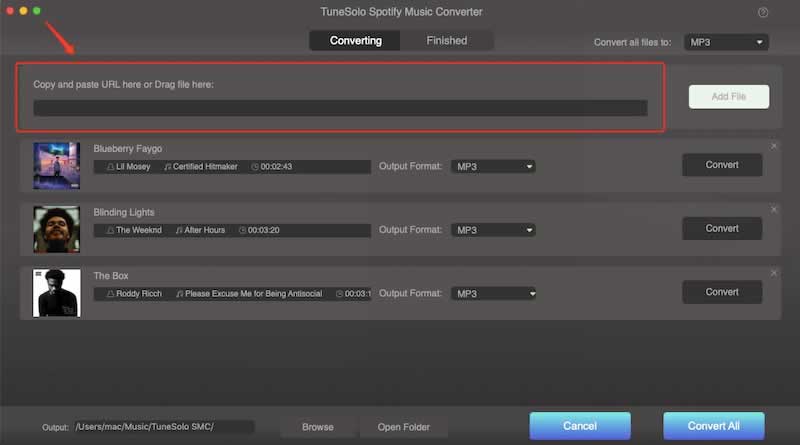 Now, you have to select the output format from the list of formats available. Click on MP3 format.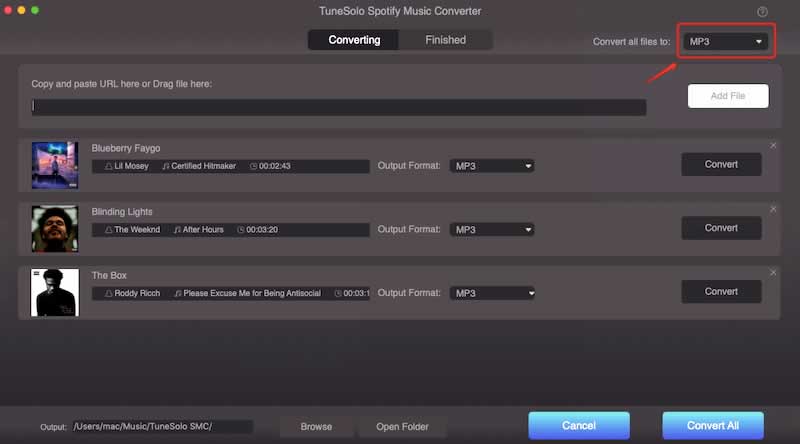 Now that you have selected the MP3 format, you may now click on the button of "Convert All" to start the process of conversion.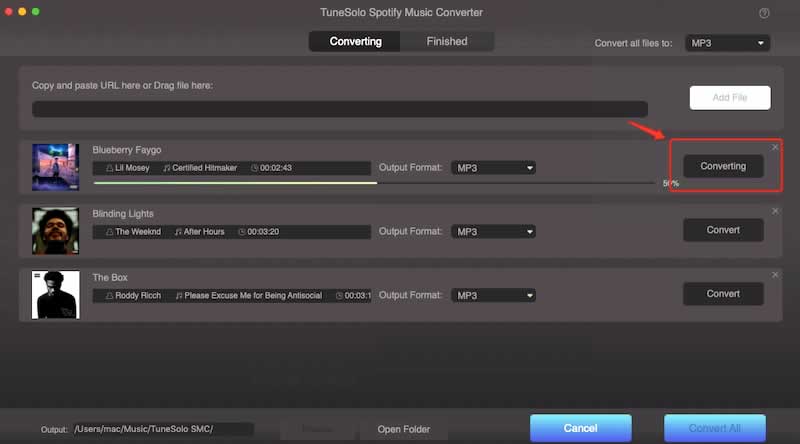 If you want to review and get the successfully converted songs, you may click the "View Output File" button.
Part 3. How Can I Convert Spotify To MP3 For Free?
For those who are not interested in downloading some tool into their devices, there are many converters over the net that can help you as well to convert Spotify to MP3. What is great is that you can use them without limit and without paying any cent. Below are the three recommended Spotify converters online that you can totally use for free.
AllToMP3
First on the list of Spotify converters that can help you convert Spotify to MP3 for free is the "AllToMP3" converter. "AllToMP3" is accessible and works well with Mac, Linux and Windows computers. If you wish to use this converter, you must know that it can help you have all the songs or tracks you got from Spotify already in MP3 format. One good thing with "AllToMP3" converter is that it has the capability to keep the important information of the Spotify songs including the title, the artist's name, the album's name, artwork and its genre.
With "AllToMP3", you won't be bothered or worried enough with regards to the resulting quality of the sound. It guarantees you a high-quality audio which will surely make you satisfied. What is also great with this free converter is the convenience it offers when using this app. It can do the job by just having the URL of your selected Spotify song or tracks copied and pasted into it.
One important thing that you must know about "AllToMP3" converter is that it is not connected with Spotify meaning that it is not directly working with the said application. It does the job by just having the link of the Spotify songs you have pasted be examined and studied, recover all the significant information related to the songs and then have them searched in different music libraries found online. Once your pasted Spotify song link was found from one of the music libraries, "AllToMP3" will now start the process.
Once it matches, it will begin downloading the particular song which is already in MP3 format once finished. This helpful converter that can help you convert Spotify to MP3 for free is very safe to use. The only drawback that can be found from this converter is that it may not be successful to find all the song links that you have pasted to it, especially if the songs you are trying to download are new and were just released. And also, the fact that Spotify is holding over a million of songs and albums, music libraries online will really have a hard time to keep up with this big quantity. So, it is more effective to try using it in finding old songs or albums.
Audacity
Another one in the list of free converters that can be of great help to convert Spotify to MP3 is "Audacity". Actually, the thing that I love the most with this Spotify music converter is that the way it does the job is very simple to understand. You will just have to play any Spotify songs or tracks from any audio player you have and "Audacity" will start doing its job to record and capture the sound and have it released in MP3 format or any formats available once the recording is done.
"Audacity" Spotify converter is also working well with Mac, Windows and Linux computers. And take note, you can also use this converter for free.
Spotify & Deezer Music Downloader
If the goal is to convert Spotify to MP3 for free, "Spotify & Deezer Music Downloader" is definitely on the list. "Spotify & Deezer Music Downloader" is an extension of Chrome. This converter enables you to download your favorite albums and playlists from Spotify and any other music streaming platforms by adding a download button in every song from the said music resources. The thing that you must do is to just download the "Spotify & Deezer Music Downloader", have it installed and running in the device you are using.
You should remember that you can always have this application from the Chrome extension store. Now that the application is running, you will only have to sign in using your Spotify account and then download the songs or albums you have chosen to have. You should note that there is no way to do a batch download, and you will really have to do the job of saving the songs one by one. Another thing to be reminded of about "Spotify & Deezer Music Downloader" is that it also makes use of music libraries found online so there would be a time that you may encounter an error downloading the songs you selected particularly in some cases when it did not successfully locate or matched the songs with them.
Conclusion
There are a lot of converters that can easily be searched and found online which can help you to convert Spotify to MP3. You can search some that are free to use like the three free Spotify converters that I have discussed above. Some may not be able to give you the quality of sound that you'll be satisfied with and some may give you a headache for so many errors and problems encountered by using them. So, it is really a must to choose the right tool that will help you achieve your goal which is to convert Spotify to MP3. If that is the case, the best pick would always be "TuneSolo Spotify Music Converter". With all the features and easy steps in using it that were explained above, you can really have the quality audio you are mostly looking for.