From the incessant pings of social media notifications to the lure of binge-watching, the modern world is a minefield for anyone trying to focus. It's like every second, something is fighting for your attention, making it super hard to concentrate on your work.
But what if I told you that the very technology that distracts you could also help you focus? There are some amazing apps out there designed to help you block out all those pesky distractions and get down to business. In this article, we have listed some of the best focus apps for Android and iOS to enhance productivity at work.
These focus apps for mobile aim to help you avoid distractions and stay focused on your task. They often block access to distracting websites, track time spent on tasks, compile reports on your time usage, and even gamify the process to keep you engaged.
Best Mobile Apps to Stay Focused:
1. Freedom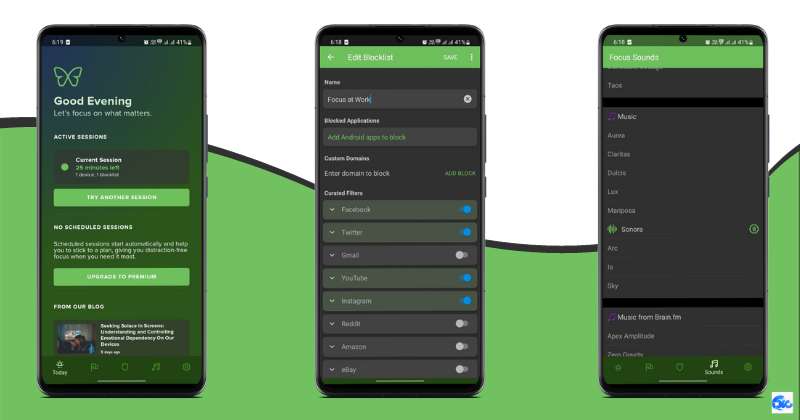 Freedom is one of the best focus apps for mobile devices to help you stay focused by blocking distracting apps and websites. Freedom allows you to select which apps and websites to block during a session. If you attempt to access a blocked site or app, the software prevents it from opening. Its compatible across multiple platforms, including Mac, Windows, iOS, and Chrome, allowing you to sync your block sessions across all your devices. The app also offers a 'Locked Mode' to help break compulsive habits and a scheduling feature to set specific days and times for blocking distractions. Users can create custom blocklists and even enjoy focus sounds to enhance concentration.
2. Digital Detox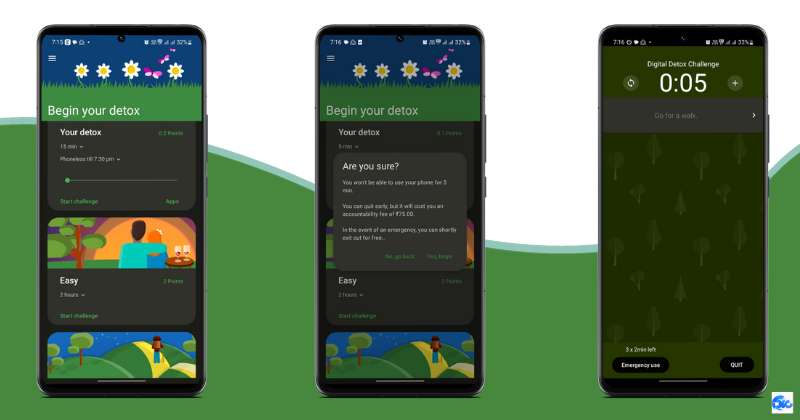 Digital Detox helps you disconnect from your phone to focus better on real life. The app offers challenges with multiple difficulty levels to limit phone usage. It features scheduling, whitelisting, and even has a leaderboard for a competitive edge. If you try to cheat, the app's Accessibility Service kicks in to keep you on track. Moreover, the app provides automation features, allowing you to start a detox automatically from Tasker or similar apps.
3. BlockSite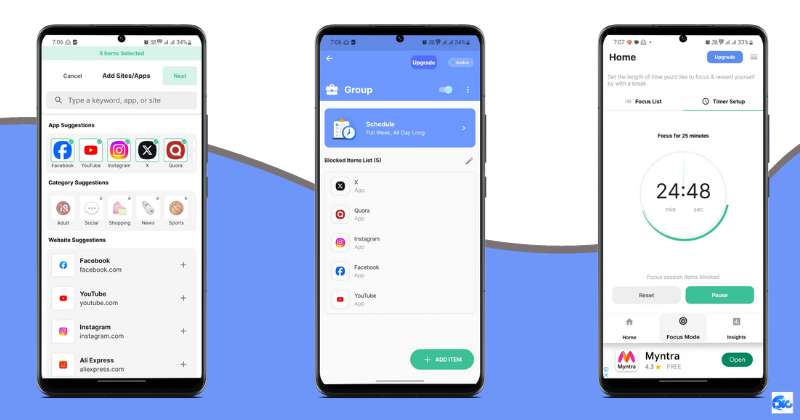 The primary aim of BlockSite is to enhance productivity and self-control by temporarily blocking access to your most distracting digital spaces. You can create block lists tailored to your needs and even schedule focus sessions for specific hours of the day. With 'Category Blocking,' you can block thousands of websites and apps in just one click. BlockSite also comes with a 'Focus Mode,' which employs the Pomodoro technique to break your work into intervals, traditionally 25 minutes of focused work followed by a short break.
4. Flipd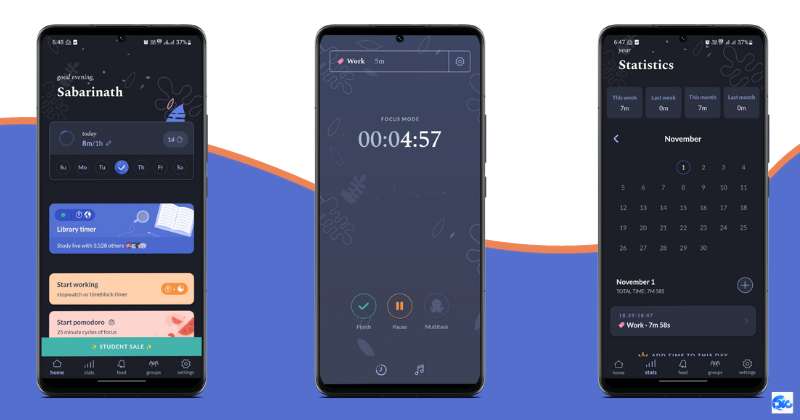 Flipd offers a wide range of features to help you focus and achieve your daily goals. You can track your activities, get motivational quotes, and even listen to curated background music. You can also join live timed focus and study sessions with friends or popular studygram influencers. The app even offers a "Full Lock Mode," which locks away distracting apps and games, allowing you to create a whitelist of essential apps.
5. Forest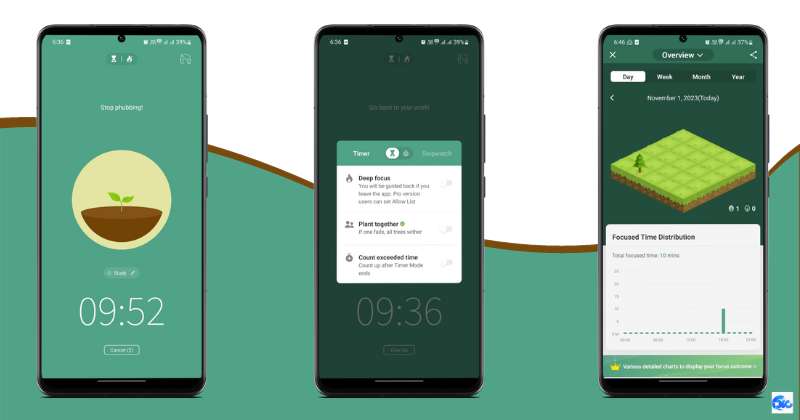 Forest gamifies time management by letting you plant a virtual seed that grows into a tree as long as you stay focused. If you get distracted and leave the app, the tree dies. Forest offers multiple focus modes, including a timer mode for work sessions and a stopwatch mode that acts as a habit tracker. The app also allows for social connectivity, letting you focus together with friends and family. It even has a Chrome extension for desktop users.
6. Focus Keeper
In Focus Keeper, you set a timer for 25 minutes and focus on your task. When the timer rings, you take a short, 5-minute break. After completing four such focus sessions, you can take a longer break of 20 to 30 minutes. This cycle helps you maintain your concentration without feeling drained. You can set daily goals for the number of focus sessions you aim to complete, and even customize the length of each session and break.
7. Opal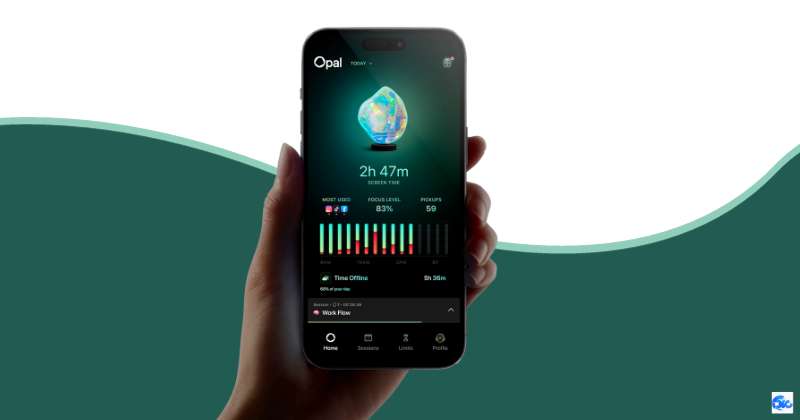 Opal is another one of the best apps for mobile to avoid distractions and focus better. It offers a range of features like app restrictions, real-time feedback, and a reward system. The app provides detailed Focus Reports and allows you to set daily routines to automatically block distracting apps. Endorsed by professionals from companies like Google and Twitter, Opal claims to make 94% of its users less distracted and 93% more productive.
8. Focus Dog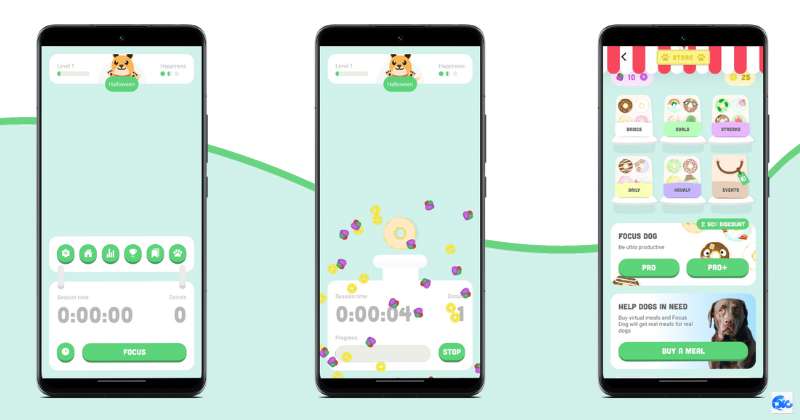 Focus Dog employs gamification to make productivity fun. The central character is a virtual dog named Focus, who you feed with donuts that you earn by staying focused. The app also offers a Pomodoro timer to help you break your work into intervals, making it easier to maintain focus. Unique to this app is the option to donate your virtual earnings to help real dogs in shelters.
9. Engross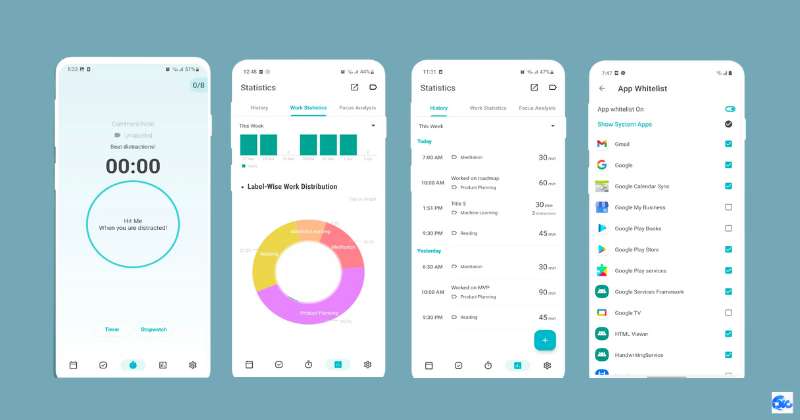 Engross combines a Pomodoro-inspired timer, a to-do list, and a day planner to help you stay focused and organized. Its unique 'Hit me when you are distracted' method aims to keep you engaged and focused during your work sessions. The app offers a fully customizable Pomodoro timer, allowing you to set work sessions for up to 180 minutes and long breaks for up to 240 minutes. You can set up recurring tasks, divide big tasks into sub-tasks, and even attach timers to your to-do list items.
10. Focus Quest
Focus Quest is an innovative blend of RPG elements with productivity tools. It aims to help you beat phone addiction, manage ADHD, and improve focus at work. It employs gamification to provide a "focus booster," allowing users to complete challenges and earn rewards.
Happy focusing!
If you're finding it hard to focus at work, these best focus apps for iOS and Android can be your new best friends. They can block out the noise, help you manage your time, and even make focusing a fun game. Give them a try and see how much more you can get done.