Language is not a barrier anymore when you have a smartphone in your hand. With the power of artificial intelligence and machine learning integration, now our smartphones can do efficiently zero error language translation — there are many best translation apps are now available for Android and iOS to help you communicate in unknown languages.
It doesn't matter if you are a traveller or student or business professional or employer or medical staff, with these translation apps for Android and iOS you can read, write and speak in over 100 languages, anywhere in the world.
Some of the listed apps also have the pro version and some features are only available to the pro version. As this list is only for free translation apps we are briefing only their free version features.
Best translation apps for Android and iOS:
1. Google Translate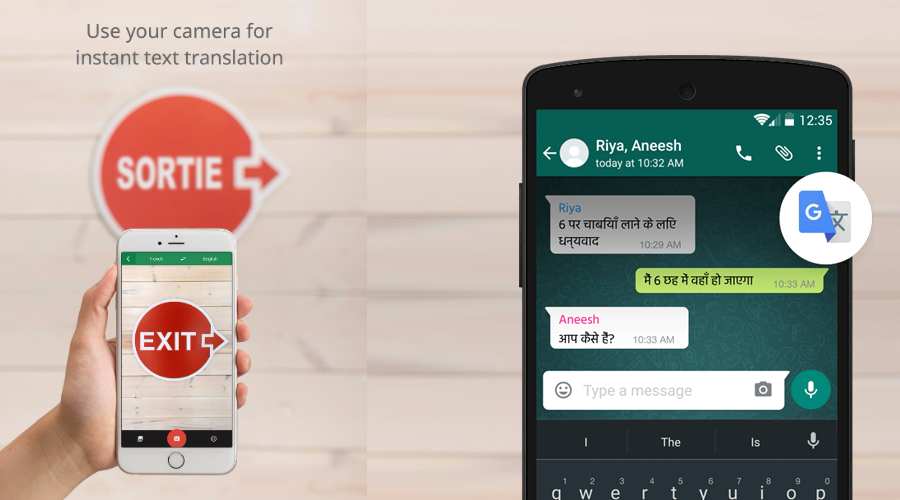 Google Translate is the most dependable translation app for Android and iOS. Used by the millions, it is one of the trusted services powered by the tech giant Google. Speak, snap, write or type — it's your choice how you want the translation started. Android version of Google translate auto integrates with other apps to give you an easy translation experience.
Key features of Google Translate:
You can translate 103 languages online by typing.
Translates 59 languages with no internet connection.
38 languages support instant camera translation where text in images translates instantly by just pointing your camera.
50 languages support import photo translation.
32 languages support real-time bilingual conversations transaltion.
You can also draw text characters instead of typing.
2. iTranslate Translator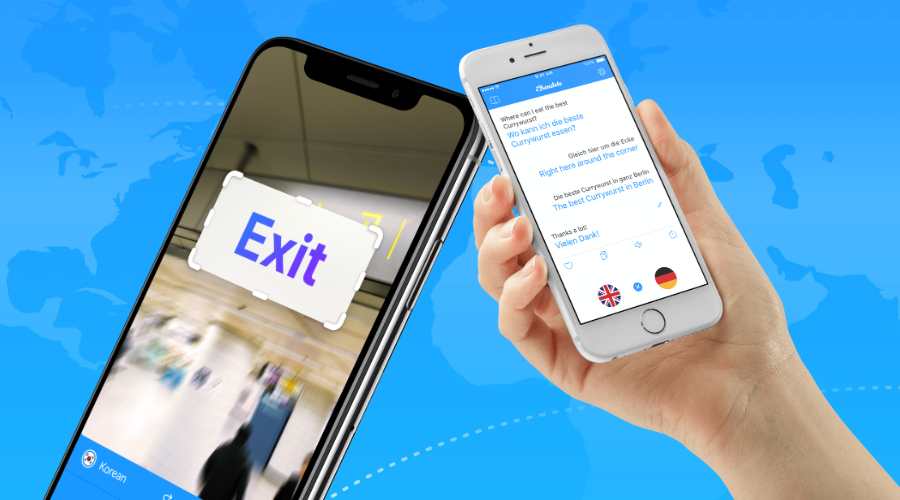 iTranslate supports translations in over 100 languages. You can translate text or websites, start voice conversations or lookup words, meanings and even verb conjugations just by a tap. Just start speaking and iTranslate recognizes your voice, converts your words to text and translates them into another language.
Key features of iTranslate Translator:
Listen to translations in different voices & dialects.
Easy and quick access to previous translations.
Save frequently used translations.
Use iTranslate side by side with other apps.
Auto-detect languages.
Easily copy and share translations.
3. Microsoft Translator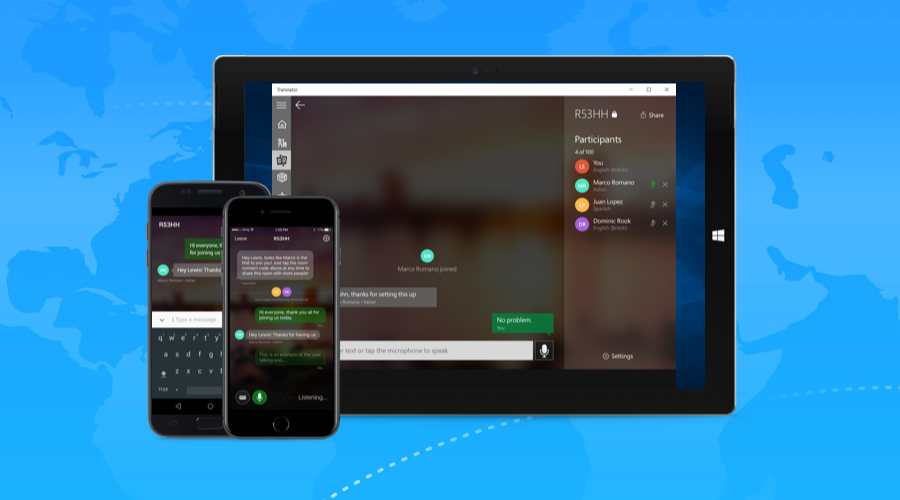 Microsoft Translator helps bridge communication gaps. It is a free, personal translation app for 60+ languages, to translate text, voice, conversations, camera photos, and screenshots. There is also an option to download languages for offline translation for free to use when you travel.
Key features of Microsoft Translator:
Camera translation to translate text within photos and screenshots.
Voice translation to translate speech.
A split-screen mode for two participants having a bilingual conversation.
Multi-person conversation translation supports in-person conversations with up to 100 people across multiple languages.
Gives an option to check alternate translations and meanings of a word.
Translate text in other apps through context menu translation.
4. TextGrabber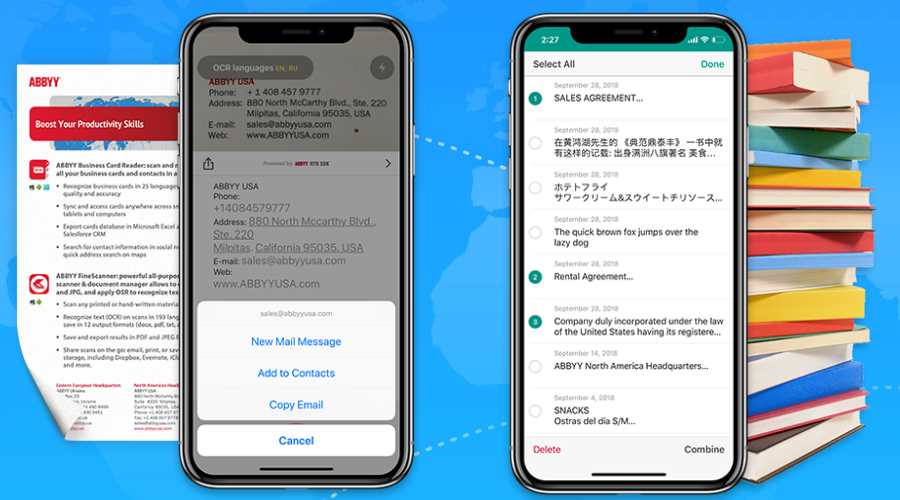 With Text grabber, translation is so easy and quick — you just have to point your mobile camera at printed text and TextGrabber instantly captures and recognizes it offline, no Internet connection is needed. It also has a unique real-time recognition mode that extracts information in 60+ languages not only from documents but from any surface.
Key features of TextGrabber:
Recognize text in 60+ languages in real time.
Real-Time Translation directly on the camera screen without taking photos into 100+ languages online.
With an internet connection, full-text translation is possible in 100+ languages.
All captured texts can be stored, edited, deleted or merged in the notes list.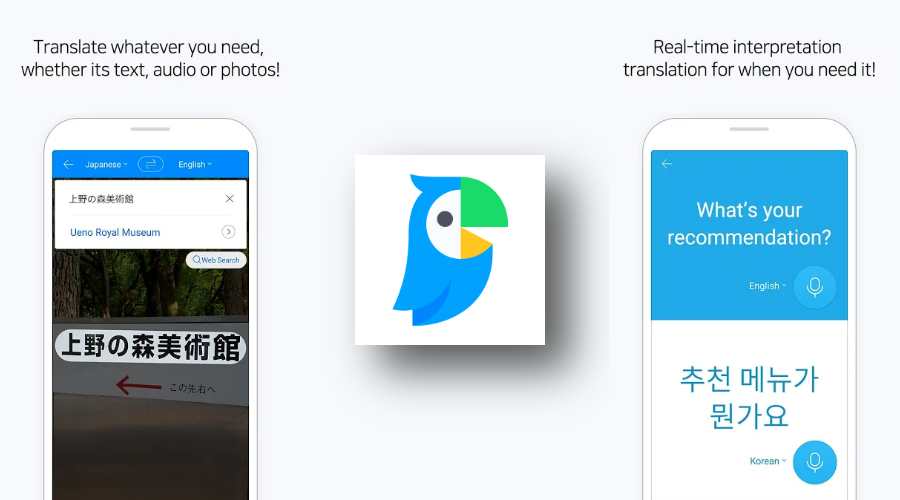 Naver Papago Translate is a small translation app with 13 languages support: Korean, English, Japanese, Chinese (Simplified/Traditional), Spanish, French, Vietnamese, Thai, Indonesian, Russian, German and Italian.
Real-time translation of phrases.
Real-time translation of voice.
Simultaneous speaking in each other's language when talking one-on-one with a foreigner.
Take a picture of it and highlight it with your finger for real-time translation.
Dictionary information provided for you to check more meanings.
6. SayHi Translate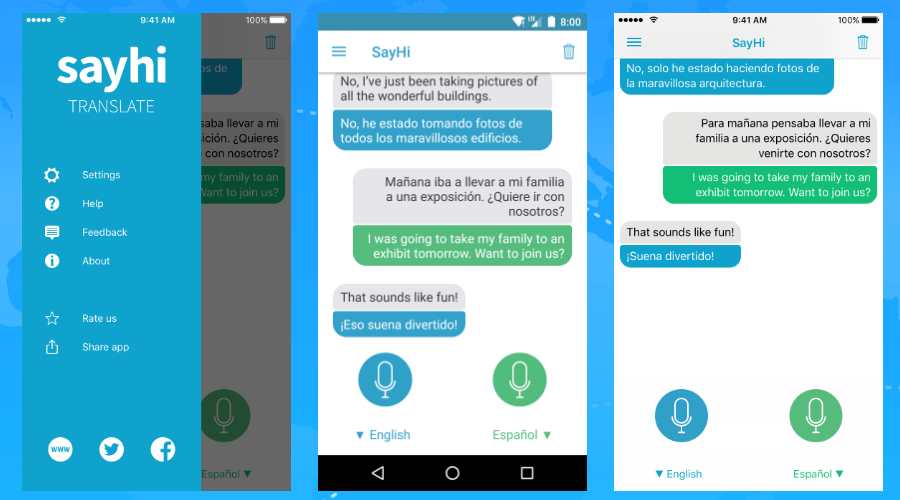 Instantly speak another language, for free, with SayHi Translate. It's so easy to access, just say something in your voice, and hear it played back to you in another language.
Key features of SayHi Translate:
Tap the language labels to quickly change the languages you're conversing in.
Quickly change languages, choose male or female voices (where available), and speed up or slow down the rate of speech.
Tap and hold on a translation to copy or share your conversations easily via email, SMS, Facebook, or Twitter.
Localized in many languages.
7. Waygo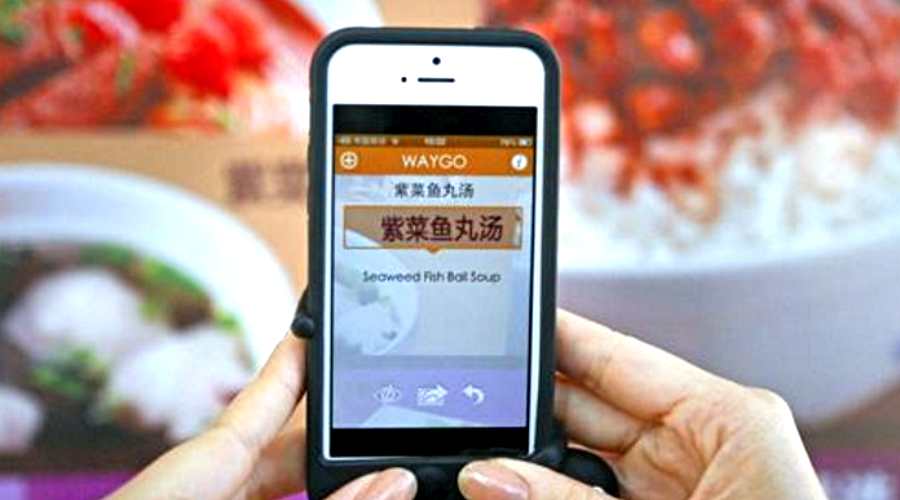 Waygo utilizes a combination of Optical Character Recognition and machine translation to translate Chinese, Japanese & Korean characters into English text by seeing images, finding the relevant text, and finally creating sensible phrases. Waygo does not require an internet connection to operate.
Key features of Waygo:
Free to download and try with all languages and features included.
Use your video camera as a visual translator or dictionary.
No data connection required.
See pictures of the food dish you are translating (Chinese only).
See and hear the pronunciation of the words.
Simply point and translate foreign text to English.
If you are on a journey to an unknown land, then better install one of these Android and iOS translation apps to chat with people who don't speak your language — because the world is closer than ever with technology.