Whether it's for work or private life, in modern life, we ​​can't miss an Internet connection even for a single day. With the spread of public Wi-Fi, an environment where you can use the Internet for free anytime and anywhere has been established. But then there is the issue of security.
A VPN is a communication system for using the Internet safely. VPN is an acronym for Virtual Private Network. Originally, a private network (dedicated line) secures a dedicated passage by wire, but a VPN constructs a virtual dedicated line by encrypting the communication content while using the normal Internet.
The need for VPNs has increased in recent years due to the increased use of public Wi-Fi at cafes and other places. In countries with internet censorship, VPNs are also used to avoid government censorship. In addition, it is also used to break through the border barriers of Internet services, such as watching country-specific Netflix in your country. It is also used to anonymize your Internet history. That way, you can get away from those annoying advertising tactics that track your history and show you relevant ads.
VPN uses three mechanisms of "tunnelling", "encryption", and "authorization" to virtualize a "dedicated line". This operation is performed by a VPN server placed between the terminal and the Internet service. By intervening with the VPN server, the communication sent from your terminal enters a virtual tunnel and is encrypted, making it impossible for a third party to peek. Internet service providers (servers) will not be able to identify IP addresses, etc.
Finding a high-performance VPN can be very difficult. Some VPNs are good for watching videos, but the security features are not very good. Also, many VPNs track your internet usage and don't properly encrypt your traffic, making them unreliable.
Save yourself the time and hassle of searching for a high-performance VPN. So we have created a list of top 3 VPNs for you
iTop VPN
iTop VPN has been in the market since 2016, one unique feature about it is that it can be used for free without user registration. Servers are installed in over 100 regions around the world, and you can unlock region restrictions with a single touch. Even the free plan uses military-grade encryption technology to encrypt your data and maintain your anonymity online. Windows has 700MB of daily data traffic and can connect to 16 servers. iPhone/iPad and Android have unlimited traffic and can connect to 10+ servers.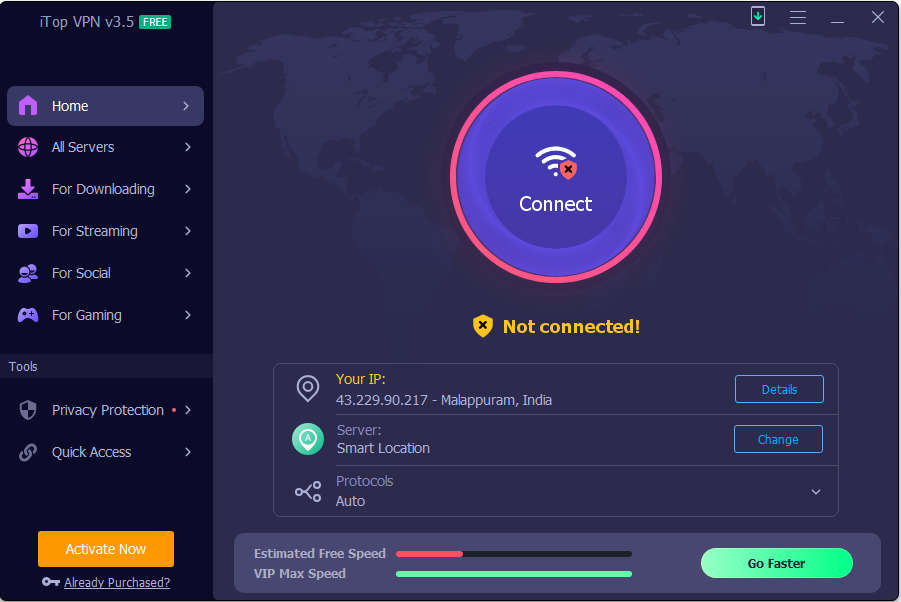 Features:
Privacy
iTop VPN does not track, store, or sell any of your data, including the websites you visit, the time you spend on our website, or your downloads. This application offers additional security features on top of the VPN service like automatic clearing browser history, block browser ads and block ISP spying. In this way the user becomes completely anonymous.
Large collection of IPs
The latest version of iTop VPN allows users to choose from her 1,800+ servers in 100 locations. You can connect to any server at high speed, even if you are far from your physical location.
Streaming unblocker
A VPN can unblock streaming from Netflix, BBC iPlayer, Disney Plus, Hulu, and more. Users can have access to exclusive shows not available where they live.
Unlimited game servers
Game players can use it to reduce ping time for quicker response and also defend against DDoS attacks.
iTop VIP account provides unlimited games servers. Upgrade to Premium and choose your favorite game server.
Unblock Social Networks
iTop VPN can be used to unblock social networks like WhatsApp and Skype for a user living in certain countries where they are blocked.
ExpressVPN
ExpressVPN is a secure Windows app that protects your computer data. Its military-grade encryption protocol uses robust 256-bit AES-CBC with HMAC authentication and perfect forward secrecy. Internet Kill Switch temporarily stops all web traffic if your connection drops unexpectedly. ExpressVPN also has IP address, DNS, and WebRTC leak protection to prevent data leaks. So, you can expect quality for the price when it comes to accessibility, privacy and good security standards.
Features:
Great UI
From the moment you install ExpressVPN on your PC, you will immediately feel the ease of use. It defaults to an intuitive interface and a window with a large, obvious VPN connection on/off button. It also has smart server recommendations, multiple VPN protocols, a kill switch, and many other features.
Tunneling
A further bonus point is that split tunneling can be used.
Split tunneling allows you to apply the VPN to only specific apps, allowing your browser to connect locally while applying the VPN to your torrent apps.
Streaming
Using ExpressVPN to watch international Netflix and sports coverage is also very useful. In tests conducted by our verification team, we were able to unblock Netflix (and Amazon Prime) geoblocks every time.
High speed communication
ExpressVPN provides excellent performance on local servers and very decent results over long distances. Plus, Express VPN now offers access to its own Lightway protocol, so you can expect it to get even better.
Security
In terms of security, ExpressVPN offers industry-leading security and strong encryption. It does not collect or log any traffic data, connection IPs, or any online activity.
CyberGhost VPN
With CyberGhost access overseas content on your Windows PC with a large server network. CyberGhost's server network is impressively large. You can connect to 9,023 servers in 91 countries with VPN software for Windows. Experience a large server network with a 24-hour free trial. Although there is a time limit, the functions and service contents are the same as the paid version. Each server is labeled for its purpose, making it easy to find the right server for your needs, whether you're browsing, watching videos, or torrenting.
Features:
Streaming and speed
With fast speeds and unlimited bandwidth, you won't experience lag while watching any tv show on any streaming platform. It's not as fast as ExpressVPN, but it's fast enough to watch HD videos on your Windows PC.
Security
It also has AES 256-bit encryption and IP/DNS leak protection making it a highly secure VPN. It's nearly impossible for an outsider to spy on your online activity. Additionally, CyberGhost offers multiple security protocols, including WireGuard, OpenVPN, and IKEv2.
Privacy
It does not store any IP addresses, DNS or any user data. It also has an ad tracker, and malware blocking features that help enhance your privacy.
There is a possibility that the free VPNs can be insecure and often sell user data for profit. In this article, we've listed the best VPNs that you can trust. That's why we recommend a cheap premium VPN like iTop VPN as it is a strong all-around VPN for privacy, speed, and unblocking sites and contents.