The four crew members of the New Shepard capsule, including Jeff Bezos, founder of Blue Origin and former CEO of Amazon, have landed safely after the first flight with humans from Blue Origin.
The trip lasted just over 10 minutes, and it was a suborbital flight. This means that it has risen in the air around 100 kilometers from sea level, and after a few minutes, it has fallen to Earth, but without going around it.
The event confirmed that the crew of flight number 16 of the New Shepard spacecraft had made history within the Blue Origin company by successfully completing the first flight with humans inside. 
Along with Jeff Bezos, his brother Mark Bezos, flight instructor Wally Funk and Oliver Damenen travelled in the capsule. The latter has been the youngest person to travel to space with only 18 years at the time of flight. For her part, Wally Funk is the oldest at 82 years old and has a very important past in military flight instruction in the United States Army.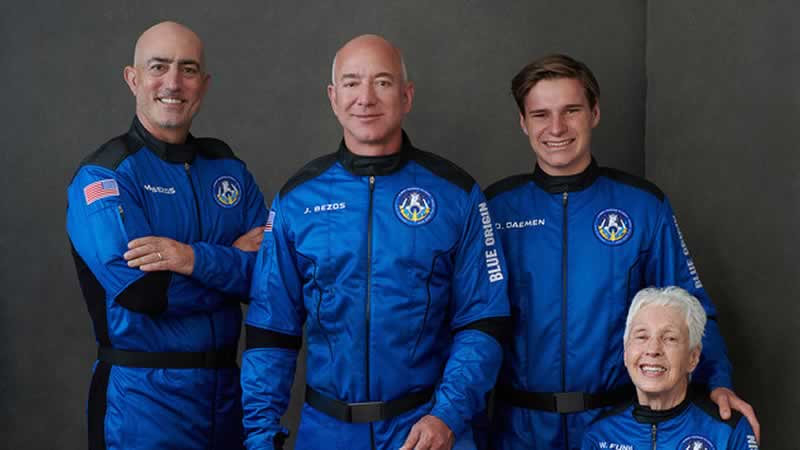 The New Shepard took off taking off from Launch Site One, located in the middle of the desert in West Texas. This space complex has witnessed the first line of the launch and ascent of the spacecraft during the first 3 minutes in which it has exceeded the barrier of 3,700 kilometers per hour — more than 3 times the speed of sound.
After those 180 seconds, the capsule has undertaken its own journey, separating from the launch system, and that is when the astronauts have experienced weightlessness and have unbuckled their seat belts.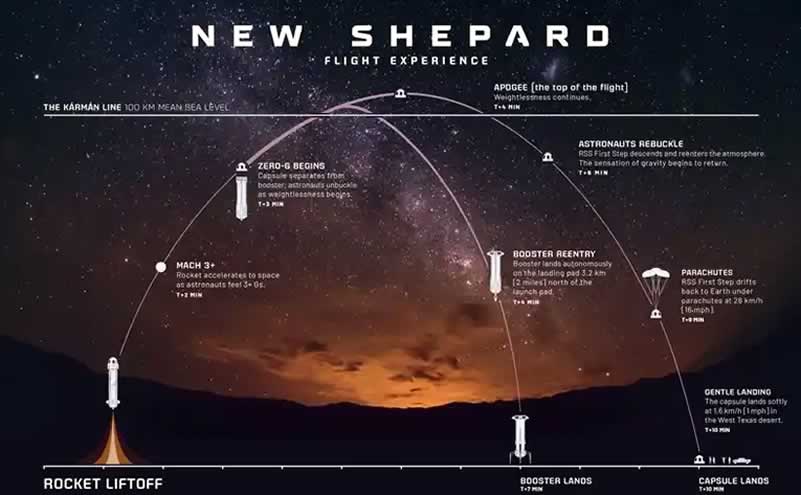 About a minute later, they have reached the Kármán line, where they have been able to observe the curvature of the Earth, an altitude beyond 100 kilometers. The maximum altitude, as seen in the broadcast, has been 106 kilometers, and 7 minutes after the start, the rocket has landed perfectly on Earth.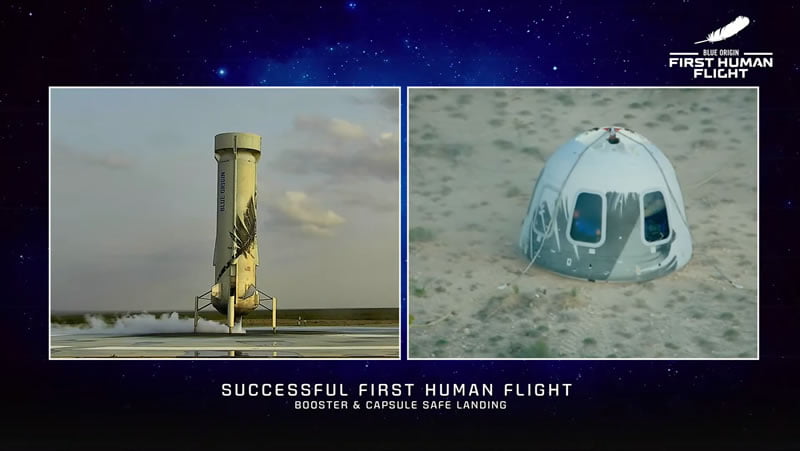 It will probably be reused later for other tests or flights. At minute 8, with the capsule already falling, the parachute began to open, and at 10:11, minutes after launch, the capsule had landed.
Therefore, the four members of this first flight, who have left the capsule perfectly, have become the first space tourists to fly with Blue Origin. Still, Bezos was not the first billionaire to go into space with his own company. Richard Branson, the founder of Virgin Galactic, got ahead of him on July 11.
The mission marked another milestone in the space race started by private companies.