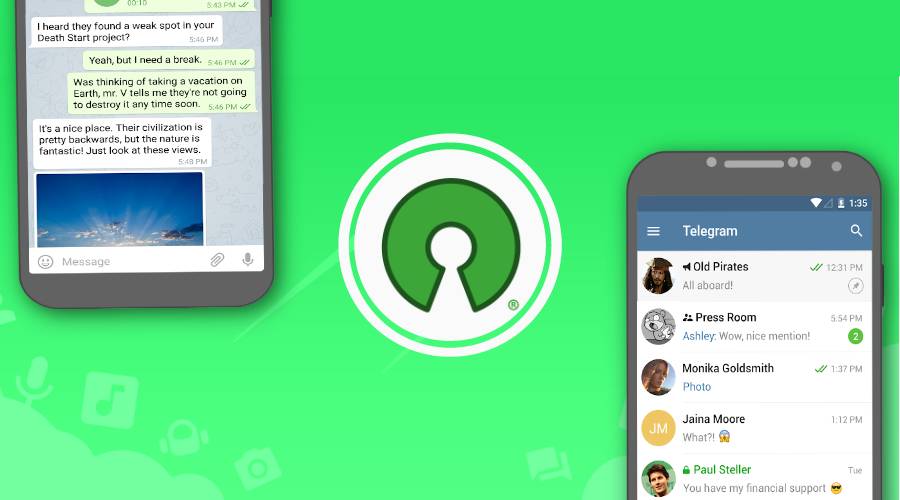 Nowadays almost every famous chat apps available for Android supports encrypted messaging. However, some of them are owned by tech giants like Facebook tends us to doubt the extent of credibility of those apps over our privacy and security.
About 50% of people are concerned about their privacy while using messenger or VoIP apps in Android. Although, what most of us didn't know that there are a handful of encrypted messaging apps are available for Android from open source community — which we can trust 100%.
There are many free and open source android source codes are available in market but we have picked few of the best mobile encrypted messaging and VoIP apps available right now for Android. All these listed open source messengers and VoIP apps support end-to-end encryption and download links are also provided. And all of them are best alternatives for WhatsApp, Viber, Facebook Messenger, Skype etc
Best Open Source Encrypted Messaging Android Apps:
---
1. Signal :
Signal is an end-to-end encrypted open source messenger. They run their own server and the cryptography is similar to the proven OTR and done by specialists. Group chat is supported and you can send media files. VoIP is also supported. There is also an iOS version. Here is the source code.
Android users can install it from Google Play.
2. Telegram :
May be the favourite open source encrypted messaging Android app of majority of people. Telegram is an encrypted messenger just like WhatsApp and supports end-to-end encryption when choosing the "secret chat" option. It also has all the other things you would want from a messenger like group chats and photo/video sharing. Source code is available in GitHub.
You can download app from Google Play.
3. Conversations :
A free and open source Jabber/XMPP client for Android. Easy to use, reliable, battery friendly. With built-in support for images, group chats. Supports end-to-end encryption using OTR or OpenPGP. Source code is available on GitHub.
Since app is priced $2.99 on Google Play but you can download it as free from F-Droid.
4. Xabber :
Xabber — another open source Jabber (XMPP) client with multi-account support and clean and simple modern material interface. Source code is provided on GitHub.
In Google Play you can find two versions of Xabber — free version and a supported version priced $2.99. Its also freely available in F-Droid.
5. CSipSimple :
CSipSimple is an openSource project for SIP on Android. It is one of the best VoIP open source Android app which guarantees high performance and supports end-to-end encryption — crypto : TLS for SIP and SRTP/ZRTP for media. Source code is available on Google Code.
Install it from Playstore.
6. Kontalk :
Kontalk is an end-to-end encrypted messenger, based on Open Standards (XMPP and OpenPGP). It automatically encrypts all messages and media without any user intervention. Kontalk is a completely Open Source community project, with all the source code hosted on GitHub .
Download it as free from Google Play.
7. Surespot Encrypted Messenger :
Everything sent using surespot is end-to-end encrypted with symmetric-key encryption (256 bit AES-GCM) using keys created with 521 bit ECDH shared secret derivation, but you wont notice because security in surespot is built-in, not a layer over something else.
One of the noteable feature is you have control over your messages, when you delete a sent message it will be removed from the receiver's phone and images are not shareable unless you make them so. You can find surespot source code on GitHub listed under 'surespot'.
And download it from Google Play.
8. Linphone :
Another VoIP Android app with easy to use SIP client with video and end-to-end encryption support. It also feature audio conference calls with various participants. You can get source code from their official website.
App is available as free on Google Play.
That's it.
Use these open source encrypted messaging and VoIP Android apps and be sure no one else can see your messages. Because these apps make it confirm — everything you send can only be read by the person you sent it to.
So which private messenger app are you going to use ? And don't forget to share the information with your dear ones. And comment if you know any other similar messenger.