If you are a web developer or web designer, then you know no two browsers will display a web site in the same way, and no two platforms will display a web site in the same way.
Windows and Macs are different platforms and will draw according to the OS's specifications.
So while testing a website, the developer always goes through multiple numbers of different browsers and operating system combinations to check its functionality, usability, and compatibility, and of course, it's a time-consuming task.
So how about automating checking the same websites across multiple platforms. Let us introduce Comparium — one of the best cross-browser testing tools that will help you keep track and test your clients' website performance in various browsers, browser versions, and platforms.
Comparium to the rescue
Comparium is a powerful automatic website testing platform that will assist you in testing a web page design on any operating system and browser combination – thus saves your time.
Currently, the Compariuum website testing platform supports operating systems — Windows 7, Mac OS X Mojave, High Sierra, and Linux and when comes to browsers the app tests websites on Microsoft Internet Explorer 11.0, 10.0, Google Chrome 81.0, 80.0, 79.0, 78.0, Mozilla Firefox 75.0, 74.0, 68.0, Safari 13.0, 12.0 and Opera 67.0, 66.0.
So you can choose any of these browsers and operating system combinations to test your website's functionality in minutes and optimize the web page accordingly.
Features of Comparium
Apart from having a wide collection of browsers and operating systems in its arsenal, Comparium also supports some interesting features:
The tool offers different screenshots comparison modes — both that you can use each of them for even better results.
All website test results render super fast.
There are three manual comparison mode and an automatic one to compare your websites' test results.
Comparium also supports the testing of the mobile version of websites.
In the free version, one can test an infinite number of websites with Chrome or Mozilla and Windows or Mac combination.
Live testing tool option in the web app allows you to use real browsers on real systems to test websites. By testing sites in real-time via remote infrastructure helps you to check not only the layout but also the behavior of the resource.
How to start with Comparium
Comparium has an easy user interface. When you first go to the homepage, you can find options to enter the URL of the website you need to test, operating systems, and browsers you like to test on.
After entering these details, tap on the "Test" button to start website testing with Comparium.
On the next page, you can find the results of your web testing on different browsers and operating systems combinations.
Now next step is comparing your results and checking for errors. For that simply hit the "Compare" option of the top-right corner.
So, here am comparing Techlog360.com in Windows Chrome and macOS Chrome. In compare o, the tool provides four different options.
Side by Side — This compare option displays the two testing results in two side by side windows. By using this option, you can easily find out visible differences in the website on two platforms.
Overlay — This comparison method places one test result over another.
Slider — This method I found most helpful, one test result placed over another, here unlike overlay, the second result will be kept hidden and only shows when we draw mouse over the screen.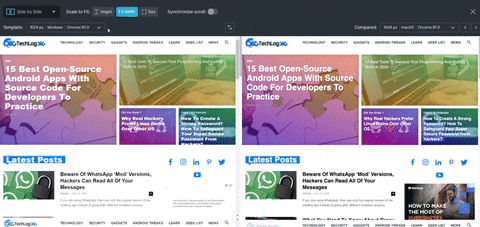 Find Difference — This is an automatic comparison option featuring in Comparium where the system automatically tests one result and shows the difference in adjacent window accordingly.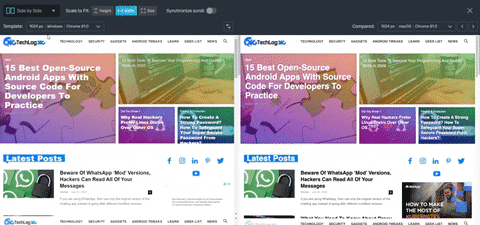 With these different options in the compare tool, Comparium makes website testing easy-peasy.
As we already mentioned, the free version of Comparium offers limited features like support to only two operating systems — Windows and macOS with two web browsers — Chrome and Mozilla. But still worth it, as these are the most used platforms.
A number of automatic web-browser testing tools are out there, and each tool has its advantages and disadvantages. Here in the case of Camparium, what I like most is its comparison tool. Unlike other website testing tools, Comparium offers more flexible options to compare your test results.