CD Projekt Red has released the very extensive patch 1.5 for Cyberpunk 2077 along with a first exclusive next-gen test version for Playstation 5 and Xbox Series X/S.
The development studio CD Projekt Red took more than a year after the release of the action RPG to update to version 1.5 for all consoles and for Windows PC.
The list of new features in this patch 1.5, with which Cyberpunk 2077 finally lives up to what current-generation players deserve. Although the next-gen update is not as extensive as that of the remembered update 1.2, which included more than 500 modifications, but it does not fall short either.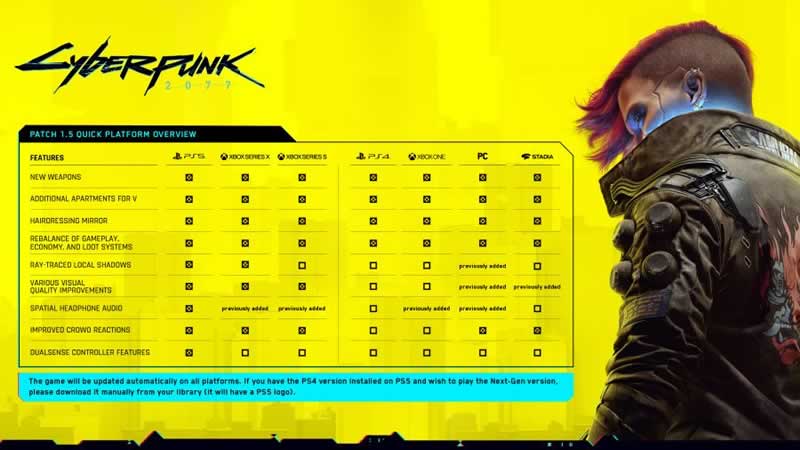 On Playstation 5 and Xbox Series X, it features local ray-traced shadows, along with a host of other graphics enhancements. It is a great advance but, of course, it does not reach the level that we have seen in the PC version, in which, with the combination of ray tracing and DLSS, give spectacular results.
Both on PS5 and on Xbox Series X, you can take advantage of two different modes: Performance and Ray Tracing. The former was designed to play at 60 frames per second in 4K (with dynamic scaling) and reflections in SSR; the second offers compatibility with RT technology, reducing the frame rate to 30 fps and improving the overall quality of reflections.
It should be specified that on Xbox Series S, there is no Ray Tracing mode and that the game is played at 30 fps and 1440p, with reflections in Medium quality. CD Projekt also specifies that, on PS5 and Xbox Series X, "small and rare drops" may occur in Performance mode.
The patch also brings various improvements in visual quality, some of them unspecified, adjustments in wide dynamic range (HDR) mode to equalize the way Cyberpunk 2077 looks on the different platforms on which it is available. And, for the PS5 users, added support for PS5 headset spatial sound (3D) and some DualSense controller-specific features.
Among other things, the city of Night City should now appear livelier with more residents and more traffic. The population should now defend themselves if the players cause too much chaos.
There are more apartments with different furnishings, more options for the appearance of your own character and Johnny Silverhand's look, additional weapons and changes to the perks.
The driving behavior of cars and motorcycles should appear more believable. There are changes to the prices in the shops so that you can now afford a new virtual vehicle faster – and much more.
Version 1.5 should be available in the respective stores. The download is free for Cyberpunk 2077 owners. On Xbox Series X/S, it is done as a simple update.
The Playstation 5 version must be downloaded separately from the library. If you just download an update, you will also get the latest PS4 version on the PS5.
If you don't already own Cyberpunk 2077, you can download a free demo on Xbox Series X/S and Playstation 5 and play it for five hours. After that, the rest has to be bought, and you can just keep playing with the same savegame.