Are you still viewing your notifications by swiping down the status bar or notification center? How about your smartphone automatically reading notifications to you aloud?
Let's try this advanced technique to look into your notifications. Some kind of Android notification hack where your Android device read-out-loud notifications for you. Here is the simple trick to enable the automatic notification reading feature through headset/speakers on Android
Enable automatic notification reading feature:
First, you have to install, a simple piece of a tool named Audify Notifications Reader to enable the automatic notification reading feature through headset or speakers on Android.
During app startup, Audify will request you to grant access to some permissions.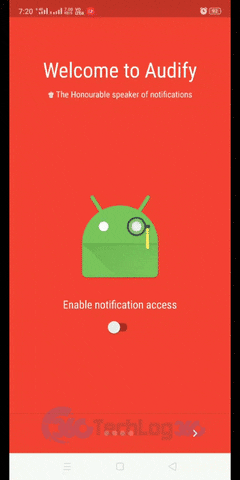 After approving the necessary permissions, Audify Notifications Reader will redirect you to the main interface. There you can see options to enable notifications to read via wired or Bluetooth headset and phone speaker. Activate them as your preference.
Also by going to the "Installed apps" option on the home screen, you can manage notifications for each app separately.
In setting Audify offers more customization options. Like scheduling time to read notifications on headset and speaker. Also, the theme option in settings provides a night or dark mode interface.
Note: In its free version Audify only reads 250 notifications for you. But don't worry, the premium version is cheaper than you expect, you just have to pay 99 INR once to get unlimited notification reads forever across all your devices.
Key features of Audify Notifications Reader:
Intelligently avoids consecutive notifications from the same app to avoid an annoying burst of notifications from a specific app.
Mute annoying apps and enable only those apps you like.
Add blacklisted words and mute any specific notification from any app.
Privacy mode to skip notification content.
Also comes with a feature where Audify automatically saves your vehicle location and easily navigates it to you.
Fully accessible via TalkBack
Why do you need Audify and automatic notification reading feature on your Android device?
Audify Notifications Reader helps you to focus on the road while you drive or ride by reading your Android notifications on your phone speaker or headset or via any connected Bluetooth device. It also helps to enjoy your music without any distraction by muting your notifications tone on demand and reads the notification. More importantly, by enabling automatic notification reading feature you can avail a hand-free Android experience and you don't have to unlock the phone screen every time to check notifications because Audify intelligently ignores the notifications that might annoy you.
How do you rate this Android tweak for notifications? Do you really think enabling the automatic notification reading feature can save you time and filter out annoying notification. Let us know your opinions in the comments also don't forget to include some other similar notifications tricks too.