If you are enrolled in WhatsApp beta program on Google Play then probably you know, WhatsApp is rolling out many new big and small updates.
In its last beta update, WhatsApp has introduced a long-awaited security feature — fingerprint lock — to protect your WhatsApp chats.
Usually, users were using app locks to protect their private conversation in WhatsApp but with the latest feature, you don't have to use any third-party app to lock WhatsApp.
With WhatsApp beta version 2.19.221 you can easily unlock WhatsApp on your Android device with the fingerprint sensor. And currently, this feature is only available in India.
To enable fingerprint lock feature on WhatsApp, you need to go to — Settings > Account > Privacy > Fingerprint lock. There just toggle the option to verify the authentication.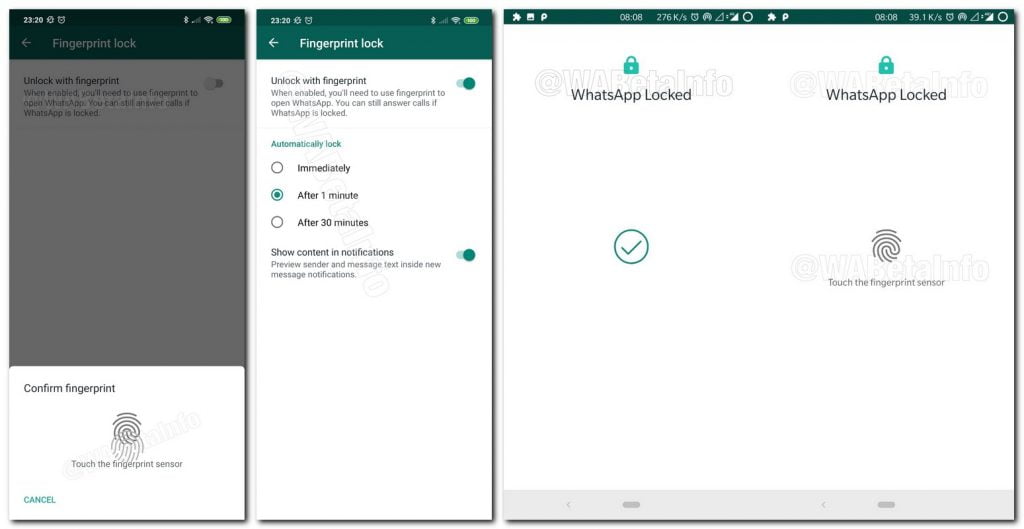 During enabling fingerprint lock you can choose either of the tree option to initiate the lock — immediately, after 1 minute or after 30 minutes. If you choose immediately then you have to unlock WhatsApp every time when you exit and enter the app and also you can decide if want the WhatsApp messages to show on the notification bar or not and also when the fingerprint lock feature is enabled, the widget hides its content.
But users can reply as usual to the WhatsApp messages from notification without actually entering the app and can attend the WhatsApp calls without unlocking WhatsApp.
WhatsApp has already enabled screen lock feature for iOS beta users 3 months ago and today with beta version 2.19.221 Android platform is also getting this privacy feature.