We use so many devices these days that are connected via USB — smartphones, printers, scanners, webcams, etc. Of course, a USB cable is usually required to use these devices. This is ideal when the device you want to use is right here next to your computer. But what if you urgently need to use a device (or two) in another office or at home while at work or traveling? And how is it possible?
There comes the importance of an incredibly powerful system — USB over Ethernet.
USB over Ethernet is a way to share USB-based devices over Ethernet, Wi-Fi, or the internet. Basically, you'll be controlling and accessing data of USB devices like printers, flash drives, and webcams from another computer.
There are many programs available in the market to implement such a system. And FlexiHub is one such USB over Ethernet software capable of making the USB ports of a computer "flexible". FlexiHub acts as a sort of virtual USB hub that allows you to share any device connected to a USB port of a computer on the internet with another computer connected to the network.
USB over Ethernet with FlexiHub
FlexiHub is basically a control panel having to be able to activate and manage all the various USB devices connected to the computer. The activation of the service and the operation is really simple and immediate, so much so that with a few clicks, you are ready to use it.
FlexiHub allows, for example, to view the contents of a USB stick connected to your home computer directly from your office, perhaps even miles away, in another city, country, or even on a different continent. Just be connected to the internet, install the FlexiHub application on both computers, create your own account for sharing, and that's it.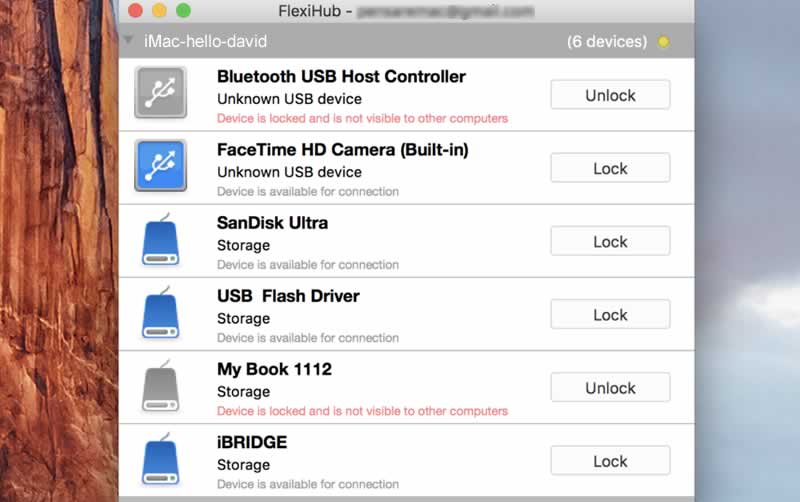 As soon as it is activated, the program already returns a list of connected USB devices. The nice thing is that it can recognize them and distinguish them by type, for example, smartphones, printers, audio devices, and so on.
Advantages offered by FlexiHub
The unique USB sharing technology
Secure Link: The security communications used by FlexiHub feature 2048-bit SSL encryption, which allows for an additional layer of data protection. Therefore, there is no risk of data being lost en route on the network.
Communication to private server: FlexiHub sends traffic through its own redirect server, so connected computer does not need a static IP address.
FlexiHub enables you to share USB over a network even without the locally installed drivers. The software recognizes the type of device automatically when a USB peripheral is connected to your computer, which makes it very easy to connect remote USB devices.
Traffic Compression: Once traffic compression is enabled, it speeds up interaction with specific USB devices and reduces internet traffic. In the case of devices such as scanners where data is transferred in an uncompressed state, FlexiHub allows compression and transfers with the best compromise between speed and compression.
FlexiHub is a multi-platform application and is available not only for Mac, but also for Windows, Linux, and Android. Like all valuable services, this too is, of course, paid and requires the subscription. However, it comes with a 7-day free trial.