The new Pixel 7 and 7 Pro have finally been unveiled by Google along with Pixel Watch. Aesthetically we had already seen them, they resemble those of last year, but they are better finished, they are more elegant, and above all, they are more powerful.
Like last year, the main differences between the models are screen size, camera equipment and battery size. The basic hardware, however, is identical.
The Pixel 7 has a 6.3-inch OLED display with a resolution of 2400 x 1080 pixels and a maximum frame rate of 90 Hz. The Pro model comes with a 6.7-inch OLED display with 3120 x 1440 pixels and a frame rate of up to 120 Hz.
Both screens should have a maximum brightness of 1,000 cd/m². The Pixel 7 achieves a peak brightness of 1,400 cd/m² in HDR mode, and according to Google, it is 1,500 cd/m² for the Pixel 7 Pro. The front cameras are housed in a hole in the display on both models and have 10.8 megapixels — slightly less than the Pixel 6 models. The field of view is slightly higher at 92.8 degrees.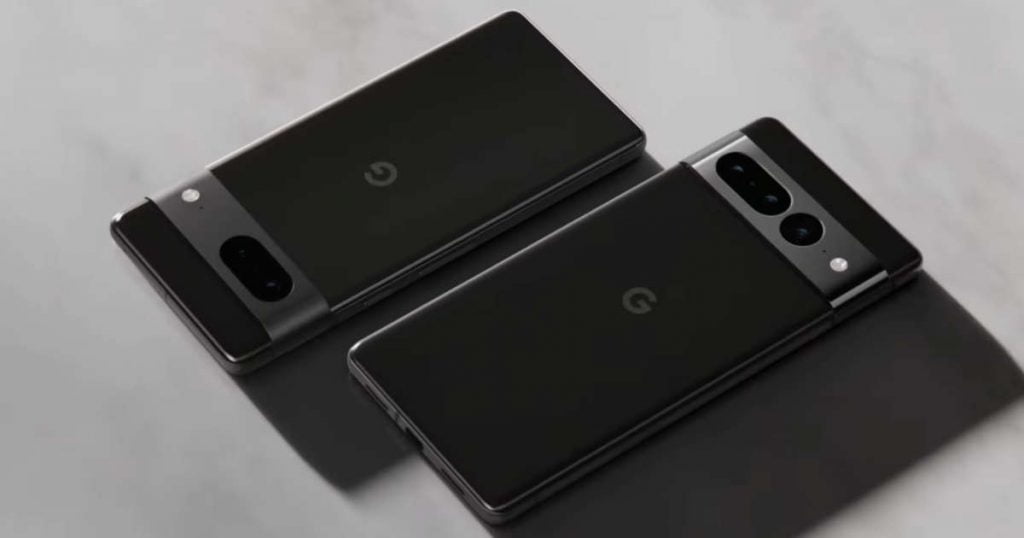 The camera modules known from their respective predecessors are installed on the back of the two smartphones. Both models have a main camera with 50 megapixels, a pixel size of 1.2 µm and an initial aperture of f/1.85. There is also a super wide-angle camera with 12 megapixels, a pixel size of 1.25 µm and an initial aperture of f/2.2.
Like the Pixel 6 Pro, the Pixel 7 Pro also has a telephoto camera with 48 megapixels and five times the optical magnification. The initial aperture is f/3.5, and the pixels are 0.7 µm in size.
Thanks to software optimization, however, the two new Pixel models have a larger digital zoom range — the Pixel 7 can zoom up to 8x magnification, and the Pixel 7 Pro achieves 30x magnification.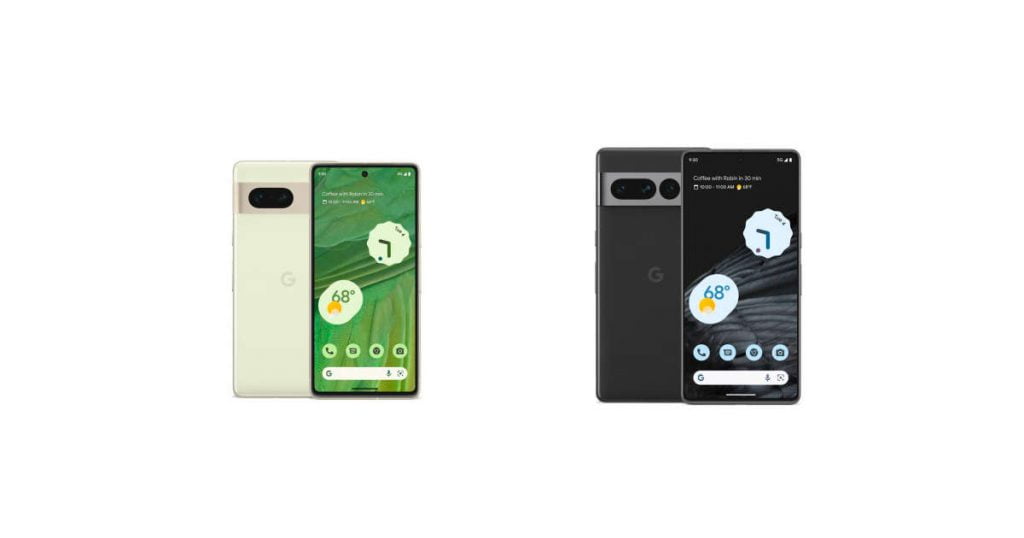 In addition, the Pixel 7 Pro should allow macro shots from a shorter distance. The night mode has been improved so that the recordings take less time. A new sharpen function automatically sharpens shaky images — even in shots that were not taken with the Pixel 7 or Pixel 7 Pro. Videos can be recorded in a maximum of 4K with up to 60 fps and in 10-bit HDR.
Tensor G2
Google's Tensor G2 chip is inside the two new Pixel smartphones. Like last year, Google has only revealed little information about the chip. The processor should be more powerful and efficient. Information on the manufacturer and the production process used is not yet known.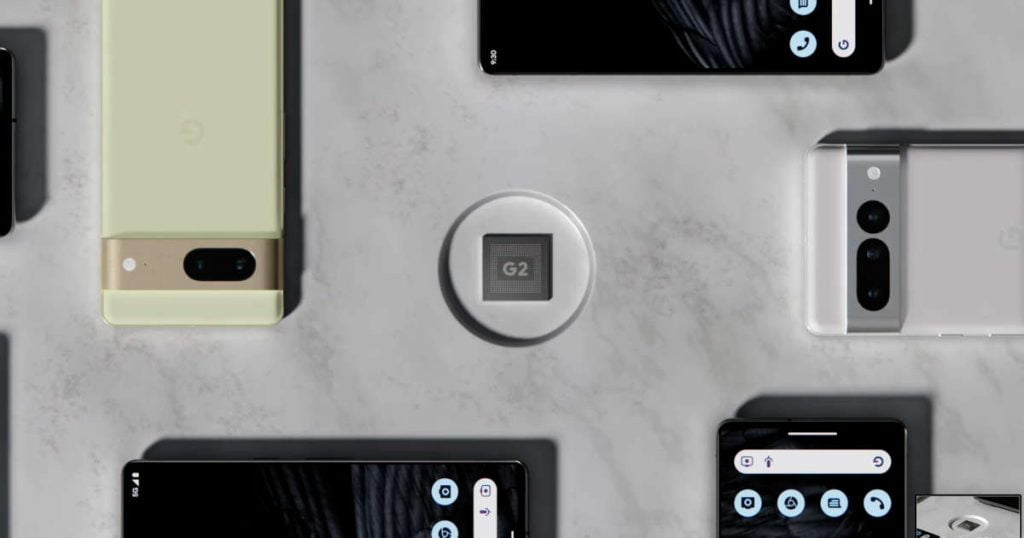 The new version of the Tensor chip brings some new features to the Pixel 7 models. In this way, received voice messages can be converted into text. In the course of the year, the Crystal Clear Calls function will also follow, thanks to which your own voice should be much easier to understand during calls — thanks to artificial intelligence. A free VPN client integrated into the Android system will also come later.
Also, the Pixel 7 promises to be the most secure Google mobile to date thanks to the combination of the Tensor G2 and the Titan M2 chip, in charge of certain sensitive tasks.
When it comes to biometrics, the new Pixel models can also unlock by face recognition — a feature that is not available on the Pixel 6 devices. The smartphones can also be unlocked using the fingerprint sensor built into the display.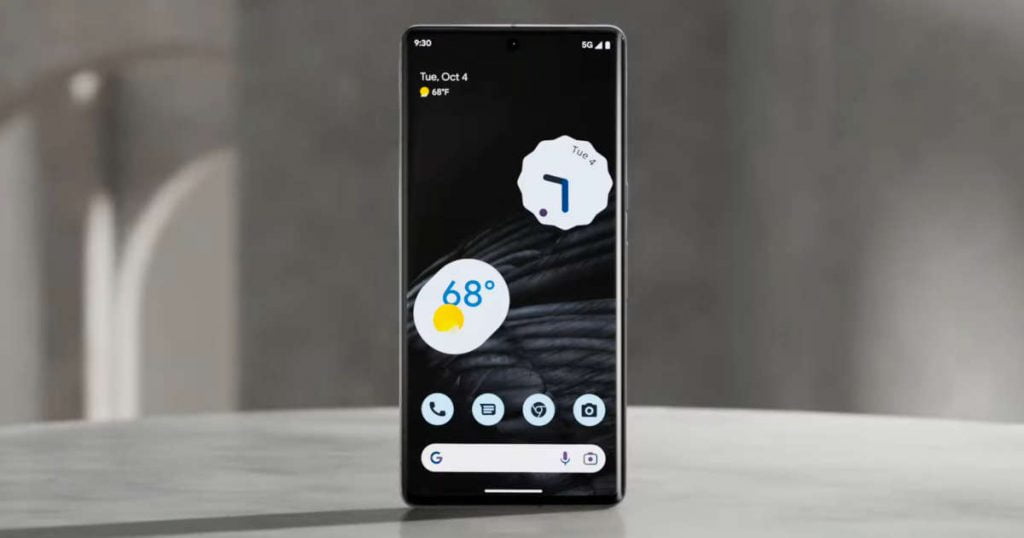 Long-term updates should also ensure security, which for the Pixel 7 and Pixel 7 Pro are again at least 5 years from the start of sales based on the monthly Android security patches. Google promises new Android main versions for at least three years so that both new releases are secured up to Android 16 and two years of monthly security patches beyond that.
The battery of the Pixel 7 has a nominal charge of 4,355 mAh; that of the Pixel 7 Pro comes with 5,000 mAh. Google specifies a typical runtime of 24 hours for both models.
Charging is via USB-C 3.2 Gen 2 for up to 50 percent within 30 minutes using Google's 30-watt power adapter with USB-PD 3.0 (PPS). Wireless charging is supported up to 20W on the Pixel 7 and up to 23W on the Pixel 7 Pro when using the 2nd Gen Pixel Stand. For regular Qi chargers, Google specifies up to 12 watts. Both smartphones can share their battery with other devices, for example, to charge headphone cases via the back.
The Pixel 7 comes with 8 GB of RAM and either 128 or 256 GB of storage and costs from $599. The Pixel 7 Pro has 12 GB of RAM and also either 128 or 256 GB of storage. It costs from $899. Unlike Apple, Google has not increased its prices compared to the previous year.